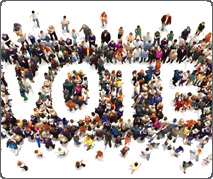 Social Media Basics :
Facebook Hopes You Elect to Use Town Hall
This new features connects you to your representatives
As Facebook began to recognize its own role in the wider culture, it rolled out a new feature on both desktop and mobile versions to help users become more engaged in the political process. Town Hall enables you to enter your address to find all your state and federal representatives, and it provides contact information to make it easier to reach them about issues that matter to you.
One Step at a Time
Civic engagement in the U.S. has fallen in recent years, especially among young voters, and Town Hall encourages people to become more involved. First, it gives you a quick way to follow your elected officials' Facebook pages to keep up with what they're doing on your behalf.
Secondly, Town Hall lists contact information so you can reach your representatives by phone, mail, email, or messaging. When you choose to engage, you're prompted to post this information on Facebook, meaning friends will get the hint that it might be something they'd like to try as well. (Note: Such alerts are only shown to those who have already engaged with the same representative.)
Lastly, Town Hall posts election reminders so you'll never forget to send in your ballot or go to the polls. While Facebook has been running reminders for national elections since 2008, it's now begun doing so for local elections as well. Such reminders do have an impact; the journal Nature found that Facebook's 2010 reminders encouraged 340,000 more U.S. citizens to vote.1
Facebook is still making improvements to the Town Hall feature, such as figuring out a way to deal with some representatives not having Facebook pages.
A Larger Plan
Town Hall is just one part of a larger initiative set forth by Facebook in early 2017. In a letter to Facebook users, CEO Mark Zuckerberg stated, "In times like these, the most important thing we at Facebook can do is develop the social infrastructure to give people the power to build a global community that works for all of us." He goes on to list several areas in which Facebook will strive to do so: Supportive Communities, Safe Community, Informed Community, Civically-Engaged Community, and Inclusive Community.
Town Hall is part of the Civically-Engaged Community effort. Zuckerberg writes, "In the last few months, we have already helped our community double the number of connections between people and our representatives by making it easier to connect with all our representatives in one click."
One Piece of the Political Puzzle
You can use the features of Town Hall as a jumping-off point for further political engagement:
Check out your representatives' Facebook pages, follow their activities, and make contact to let them know how you feel about their positions on upcoming votes.
From each representative's Facebook page, find their website and go there to get more information about what they're doing.
Carefully review these Facebook pages and websites to learn more about the issues that are being debated in the wider political arena and seek out additional information about those that interest you.
Get the schedule for upcoming town hall meetings (physical or phone) held by representatives and attend them to listen, learn, and speak.
Share representatives' posts and events with your Facebook friends.
Beyond Town Hall: 5 More Ways to Get Political on Facebook
In addition to Town Hall, Facebook has more features to help you get more politically engaged:
Join the Facebook pages of political groups in your local area to get news about their activities.
Follow the pages of news sources you trust on Facebook to get up-to-the minute updates.
Share interesting news stories with friends using the Messaging function.
Share your opinions in posts to ask others' opinions or start a lively debate.
Using the Events function, search for political events in your area.
Facebook Addresses Fake News
The release of Town Hall as a tool for civic engagement follows another situation in which Facebook was involved in politics, though not necessarily on purpose. In the aftermath of the 2016 U.S. presidential election, the concept of fake news became big news. Fake news is a news story published simply for its outrageous headlines and/or content, which may be factually false. One purpose of fake news is to get people to click on and read the information to generate more ad revenue for the publisher. Another is to spread misinformation for political gain.
Facebook faced criticism for publishing such news stories and not doing more to prevent them from being shared. Because many of the items were about the presidential candidates, critics were concerned that Facebook actually had a role in the outcome of the election. In addition, Facebook is well known for its "filter bubble" algorithm, which results in users primarily seeing things in their News Feed that they've already expressed an interest in and not seeing both sides of the political story.
Initially Facebook's response to such claims was that its role is as a vehicle for news distribution, not as an editor of it. However, its tune has changed amid increasing complaints. As a result, Facebook is now flagging fake new stories with the help of users and third-party fact checkers. In addition, it's posting links to articles like "10 Tips to Spot Fake News" in users' feeds.