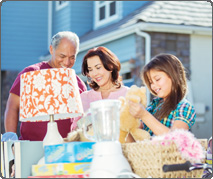 Beyond the Basics:
Nextdoor is a Neighborly Network
This private social network can keep you "in the know" about what's going on in your neighborhood
Over 100,000 neighborhoods across the United States have come together online in the private social network called Nextdoor, and the number just keeps growing. Nextdoor has been described as "the anti-Facebook" and a localized social media platform. What the company hopes to provide, however, is a private, secure online platform where neighbors can work together to build stronger, happier communities.
Nextdoor is quickly growing in popularity and utility, and you might already be familiar with it. In fact, your own neighborhood may already have a Nextdoor network set up. It's not yet the household name that Facebook and Twitter are, but it probably will be soon.
FAST FACT: Over 100,000 U.S. neighborhoods have already adopted Nextdoor.
Source: www.nextdoor.com/newsroom
Putting "Social" Back in Social Networking
Nextdoor is a great way to stay informed about what's happening in your neighborhood — from the resources/services your neighbors are using to local crimes raising concerns. Here are just a few popular uses for Nextdoor:
Items for Sale
You can post cars, furniture, clothing, toys, or whatever else you'd like to part with for sale on Nextdoor. Unlike with Craigslist, you'll know the potential buyers will be locals.
Lost Pets
Lost your dog? Found a stray cat? Put up a message on your Nextdoor network to spread the word and hopefully connect pets with their owners.
Local Government
News and Information Urgent alerts, new recycling rules, open meetings with the mayor — if your local government wants to communicate something to the residents in your area, Nextdoor is an effective place to do it.
Recommended Services and Resources
Find a new roofer, recommend your awesome landscaper, or locate a neighborhood babysitter using Nextdoor.
FAST FACT: Only 20 percent of Americans say they spend time regularly with their neighbors. Source: Less in Common, City Observatory report, June 2015.
http://cityobservatory.org/wp-content/files/CityObservatory_ Less_In_Common.pdf
Crime Updates
You won't have to wait for the morning paper to find out about the rash of vehicle thefts in your area. Your neighbors (and maybe even local law enforcement) are likely already spreading the word on Nextdoor.
Perhaps most importantly, though, Nextdoor is a way to get to know your neighbors. Americans are less likely now than in decades past to socialize in person with their neighbors, and this new social network is helping bridge the gap. Connecting online with Nextdoor can lead to better, healthier relationships with the people who live in your immediate area.
Why Nextdoor Is Different
Since its founding in 2010, Nextdoor has stood out from other social networks in four important ways:
It's not as easy to join, and there's good reason for it. Co-founders Nirav Tolia and Sarah Leary wanted to make sure Nextdoor was private and secure so users would trust the platform and use it to communicate openly with neighbors. You can't use the platform at all until you've registered and proven you're a resident.
Users — not the company — define the neighborhood boundaries and names. This ensures that Nextdoor neighborhood networks reflect the locally accepted community borders, which may actually include multiple neighborhoods.
Because the messages come from only people in your neighborhood, Nextdoor is much less overwhelming than other social networks like Twitter or Facebook. You can even request a daily or weekly digest of messages that have been posted, so you don't need to check in every day.
Nextdoor has no plans to charge users to use the platform, nor do they plan to fill your newsfeed with paid ads. Right now, the company doesn't have any revenue at all, in fact. The Nextdoor leadership team has been considering its options for monetizing the service, but based on recent interviews, they are clearly trying to do it in the most thoughtful, organic, and non-intrusive way possible.1
How to Join Nextdoor
To join this up-and-coming local social network, go to www.nextdoor.com.
Fill in your street address and email address, then click "Find your neighborhood" to find out if there is already a Nextdoor network set up for your local area. If your neighborhood network already exists, you will automatically be assigned to that neighborhood. If it doesn't, you'll be given the option to create a network.
Follow the prompts to verify your physical address and confirm your email address.
Download the Nextdoor app on your mobile device to stay connected with your neighbors from anywhere.
Introduce yourself! Nextdoor encourages you to post an introductory message so your neighbors can start getting to know you. If you choose to add nearby neighborhoods to your profile, your introductory message will go out to them as well.
Facebook may have connected you with your high school sweetheart, and Twitter may allow you to communicate directly with your favorite actor, but only Nextdoor connects you with the family next door.