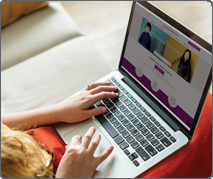 Beyond the Basics:
CaringBridge Keeps Loved Ones in the Loop
Its mission is to "amplify the love, hope and compassion in the world, making each health journey easier"
Fortunately, technology is providing new ways to help ease the burden for families navigating a health crisis, whether it be injuries from an accident or a devastating diagnosis of serious illness.
A Platform Designed for Caring
CaringBridge is a nonprofit organization that provides personalized websites, for free, to people facing medical care emergencies. The platform allows family members and friends to get updates and exchange information about a patient's progress and well-being, helping the patient or close family members avoid having to communicate with people one-by-one.
Like other social media platforms, CaringBridge serves as a virtual gathering place for those interested in staying updated on a loved one's health journey. But unlike Facebook or Twitter, CaringBridge is private and secure by default, so only the intended audience can see what's posted.
FAST FACT: Since it started in 1997, more than 740,000 CaringBridge websites have been created. One in 14 people in the U.S. have used CaringBridge.
Information Central and More
Keeping a group of people informed on an ever-changing situation via email or text is not only time-consuming, it's extremely inefficient. Well-intended friends and family often come back with questions or offers of help, and soon coordinating all those messages becomes a full-time job for an already frazzled caregiver.
Instead of getting stuck in multiple conversation loops, you can use CaringBridge as a single source of communication. When friends and family members subscribe to a personalized website on CaringBridge, they get notified by email every time the site owner posts a new message. This enables people to stay current on the patient's condition, and the site owner only needs to communicate the information once.
As with other social media sites, CaringBridge allows visitors to respond to, and leave comments on, posts created by the site owner. CaringBridge also allows visitors to create their own posts on the website, so family and friends can express their messages of support. For example, they can start a discussion about coordinating efforts to help the patient and family by driving them to appointments, delivering meals, and arranging for child care if needed.
FAST FACT: Unlike many other social media platforms, CaringBridge is ad-free, so members don't have to deal with distractions while checking on a loved one's progress.
Staying Connected
CaringBridge doesn't just make things easier on those concerned about a loved one experiencing a health challenge. It's also extremely beneficial to the patient. While it's true that people don't usually have a lot of time (or emotional energy) for phone conversations during a health crisis, they still need to feel they aren't alone. A long or difficult medical journey can be isolating, and being able to log in to a site whenever their condition permits and see warm wishes from family and friends provides needed encouragement.
Sharing Helps Everyone
Sharing a difficult story is good for both the person telling the story and the person receiving it. The very act of "getting it out" is cathartic and can reduce the stress of carrying the story all on one's own — important since stress is the last thing anyone in medical difficulty needs. Sharing lightens the burden and invites empathy. In addition, this type of sharing can serve as inspiration to others on how to be more resilient in the face of adversity.
To learn more, visit caringbridge.org.
Caregiving Apps Provide Additional Resources
CaringBridge isn't the only platform that makes caregiving easier. The apps below are some of the ones designed specifically with caregivers in mind:
Lotsa Helping Hands: This app is for caregivers, friends and family, and volunteers, and helps create a care community around your loved one. Its message board and interactive calendar make coordinating help (such as bringing meals) easier, and the community member page organizes contact information and best times to call in order to centralize communication.
Caring Village: Designed to connect family, caregivers, and care recipients, this app provides a secure messaging system where users can create personalized care plans for their loved ones. With a centralized calendar, document storage, and a place to list medications, everyone can be on the same page.
eCare21: Created especially for caregivers who have other full-time commitments or who aren't close by, eCare21 provides round-the-clock patient monitoring through wireless and wearable devices. By giving critical health data about the patient, this app allows for faster responses, if required.