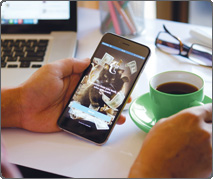 Social Media Basics :
Multi-faceted Tumblr Really Sparkles
Variety, flexibility, and community make this application popular
Facebook and Twitter are great, but maybe you're looking for a new social media outlet to express yourself and share interests with others. If so, Tumblr could be just the ticket. This multi-faceted application shares similarities with Facebook, Twitter, Instagram, Pinterest, and blogs, but combines those functions into one platform. You can think of Tumblr as an online scrapbook that allows you to include photos, videos, audio clips, quotes, and long posts.
Tumblr is popular with users under 55, with a large percentage of them between the ages of 25 and 34. One of the most well-known Tumblr blogs is from the White House; it features such items as President Obama singing and Michelle Obama's workout plan.
Familiar Features
Many of Tumblr's features are similar to those you're already familiar with from other social media platforms:
Like Facebook: Tumblr has a feed that includes posts from people you follow. Also like Facebook, you have your own profile (called a "blog" in Tumblr).
Like Twitter: You can share someone else's post. In Twitter, this is called retweeting; in Tumblr, it's called "reblogging." • Like Pinterest: You can do a search for a particular topic and results will show up in tile format, displaying images from blogs of others that you might be interested in.
Like Instagram: You can post photos and videos, and Tumblr allows you to post longer videos than Instagram.
Like a blog: You can write long posts.
Like many social media platforms: You can like and comment on others' posts
Tumblr lends itself well to communicating with others who share your interests. Smaller communities known as "fandoms" have formed within Tumblr for a wide range of topics including food, cute animals, movies and TV shows, positive body image, and more. These communities — and Tumblr overall — are known for supportiveness among participants (such as helping each other with difficult life situations). You're permitted to create multiple blogs in addition to your primary blog, so you could have various content streams related to different interests. If you run a small business, you could also create a blog for it.
Types of Posts
Because Tumblr features so many different types of posts, you may not be sure where to start. Here's a guide to help you understand the choices:
Text
A text post could be as simple as a 140-character tweet-type comment about the weather or a multi-paragraph analysis of a great movie you just saw. You have the option of giving your post a title and can use formatting buttons to add emphasis with bold, italic, bullets, and so on. You can also include images or videos within a text post.
Quote
To use this function, choose the Quote button, then type the quote (such as from your favorite book or celebrity), and add the source. Tumblr automatically includes quote marks for you. Link Within the link dialog box, simply paste the URL of an online source you'd like to share. You get options to edit the title and the source description that automatically appear.
Photos and Videos
With both of these types of posts, you have the option of uploading from your own collection or sharing from an online source. Then you can add explanatory text.
Tumblr also has a chat function, which formats a conversation to look like a messaging exchange, and an audio selection that allows you to upload an MP3 file or online source.
How Did Tumblr Start?
Tumblr was launched in 2007 in New York, with David Karp and Marco Arment as its creators. A smartphone version came out in 2009 and gained 75,000 users within two weeks.
Following its initial success, Tumblr was purchased by Yahoo in 2013. In 2015, the platform reported having 227 million registered users around the world. In mid-2016, it had a total of over 280 million blogs and boasted an average of over 53 million posts per day.
Jump Start Your Tumblr Use With These Handy Tips
All the features and functions of Tumblr may make it a little overwhelming. Here are some helpful tricks for beginners:
Post directly from your browser. Use a Tumblr add-on like Post to Tumblr for Chrome to make sharing easy from anywhere online.
Post from email. When you sign up for Tumblr, you get an email address to which you can directly send posts.
Use a phone to record audio posts. Just call 866-584-6757 to post an audio message on your blog.
Turn on keyboard shortcuts. To do this, press SHIFT and ? at the same time. You will get a view of Tumblr's shortcuts.
Subscribe to favorite blogs. Love someone else's posts? When you subscribe to their blog, you will be notified each time they publish something new. To do it, just click the avatar of the blogger and select "get notifications."
Find more shortcuts and tips at tumblr.com/docs/en/lesser_known_features.