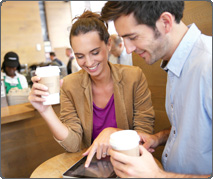 Internet Connections:
17 Cool Websites to Visit in 2017
From educational to entertaining, these websites are worth checking out
We rounded up some fun and fascinating websites that you may not have heard of yet. Take a break from your daily grind and visit these 17 websites to kick off 2017.
1. Ello
ello.co
Created in 2014 as an ad-free alternative to the other social networks, Ello is a treasure trove of stories you won't find anywhere else. The best part? There are no advertisements to get in the way of your social surfing.
2. How Far From Home
http://howfarfromhome.com
Follow the travels of a young couple that swapped established careers to set off on a worldwide adventure. They challenged themselves to go far from home (in the literal sense) and outside their comfort zones.
3. How Old Do I Look?
how-old.net
The future is here! Upload your photo to this website and Microsoft's How Old Robot uses machine learning to guess your age.
4. Experience Mount Everest
http://everestavalanchetragedy.com/mt-everest-journey.html
Experience Mount Everest's unforgiving terrain in 3D. This virtual trek to the summit takes you from Base Camp through the Khumbu Icefall that recently claimed the lives of 16 Sherpa, all the way to the summit and Hillary Step at 30,000 feet. The interactive website is a marvel, bringing to life an experience most of us will only have in our dreams.
5. Bored Button
boredbutton.com
If you're bored, look no further than the Bored Button. From tricks to games, and from jokes to cute kitten photos, the Bored Button will keep you entertained when your boss isn't looking.
6. If The Moon Were Only One Pixel
joshworth.com/dev/pixelspace/ pixelspace_solarsystem.html
This scale model of the solar system will make you feel very small in this big, wide universe. This award-winning interactive webpage makes it clear just how much empty space there is between celestial bodies.
7. Timelapse
world.time.com/timelapse
TIME and Google collaborated to bring this time-lapse experience to life online. Satellite photography allows us to watch nearly three decades of climate change and human evolution transform the world. Columbia Glaciers, Amazon Forests, Dubai, and Las Vegas are among the sites captured for this magnificent and moving online experience.
8. Honest Slogans
honestslogans.com
Clif Dickens has collected and reimagined hundreds of brands and their slogans. This playful website will have you laughing in agreement at just how accurate Dickens's interpretations really are.
9. AnimaGraffs
animagraffs.com
The AnimaGraffs company creates amazingly detailed and accurate animated 3D GIFs of how things work. A car engine, record player, or solar cell may sound like complex machinery, but the brilliant minds at AnimaGraffs help you see the inner workings in a beautifully simple way.
10. Dear Photograph
dearphotograph.com
This website invites people to "Take a picture of a picture of the past in the present." You'll be fascinated at these shots of old family photos held in position in the same location today.
11. Giphy
giphy.com
If you love a good GIF, bookmark this website. A massive collection of the best GIFs from around the web, Giphy lets you add that animated touch to your social media posts and emails with ease.
12. Draw a Stickman
drawastickman.com
This site lets you draw your own stickman and send him on an adventure. As you watch your stick figure walk across the screen and get into trouble along the way, you're instantly whisked back to childhood.
13. Love This Pic
lovethispic.com
Do you love those images with inspirational quotes you see in your Facebook feed? Ever wonder where you can find some of your own to share with your followers? Love This Pic has a huge collection of inspirational quote images, and they make it easy to share them on your favorite social media platform.
14. Pixel Thoughts
pixelthoughts.co
Take a deep breath. Bring to mind something that is bothering you, and head to Pixel Thoughts. This beautifully simple website lets you meditate for 60 seconds and watch your problem literally disappear into nothing right on the screen.
15. Hemingway App
hemingwayapp.com
Ernest Hemingway was known for his bold, clear writing style. The Hemingway App is a free grammar and error-checking tool that will help you turn your own writing into more poignant pieces.
16. Live Science
livescience.com
Whether you consider yourself a science nerd or not, you'll find the science news on this website absolutely fascinating.
17. Unsplash
unsplash.com
High quality, beautiful, and completely free stock photos — with no usage restrictions. Liven up your personal blog or add images to your social media posts for more punch.