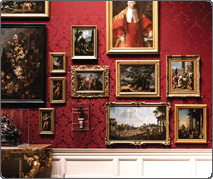 Back to Basics:
Staying Home? Take a Virtual Tour!
Make the most of this time by visiting educational treasures all over the world
To help reduce the spread of COVID-19, many museums, zoos, parks, and other tourist attractions are still partially or fully closed. Even if they're open, you may not be able to travel to them. What's the next best thing? Take advantage of the websites offering wonderful virtual tours. Here's a list of ones well worth visiting.
Museums
While museums are closed, you can still enjoy their fascinating exhibits. In fact, you can visit many museums around the globe using creative online tools. (As a bonus, you can skip the lines, crowds, and tired feet.)
Smithsonian National Museum of Natural History
naturalhistory.si.edu/visit/virtual-tour
The Smithsonian National Museum of Natural History is temporarily closed. But its website offers viewers an opportunity to "walk through" permanent, past, and current exhibits as well as museum research stations. You can also view virtual tours narrated by museum experts.
Guggenheim Museum
guggenheim.org/at-large
When you visit this site, you'll find many resources to help you explore the Guggenheim Museum from home. They include online art-related discussions, a virtual guided tour, and resources for families and educators. Note that guided tours are live, not recorded, and you must reserve a time to participate.
The Louvre
louvre.fr/en/visites-en-ligne
The Louvre is open for business but, if you can't quite make it to Paris, check out the theme-based virtual tours, including The Advent of the Artist, The Body in Movement, and Founding Myths: From Hercules to Darth Vader. The captivating photography will draw you in and make you feel like you're really there.
Van Gogh Museum
artsandculture.google.com/partner/van-gogh-museum
If you're a Van Gogh fan, now is the time to enjoy the largest collection of his works in the world. The permanent collection at the Van Gogh Museum includes 200 paintings, 500 drawings, and more than 750 letters. The museum also includes exhibits about 19th-century art history.
British Museum
britishmuseum.withgoogle.com
This innovative interactive display allows you to explore items at the British Museum by date or by theme, including Art and Design, Religion and Belief, and Trade and Conflict. Just as you might spend hours browsing a museum in person, you could easily get lost in the fascinating information here.
Zoos and Aquariums
If your favorite zoo is closed, opt for a virtual zoo tour — many come complete with interesting commentary by zookeepers. If you like what you see, consider making a donation. Zoos often rely on donations to help meet their expenses.
San Diego Zoo
zoo.sandiegozoo.org/live-cams
If you love animals, you'll love the live cams at the San Diego Zoo, including the panda cam, koala cam, elephant cam, tiger cam, and giraffe cam. Note that some of the cams are live while others feature past footage of these delightful friends.
Vancouver Aquarium
vanaqua.org
Here's another great site to find fun and adorable animal cams including an otter cam, jelly cam, and penguin cam. You can also watch videos to learn about animals of the Amazon, treasures of the British Columbia coast, the tropics, and more.
London Zoo
zsl.org/zsl-london-zoo/virtual-london-zoo
The London Zoo is bringing the zoo to you! Visit this site to find webcams and live streams, animal antics, zookeeper videos, and behind-the-scenes updates. Check out snack time for lemurs, fun facts about squirrel monkeys, and the secret to telling penguins apart.
National Parks
It's not impossible to visit a U.S. national park but be sure to check each website to see what's open before you go. You can also get overall information at nps.gov/coronavirus. Meanwhile, get your park fix with these evocative virtual versions.
Yellowstone
nps.gov/yell/learn/photosmultimedia/virtualtours.htm
This site is packed with resources that will make you think you've actually visited Yellowstone. Check out "video walks" to some of the park's most interesting locations. You can also explore areas like the famous Grand Canyon of the Yellowstone.
Yosemite
virtualyosemite.org/virtual-tour/#node177
This interactive tool enables you to see Yosemite up close without leaving home. As the initial screen rotates, click a location icon to be taken to that panoramic view. With the natural sounds of birds, rushing water, and tourists' voices as a background, you'll almost feel like you're there.
Kenai Fjords
artsandculture.withgoogle.com/en-us/national-parks-service/kenai-fjords/exit-glacier-tour
Kenai Fjords National Park is part of the Alaskan wilderness. Explore the wild geography, climb into a crevasse, kayak through icebergs, and use the interactive interface to see the effects of climate change as you view a glacier's melting progress since 2004.
Additional Destinations
No trip around the virtual world is complete without a couple of the Seven Wonders plus two of the most iconic structures, Buckingham Palace and the Eiffel Tower. Keep in mind that virtual tours are also great resources to help you plan your next real-life trip.
Buckingham Palace
royal.uk/virtual-tours-buckingham-palace
Buckingham Palace has been the location of many British national celebrations — including Jubilees, weddings, and Queen Elizabeth's birthday — as well as garden parties and other events. Now you can see parts of this majestic building for yourself and get information on magnificent items within.
Eiffel Tower
artsandculture.google.com/streetview/tour-eiffel/sAHt5Gv4YGH84Q
The Eiffel Tower itself is an amazing piece of architecture and, from atop it, you get incredible views of the buildings, bridges, roads, and parks of Paris, as well as the Seine River. The tour, made with Google technology, enables you to get the best of both without actually being there.
Machu Picchu
youvisit.com/tour/machupicchu
Machu Picchu is a 15th-century Inca citadel in Peru, sitting atop a nearly 8,000-foot tall mountain ridge. It is a UNESCO World Heritage Site as well as one of the New Seven Wonders of the World. This guided tour takes you all the way up to the top of Machu Picchu with dramatic views along the way.
Great Wall of China
thechinaguide.com/destination/great-wall-of-china
The Great Wall of China is China's most famous attraction. Also considered one of the Great Wonders, this structure stretches more than 3,000 miles across several provinces in the northern part of the country. On this virtual tour, you'll visit three sections of the engineering marvel.
Virtual Field Trips for Curious Kids
There's no question that in-person visits to educational destinations are ideal. However, even virtual visits to learn about history, art, culture, and nature can provide knowledge and inspiration to your kids. Here are a few more places to visit that might be especially fun for them:
M&Ms Factory Tour
youtube-nocookie.com/embed/GtfkemNzG_I?controls=0
Visit the New Jersey plant and see the production process for this classic candy.
Bright Farms
vimeo.com/410603232
See the new, advanced greenhouse where farmers are growing millions of pounds of produce.
Son Doong Cave
nationalgeographic.com/news-features/son-doong-cave/2/#s=pano37
Appreciate the beautiful National Geographic photography as you go down into the world's largest cave!
The Great Lakes
greatlakesnow.org/virtual-field-trip
Choose from one of three fascinating Great Lakes virtual field trips: Coastal Wetlands, Algae, and Lake Sturgeon.
Recycling Plant
rmpbs.pbslearningmedia.org/resource/ess05.sci.ess.earthsys.recycleplant/visiting-a-recycling-plant
Ever wonder what happens to your recycling after it gets picked up? Find out in this PBS LearningMedia video.