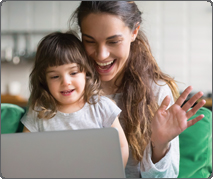 Cover Story:
COVID-19 Guide
Stay Healthy, Connected, and Strong
The COVID-19 pandemic is frightening, and you may sometimes feel overwhelmed and helpless. But there are positive steps you can take to protect yourself, your family, and your community.
For example, you can seek out information from reliable sources, make the best of working from home, support others in need, stay connected to loved ones, and keep your spirits up with home entertainment. In the following pages, we offer tips for doing all these things and more. 
Check out our suggestions for some of the best places to go for accurate, up-todate information about the progress of this coronavirus, current social distancing guidelines, and other safety recommendations from public health experts. Then learn to master the art of working from home (yes, it's okay to do laundry while you work), try our distant socializing and online entertainment ideas (virtual cocktail party, anyone?), and review our list of organizations that could use your financial help (hint: start with charities you already support).
Remember, some parts of the world are already seeing a decline in the number of new COVID-19 cases and our community, too, will come out the other side. In the meantime, we hope this guide will help you navigate this challenging time.
QUICK TIP: Don't forget to relieve stress. Do breathing exercises or try the Calm app for meditation and relaxation.
Internet is Indispensable for Modern Life
So many aspects of daily living — including work, education, shopping, banking, health care, and entertainment — require internet service. It's so important that 76 percent of households responding to a recent Parks Associates survey considered it "critical" to have at home. A significant 60 percent named broadband service more important than pay TV.
During the pandemic, it's even more crucial to have access to this critical service. Yet, many in the U.S. are struggling to get online. According to a recent Vox article, "33 million people in America live without internet, including 15 percent of folks living in rural areas." Based on information from the Pew Research Center, some simply don't want it, some find it too difficult to use, and others can't afford it.
That's why internet service providers across the U.S. are doing their best to expand connections. In some cases, people are signing up for internet service for the first time, perhaps at reduced rates. In others, customers are upgrading the speed of their plans due to increased usage.
When public sources for internet access (such as coffee shops and libraries) are closed, people without home internet may struggle to complete online tasks related to work, education, or government programs. That's why free public Wi-Fi zones have been set up in parking lots and other outdoor locations.
The good news is that the Federal Communications Commission (FCC) has taken action to help ensure more Americans can connect to the internet. The Keep Americans Connected Initiative (see sidebar) is a step in the right direction, and it may be a springboard for additional actions to close the digital divide in the future.
Providers Pledge to Keep Americans Connected
Internet providers understand the necessity for Americans to have access to the internet during the COVID-19 pandemic. As a result, many of them have signed a pledge initiated by the Federal Communications Commission (FCC). The pledge is part of the Keep Americans Connected Initiative and has three major components:
Signers won't terminate services to residential or small business customers if they're unable to pay bills due to issues related to the coronavirus pandemic.
Signers will waive late fees for residential and small business customers if the late payments are due to financial situations related to the pandemic.
Signers will open their Wi-Fi hotspots to any American who needs them.
Visit www.fcc.gov/keep-americans-connected to see a list of companies and associations that have signed this pledge and to learn more ways the FCC is helping.
How to Make Working from Home Work for You
Going from working at an office to working from home can be a big transition, especially if it wasn't your choice. Limited space, insufficient internet service, or kids at home can all contribute to a less than ideal environment for staying productive. Here are a few tips to help smooth out the bumps in the road.
Keep Your Morning Routine
Sure, it can be tempting to stay in your PJs all day. But, if you took a shower and changed into regular clothes in the morning to go to work, keep doing it. The same goes for eating a good breakfast, meditating, and anything else that helps you get off to a good start.
Avoid Distractions
It's okay to do small household tasks throughout your day but structure these activities. Set a timer for an hour and work during that time. Then spend 15 minutes getting a snack, stretching, or throwing in a load of laundry. The secret is limiting the time, so you don't get sucked into chore mode.
Set Up a Work Area
Of course, the ideal situation is to have an entire room as a dedicated office. If that's not possible, at least set up a desk or table somewhere to keep your computer, printer, and other needed supplies. Tell your family to treat the area as though it were your office at work — that is, hands off!
Manage Communications
Because you're not able to talk to others in person, you may be dealing with way more email, texts, and Slack or voicemail messages. Avoid getting overwhelmed by turning off notifications and only checking for messages once per hour. Schedule calls and video conferences as you would in-person meetings.
QUICK TIP: Take a virtual vacation at travelzoo.com/blog/20-amazing-places-you-can-visit-without-leaving-home/.
Reliable Sources for COVID-19 News
In order to protect yourself and your family during the pandemic, it's important to make decisions based on facts and not rumors or misinformation. Don't believe everything you see in your Facebook news feed. Instead, count on these well-respected and reliable sources:
In addition, be sure to stay informed of the current information and recommendations issued by your local community's health organizations.
Help Your Favorite Small Businesses Make It Through the Crisis
Stay-at-home and social distancing mandates to reduce the spread of COVID-19 have dramatically changed our shopping and dining habits. While it may be an inconvenience to patrons, it's devastating to small retail stores, restaurants, and service businesses. You may not be able to visit these establishments as you normally would due to temporary closures, but you can continue to support them. Here are a few suggestions:
Buy gift cards for future use. Many businesses are offering the option to purchase gift cards online.
Shop online from local businesses. If your favorite local gift shop or bookstore offers online shopping, think about buying birthday and holiday gifts early.
Choose local grocery stores and pharmacies over big-box chains when possible. If you can safely shop in person, buy your essentials from small businesses to help them stay afloat.
Order takeout or delivery. This option helps local restaurants continue to operate while we maintain social distancing. If you're able, tip delivery people generously.
Schedule a service for later in the year. If possible, schedule work with a housepainter, landscaper, or other contractor for several months from now. Knowing that work is coming their way can help alleviate their anxiety.
Don't forget about nonprofits. Double your community assistance by buying a gift card from a local shop and donating it to a nonprofit. For example, you could buy a gift card from a local pet supply store and donate it to an animal shelter.
Small businesses need our support now more than ever to survive this crisis. Please do what you can to help.
QUICK TIP: Ready for something uplifting? Check out positive stories at upworthy.com.
Consider Donating to These Worthy Causes
As in any emergency, donations are critical for people suffering through the pandemic. Here are a few organizations that could use your help:
To find additional organizations to consider for donations, visit Charity Navigator (charitynavigator.org/index.cfm?bay=content.view& cpid=7779). You can choose the category of COVID-19 work you'd like to support, such as medical services, relief supplies, or education and awareness.
Finally, if you routinely donate to local nonprofit organizations, keep it up. They could probably use your support now more than ever.
While Social Distancing, Enjoy Distant Socializing
Social distancing is a vital tool to help slow the spread of COVID-19. However, staying connected to friends and family is also important to our health. This new category of interactions has been called "distant socializing." Here are strategies for staying close to others while remaining physically apart.
Join an online book club.
Your established in-person book club could easily switch to online meetings or check with your local library or bookstore to ask about virtual book clubs they sponsor.
Try tailgating without the game.
Arrange for a few friends to meet you in a parking lot and space your vehicles at least 6 feet apart. Then open the hatches, sit on blankets and pillows, and have a pandemic-safe party.
Find a more peaceful place on Facebook.
Has your Facebook news feed become too stressful or depressing lately? Try seeking out a more supportive place on social media such as a Facebook Group dedicated to only positive and uplifting posts.
Have fun with multiplayer games.
In addition to battle games like League of Legends or Fortnite that are played by millions of people daily, you can try some tamer multiplayer games like the Scrabble-ish Words with Friends or one of the many chess apps.
Go old school and write a letter.
This form of communication will be particularly appreciated by the elderly people in your life, for whom letters have always been treasured. If you can include a picture drawn by a grandchild, all the better!
Schedule virtual social events.
Check out Netflix Party (netflixparty.com) and watch TV shows or movies with friends. Or host a virtual cocktail party or dinner party via Zoom.
QUICK TIP: Kids driving you crazy? Send them to nationalgeographic.com/family/at-home-education-resources.
Best Apps for Video Chats
Whether you're working, holding your monthly book club meeting, or socializing with friends, if you can't do it in person, you'll need a good online alternative. Zoom is perfect for large groups, but there are other applications that serve a variety of needs.
Google Hangouts is another option that's good for groups, especially work meetings.
FaceTime is great for chats with friends if you both use Apple devices.
Facebook Messenger is also good for social calls and can be used across operating systems.
If you need to talk to several people at a time, Skype and WhatsApp are good choices.
You can use Viber and WeChat for calling, messaging, and file sharing.
If you don't have time for a chat but still want to connect, you can send a video message with Marco Polo.
Want to get more interactive? Use Houseparty to play games or Netflix Party to watch Netflix shows or movies together.
Being Home Doesn't Have to Mean Being Bored
Your favorite streaming, music, and gaming outlets are available to help you pass the time while safe at home. But did you know you can also virtually visit a museum, take exercise classes, and even play board games? Here are just a few of the many entertainment resources you might want to try. Some are even free!
Free Board and Card Games
The makers of the popular card game Cards Against Humanity were set to release a kid-friendly version in the fall but are offering it now for free. Just go to cardsagainsthumanityfamilyedition.com, download, and print. You can get more fun downloadable games at print-and-play.asmodee.fun.
Exercise Classes
Stay in shape while you stay at home. Try the 90-day free trial of the FitPass app from Echelon. You can get live and on-demand classes including cardio, core, Pilates, and Zumba workouts. The Peleton app is offering a similar deal. If you're into yoga, check out the many virtual classes available on YouTube.
Arts and Culture
Visit Google's Arts & Culture collection at artsandculture.google.com/partner?hl=en to go on virtual tours of hundreds of museums around the world. Or check out a new play every Thursday at the National Theater at Home YouTube channel, or a different encore presentation from the Live in HD series from the Metropolitan Opera each day.
Streaming Specials
Many streaming services are offering special deals during the pandemic, so do your research to see what's currently available. For example, you may be able to watch content for a limited time without paying the subscription fee.
QUICK TIP: For a list of 10 free Netflix alternatives, visit cnet.com/how-to/netflix-alternatives-10-best-free-movie-streaming-services.
Beware of Scammers Trying to Exploit COVID-19 Fears
Scammers use every opportunity to try and trick you out of money or personal information, and the COVID-19 pandemic is a case in point.
The U.S. Attorney General issued a warning about these coronavirus scams:
Scammers are selling fake cures and vaccines for COVID-19 online and engaging in other forms of fraud.
Phishing emails are being sent from entities posing as the World Health Organization (WHO) or the Centers for Disease Control and Prevention (CDC).
Malicious websites and apps appear to share coronavirus-related information in order to gain access to your devices.
Scammers are seeking donations for illegitimate or non-existent charitable organizations.
Other reported scams related to COVID-19 include fake e-commerce sites claiming to sell supplies in high demand such as hand sanitizer, toilet paper, and surgical masks. Scammers will keep your money but never provide the merchandise.
Watch out for these scams and rely only on reputable sources for the products and information you need.