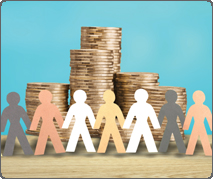 Social Media Basics :
Want to Join the Crowd With Crowdfunding?
Request money for an emergency or get a business off the ground
ICrowdfunding is a way to get money to fund a creative or nonprofit pursuit, bootstrap a business, or get assistance for a personal or medical situation beyond your financial reach. The idea is to get a crowd of people to donate to a cause they support, sometimes with the expectation of something in return.
How It All Got Started
The practice of crowdfunding as we know it today started in 1997 when fans donated $60K to a British rock band to fund a reunion tour. Since then, many other projects and businesses have used crowdfunding to get their start, including the Oculus Rift virtual reality device and the Exploding Kittens card game.
In 2000, the rewards-based, fan-funding platform called ArtistShare (artistshare.com) was introduced to raise funds for creative projects. This site served as a model for others including IndieGoGo (indiegogo.com), founded in 2008, and KickStarter (kickstarter.com), founded in 2009, as well as the now-defunct PledgeMusic.
Crowdfunding has expanded to include several different ways to participate:
Rewards-based. When you donate to a rewards-based campaign, you get specific rewards tied to the amount you donate. Rewards range from a simple thank-you note to a handcrafted item to a manufactured product.
Donation-based. In this type of campaign, you donate without the expectation of getting anything in return.
Equity-based. If you want to support a budding business, you can get equity in it in exchange for your financial contribution.
Debt-based. Here you lend money to the entrepreneur running the campaign and they eventually pay you back the principal plus interest. This type of crowdfunding is also known as peer-to-peer lending.
Personal Causes
Crowdfunding can be used for many purposes, including paying for a personal or creative project, getting startup cash for a business, or collecting money for a personal need such as an emergency, medical situation, or planned volunteer trip.
If you're considering using crowdfunding for a personal reason, keep in mind that generating money for this type of campaign isn't as easy as it might seem. For one thing, people typically only donate to those they personally know. If you want to go beyond your personal network, you'll have to do some promotion through social media and other means.
Funding Tools
Read the descriptions here to see if any of these platforms might work well for your project. If not, there are many others available as well.
Causes (causes.com)
This site is the right place for individuals and nonprofits looking to generate funds to further the interests of animals, human rights, the environment, and similar issues.
CircleUp (circleup.com)
This site enables entrepreneurs who already have a business off the ground to connect with potential investors to ramp up.
GoFundMe (gofundme.com)
Good for personal emergencies, charitable causes, and businesses, GoFundMe enables you to keep all the funds you raise.
Kickstarter (kickstarter.com)
A good overall crowdfunding site, Kickstarter uses an "all or nothing" approach, meaning you only get funding if you get pledges that meet or exceed your campaign goal.
Patreon (patreon.com)
This site allows creatives such as YouTubers, podcasters, and bloggers to get funding for their ongoing projects on a subscription basis.
Tips for Crowdfunding Success
To get the best results from a crowdfunding effort, follow these tips, based on a list provided by GoFundMe:
Have a realistic goal. Do some calculations before you start the campaign to determine what the actual cost of your project will be and base the fundraising goal on that. You can always increase it later if needed.
Create a relatable story. Use the space available to clearly describe your situation. Explain exactly how the funds will be used. Add a compelling title to draw people in.
Use images. If your campaign is to help a person, include some shots of them. If it's for a business, display your product. Any images that help make your idea more tangible to friends, family, or funders will help.
Use social media. Once your campaign is up and running, use your social media accounts to spread the word.
Send updates. When people invest in your idea or project, they're invested in the results. Be sure to share news and progress along the way. Also let them know when you've reached your funding goal!
Use Your Birthday to Support a Good Cause
Facebook has gotten into the crowdfunding space with a feature that allows you to request donations to a cause of your choice on your birthday. The cause can be any nonprofit that's set up on Facebook, and Facebook checks to make sure each one is legitimate.
Here's how it works: You set up the birthday fundraiser, including a financial goal, and then Facebook friends see it on your birthday and have the option to click through to donate. The results are typically better than the requestor expects, given the opportunity to write a heartfelt explanation of why the cause is important and the ease of donating.
For the organizations that benefit from these gifts, birthday fundraisers can bring in a significant amount of funding without a lot of work. Those making the donations are also gratified by simultaneously helping their friend having the birthday and supporting a good cause.