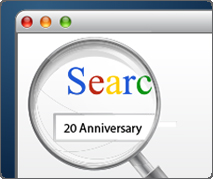 Internet Connections:
Happy 20th Anniversary, Google Search!
To celebrate, Google is giving users the gift of new features
It may be hard to believe, but it's been 20 years since Google gave the world Google Search and forever changed the way we find information online.
To mark the anniversary, Google has introduced several new features to the search engine that will enrich your search experience, and they're using Artificial Intelligence (AI) to do it. From cataloging your search history to showing you relevant video clips, Google Search is getting a lot more personal.
Let's look at some of the new features.
Activity Cards
Have you ever found yourself returning to a search query from the past and wishing you could remember what you've already looked at? If so, Google's new activity cards can help solve that problem.
An activity card is a visual representation of your search history on a given topic. Whenever you perform a search, Google will display an activity card above your search results. When you expand the card, you'll see related search queries as well as the pages you've already visited while researching the same topic.
Collections
Ever wish you could save specific search results for future reference? With Google's new Collections feature, you'll be able to organize and save your search results directly from your activity cards.
Saving search results to a collection is sort of like pinning something in Pinterest — you're creating a catalog of related search results. It could come in very handy when you're planning a trip and want to search different aspects of your destination, or even if you're doing research for a big project at work.
Featured Videos
We all know how compelling visual content is and so does Google. With their new Featured Videos function, any videos that show up in your search results will now be "smarter." Not only will Google automatically generate preview clips to display in the search results, it will use AI to determine the most relevant parts of the video to show.
In their announcement, Google used the example of visiting a national park for the first time. A user searches on the park by name, and Google — because it understands a video's content well enough — can return a video that shows the most important landmarks to see within that park.
AMP Stories
Even if you haven't heard of AMP Stories before, you'll be seeing a lot more of them in your search results. AMP stands for Accelerated Mobile Pages and refers to content that's fast-loading, designed for mobile devices, and most importantly, immersive. (Think video, custom animation, sound, and text.)
Google is using AI to build AMP stories around celebrities and athletes, but AMP stories from other publishers will also appear in search results. That means that you'll be able to discover this engaging type of content much more easily, in the context of something you're already looking for.
"Discover" the New Google Feed
If you use the Google app on any of your devices, you're already familiar with the Google feed. That's where Google displays content — like news stories — that's related to topics you've searched in the past. Google is giving that feed a new look and a new name: Discover. The Discover tab will show content that's personalized to you and will tell you why you're seeing it.
You'll be able to control what content is featured in the Discover tab, but by default, relevance will take precedence over the age of the content.
FAST FACT: Many people use Google Search in emergencies. Google is also introducing a new AI-based flood prediction model to give people more accurate and timely flood alerts.
Remember Life Before Google?
In the old days, you couldn't just type a question or topic in Google's search box and instantly get information. Instead, you had to physically go somewhere to do research or use other time-consuming methods like these:
Libraries
The first stop for any researcher was often the library, and librarians were the first "search engine." You could tell them what information you were looking for, and they'd do their best to find it for you or point you in the right direction to find it yourself. Although you had to take the time to go there, libraries contained a wealth of knowledge to draw on (and still do today).
Bookstores
If you couldn't find what you were looking for at the library, your next stop was likely the bookstore. Of course, if you hung out too long without buying anything, you might hear, "Hey, this isn't a library!"
Newspapers
For current information, people would turn to their local newspaper — either by reading its pages or calling a local reporter. Advice columns were also popular: People could mail in their questions but had to wait for the answer, if their letter got published at all.
What's the future of search? Go ahead and Google it to find out!