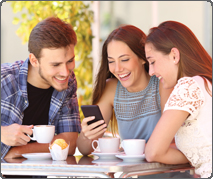 Social Media Basics :
Let's Chat About Facebook Messenger
This popular messaging app offers fun options for communicating with family and friends
Facebook, long known for enabling users to post updates and share photos and videos, also has a messaging app to help you connect in more ways. You can use Messenger through Facebook or through a separate app on your phone. As with other messaging programs, you can send text messages, photos, and images to others who use it.
Why Messenger is Fun
Messenger stickers, emojis, and GIFs help you express yourself in fun ways. You can also use the built-in camera to show what you're doing in the moment, with added drawings and funny mask filters if you like. Group chats allow you to communicate with several people all at once, and you can even use Messenger as a phone to have voice or video conversations. Messenger also has some unexpected features including voice memos, game playing, and sending money or maps. Facebook has written about its plans for Messenger in 2018. Here are some of its stated goals:
Investing in real time communications
Adding functionality for group chats
Simplifying and streamlining
Enabling more visual messaging including video, images, GIFs, and stickers
Enhancing the use of Messenger for customer care
Overall, Facebook wants to "make Messenger the best way to spend time together when you're apart, or to make plans to spend more time together in the real world."
How to Use As mentioned above, there are two ways you can use Messenger — through the regular Facebook interface that you probably already use, or through the phone app. (While Messenger is a Facebook product, you don't have to have a Facebook account to use it. Just download the Messenger app or go to messenger.com to get started.)
If you use the app, it's pretty straightforward; you'll be operating it as you would other messaging apps. But, if you use Messenger through the Facebook interface, remember that you must use a different process for sending a private message than you would for posting a public one. If you post to someone's profile or tag them, others will be able to see it. If you send a private message, it's just between you and the recipient. (See the tutorial section for how to send messages using Facebook or the Messenger app.)
You can use Messenger for just about any reason — to make plans, ask questions, or just say hello. Given all the options, your imagination is the only limitation for connecting with the people you care about.
Tips and Tricks
Once you have the basics of Messenger down, try these neat ideas to make the app even more fun:
If you need to pay back a friend for game tickets, just tap their name in the Messages screen, then tap the information ("i") icon in the upper-left corner. Select Pay [friend's name] and follow the prompts from there.
If you love GIFs, you'll love this function: Choose your recipient and tap the emoji icon in the message screen. Select the GIFs tab. Type a search term and choose your GIF. It will be immediately sent to the recipient.
To send a voice message, select your recipient and tap and hold the microphone icon next to the message screen. Record your message. It will be sent immediately.
Need to be done with a never-ending group chat? First, tap the Groups tab. Tap on the three-dot icon in the upper-right corner of the chat, and select Mute notifications. Follow the prompts regarding how long you want notifications to be off.
No doubt you'll find other fun and creative ways to use Messenger!
Messenger Kids Can Help Children Stay Safe
Messenger Kids is like a mini Facebook Messenger that enables parents to approve who their kids are communicating with to help keep them safe online. Based on conversations with child development and online safety experts, the app — which doesn't require kids to have their own phone number — delivers a secure online experience for them to keep in touch with friends and family. Like other messaging apps, Messenger Kids can be used to text, video chat, send stickers, put on masks, and generally do what kids like to do — play. Parents appreciate that Messenger Kids addresses many of the security issues associated with other chat apps, where child predators can be waiting for their next victim. If children are going to use a messaging app, parents can rest easier knowing Messenger Kids is one they can control.
What is Messenger Lite?
Facebook launched Messenger Lite in 2017. This version of Messenger is meant for users in areas where internet connections may be less robust. However, Messenger Lite is also great for people who don't use many of the functions of Messenger, such as games and extensions. Because it's running fewer features, Messenger Lite operates more quickly and takes up less space on your phone.