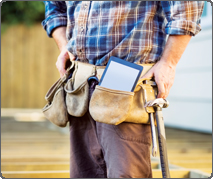 Cover Story:
Nail Your Next Home Improvement Project
You'll find everything you need online to make your house more of a home
If only you could magically transpose that beautiful living room idea from your favorite home inspiration website directly to your house. Unfortunately, home improvement projects are a lot more involved than that. But the process can go smoothly if you get the right tools, plans, and how-tos.
Home improvement is big business, so all the designers, product sellers, experts, and others have put plenty of information out there for you to explore. It can all be a bit overwhelming, which is why we've developed the following pages to give you direction on where to look first.
No matter what kind of project you have in mind, we've got you covered from start to finish. Get inspired at some of the web's most beautiful home sites. Keep your project on track with essential organization and budget programs. Create your project in advance with online design applications. Find out where the best DIY videos can be found. Learn why lighting shouldn't be an afterthought. And check out (and avoid!) some of the most common home renovation mistakes.
No matter the size of your home, project, or budget, you're sure to find a starting point for home improvement support and assistance here.
QUICK TIP: Not sure where to start on home improvement? Consider first doing the projects that will add the most value to your home.
Visit These Places to Get Inspiration for Your Spaces
If you're looking for home project inspiration, you only need to go as far as your favorite browser. Search for your project, style, or room, or visit the sites below to get started.
HGTV (hgtv.com/design/decorating)
This site is a great starting place for décor inspiration. Check out articles about making your home "Pinterest perfect," design basics, window treatments, and decorating dos and don'ts. Visit beautiful photo galleries about things like the best bedroom paint color, storage for kids' stuff, and products to help you with an organizational overhaul.
Better Homes & Gardens (bhg.com/decorating)
This site offers a variety of great home improvement content including a quiz to find your personal decorating style, patio furniture ideas, easy window treatments, and DIY projects you can complete over a weekend. Check out the specialized sections like "small spaces" to find the best ideas for your home.
House Beautiful (housebeautiful.com/home-remodeling)
You'll find dozens of home design articles here. Learn space-saving tricks for small kitchens, genius DIY storage solutions, or how to make over a room in just one day. Check out the How to Renovate section for expert renovation tips and visit the video section to watch home improvement tips come to life.
Good Housekeeping (goodhousekeeping.com/home/decorating-ideas/g1500/decor-ideas-living-room)
The living room decorating ideas in this gallery include fun possibilities for chic storage solutions, comfy seating, and a family-friendly arrangement. Get creative with a statement rug, navy walls, or natural textures. Scroll down the page for more ideas to help you decorate your bathroom, sunroom, home office, and more.
Peruse Pinterest for More Inspiration
When looking for décor ideas for your home, don't forget to take a look around Pinterest. Not sure what you want? Just search for "home décor ideas." Or better yet, narrow your search term to match your particular project or taste. For example, use "living room décor ideas," "rustic décor ideas," or "décor ideas on a budget." Pinterest will show you additional descriptors, so take a look at those choices for more options.
Create a board for your project and, when you see something you like, pin it to look at later. You may want multiple boards for different rooms of the house if you're planning to do work in several places.
If you find an item within an image that you really like, try this neat trick to see others similar to it:
Click the image.
On the next screen, in the upperright corner, click the crop icon.
You'll then see the cropping tool activated in each corner.
Move the corners to highlight a particular item in the image.
Pinterest will display similar items.
When you're out shopping for flooring, furniture, and accessories, you'll be able to access your Pinterest board on your mobile device to remind you of your design inspirations.
FAST FACT: Some of the most popular home improvement TV shows include Fixer Upper, Property Brothers, and Rehab Addict.
Before You Pick Up a Hammer, Grab These Planning Tools
A home improvement project can involve lots of little details, and you want to be sure to keep a close eye on your finances. Get a handle on all of it with these handy organization and budgeting tools.
Evernote (evernote.com)
Evernote is an electronic organizer that can help you keep track of your home improvement project. Start an online notebook to store photos, notes, documents, websites, and more. Create a task list to keep everything on schedule and share with others involved. Use the spending tracker to make sure you're staying on budget.
Asana (asana.com)
Similar to Evernote, Asana is an electronic information organizer. Create an online version of your project and track its progress using the timeline and task list. Delegate tasks to others and easily move them from "in progress" to "done" status. You can also include emails and other documents and share information with others.
Kitchen Craft Calculator (kitchencraft.com/get-started/design-your-room/budget-calculator)
Use this handy calculator to help set spending limits before you go shopping for home improvement materials. Select the room you're going to renovate, then enter your budget. The calculator breaks down the amount by each element you'll need to include such as cabinets, flooring, and countertops for a kitchen.
Home Remodel Template (templates.office.com/en-us/Home-remodel-budget-TM02929726)
Love using spreadsheets? If so, you'll definitely want to download this Microsoft Excel template for your next renovation project. Choose the type of project you're doing, fill in your own information, and use the document throughout your project to make sure spending stays on track.
Avoid These Home Renovation Mistakes
It's unlikely you'll get through an entire home renovation project with no boo-boos, but if you can identify the likeliest ones in advance, they'll be easier to avoid. Here are a few to watch out for:
Buying shoddy materials. Go with the best materials you can afford and look for deals to get more for your money.
Ignoring prep work. "Measure twice, cut once" is always great advice. It will save you time in the long run. Also make sure you thoroughly prep your walls before painting.
Trying to be trendy. What looks cool in the showroom today might feel dated in just a couple of years.
Neglecting safety. Just like you always wear your seatbelt when driving, be sure to "buckle up" with goggles, gloves, and the like when doing potentially hazardous activities.
Using the wrong contractor. Take the time to interview possible contractors and see examples of their past work. It's also a good idea to get input from their previous customers.
Setting an impractical budget. Since home renovation projects usually end up costing more than you think due to unexpected challenges, be sure to set aside a healthy buffer.
Use Design Applications to Visualize Your Project
If you want to make sure the home improvement project you have in mind is right for your space, create an electronic version first using these handy design programs.
Planner 5D (planner5d.com)
Use this site to get home design ideas, create your own room or building plan, and create photorealistic images to help you accurately visualize your project. This simple and intuitive application allows you to start from scratch, or you can choose a helpful template to quickly create the look you want.
SmartDraw (smartdraw.com/floor-plan)
This easy-to-use design tool includes intuitive functionality to help you create a detailed floor plan for your home design project. You'll be able to draw walls, add architectural features, and add furniture with plenty of guidance from the application's floor plan drawing guide. Use the online function to share plans with others.
Homestyler (homestyler.com)
With this tool, you can create a room plan and select furniture, wall coverings, and building elements. Use the bird's-eye or 3D view to move or change elements to see what combinations work best, then save your designs. Check out the mobile version to conveniently create room designs on the go.
Sweet Home 3D (sweethome3d.com)
Sweet Home 3D is a free interior design application that helps you draw or upload the plan of the room you want to decorate, arrange furniture, and see the results in 3D. The application gives you dozens of design elements to choose from for furniture, doors, windows, flooring, and other items.
QUICK TIP: Some projects are typically best left to the professionals. Tasks such as removing walls, installing a new roof, or making electrical changes are not good candidates for do-it-yourselfers.
Create an Outdoor Room
You can use your backyard or deck to add an outdoor room to your dwelling. The possibilities are only limited by your imagination (and budget). Here are a few ideas to get your planning started:
Living/social area. Pick a spot and add outdoor furniture and a fire pit for a welcoming place to gather.
Kitchen. Your outdoor food prep zone can be anything from a simple grill to an area with a built-in oven, refrigerator, and sink.
Dining room. No need to go to a restaurant with an outdoor patio. Instead, create your own with a table and enough chairs for all your hungry friends.
Breakfast nook. All you need is a small outdoor space, a table, and a couple of chairs to create a pleasant spot to enjoy your morning coffee.
Hot tub retreat. Create a mountain getaway no matter the elevation.
Accessorize with a fireplace and a few comfy lounge chairs.
Let The Experts Show You How With DIY Videos
Ready to put some sweat equity into your house project but not sure how? No matter what you want to build or repair, it's likely there's an online video to show the way.
Buildipedia (buildipedia.com/at-home/everyday-diy-video-series)
No need to be intimidated by DIY home improvement projects. This site offers friendly, useful videos on a wide variety of tasks including installing a kitchen countertop, hardwood flooring, a faucet, or a shower enclosure. You'll also get great tips on maintaining these and other features of your home.
HomeAdditionPlus (youtube.com/user/ HomeAdditionPlus/videos)
The YouTube channel for HomeAdditionPlus provides videos for things that you might not realize you need to know. Examples include how to remove plastic wall anchors, reinstall old baseboard trim, or repair a bathroom ceiling fan. Host Mark J. Donovan delivers instructions in a straightforward and easy-to-follow manner.
House Improvements (youtube.com/user/HouseImprovements/featured/videos)
For more DIY home improvement videos, check out House Improvements' YouTube channel. You'll find everything from the simple (how to install a dimmer switch, adjust a door hinge, or replace a toilet flush lever) to the more complicated (how to replace a dryer vent, install faux stone wall panels, or replace a window).
DIY HIP Chicks (youtube.com/user/DIYHIPChicks/videos)
DIYer Beth Allen created HIP Chicks for real homeowners wanting real DIY direction to save money, time, and stress. On her YouTube channel she offers both instruction and encouragement as she teaches viewers how to do things like install a sink, fix a ceiling fan, install a garage wall organizer, or unfreeze frozen pipes.
Home Improvement Ramps Up in 2018
According to consumer lender LightStream, which conducts a home improvement study each year, 58 percent of U.S. homeowners plan to complete a home improvement project in 2018. Here are some additional findings from the survey:
45 percent of respondents plan to spend at least $5,000 on their project, and more than twice the number from 2017 plan to spend $35,000 or more.
Some of the most popular projects include outdoor improvements (43 percent), bathroom remodels (31 percent), repairs (28 percent), and kitchen remodels (26 percent).
65 percent of survey respondents said they would do at least some of the work for their project themselves, and 35 percent reported they would do all of it themselves.
Many respondents said they were making improvements that would enable them to stay in their homes as they age — even younger respondents aged 18 to 44.
The survey notes that the majority of homeowners (62 percent) plan to pay for their home improvement projects by using savings.
Cook Up a Better Kitchen or Freshen Up Your Bathroom
Kitchen and bathroom remodels or refreshes can make a big difference in how you feel about your home and in its value. Check out these sites to get a head-start on your home project research.
Houselogic (houselogic.com/by-room/kitchen)
Your kitchen is one of the hardest- working rooms in your house, and this site can help you give it a little TLC. Find ideas for color schemes, layout ideas, and remodeling decisions you'll never regret. Check out the kitchen storage section for clever ideas to get more out of your food prep space.
Lowe's (lowes.com/creative-ideas/ kitchen-and-dining/kitchen-remodeling-ideas/article)
Home improvement giant Lowe's has some big ideas for kitchen improvements. Check out photos of swoon-worthy backsplashes, cabinets, islands, countertops, appliances, and flooring. The site also offers reminders about small improvements that can make a huge difference like an appliance garage, sliding pantry doors, or handy shelving.
Houzz (houzz.com/photos/bathroom)
This one-stop bathroom stop offers over a million photos in categories like master, kid's, small, modern, and contemporary. It also features products you'll need to help you remodel from vanities and faucets to lighting, mirrors, and hardware. You'll also see a section for finding a local pro to help you do your job right.
Country Living (countryliving.com/home-design/decorating-ideas/advice/g1369/bathroom-decorating-design-ideas/?slide=1)
The aim of this Country Living gallery is to "make your home's smallest room feel larger than life." From claw-foot tubs to accent walls to outdoor views, it delivers on that mission. Watch for the dresser vanity, salvaged sink, barndoor shower, and many other creative bathroom ideas as you browse through.
Are You in the Dark About Lighting?
Much more than just a practical matter, lighting can set the mood in your home, and the fixtures that supply it can serve as beautiful accessories. There are actually three main types of lighting to consider: ambient, task, and accent.
Ambient (general) lighting provides the level of brightness you need to see comfortably in each room. A ceiling fixture is a good example of this type of lighting.
Task lighting helps you perform certain tasks such as reading, cooking, or studying. An under-cabinet light in the kitchen, for example, can help you better see vegetables on a chopping board. A desk lamp can aid in studying.
Accent lighting shines light on hanging artwork or other interesting design elements. It's commonly provided by track lighting.
Think about the activities you do frequently in each room of your home and take lighting into consideration during your next home project.