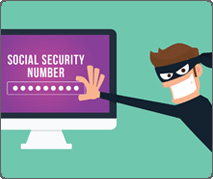 Back to Basics:
Don't Become a Victim of Tax Fraud
Thieves can steal your refund before you even file a return
As unpleasant as preparing tax returns may be, it's almost worth it when you find out you're due for a refund. But, what if someone steals that refund before you even try to claim it? Unfortunately, with today's cyber insecurity, this scenario is a very real possibility.
How Tax Fraud Happens
If identity thieves get ahold of your Social Security number, they can use it to file an early tax return in your name and claim the refund. They might get your Social Security number by hacking data from businesses that store your personal information, stealing your Social Security card from your wallet, or impersonating an IRS agent or bank official and tricking you into providing it.
You can see how critical it is to guard your number carefully. To do so, take the following precautions:
Avoid carrying your Social Security card around with you.
Never give out your number over the phone, even if the caller says they're from an agency or company you do business with.
Never respond to emails requesting this information. Instead, call the company or agency the message is supposedly from using contact information you already have.
Always shred bank statements, credit card offers, and any other documents containing personal information.
Use best practices for going online in public places and never conduct financial business on public Wi-Fi networks.
Check your credit reports regularly to identify irregular activity.
Stronger Security Partnerships
The IRS is well aware of the issue, and has taken steps toward resolving it. A USA Today article reported the following statistics.1
The IRS stopped 883,000 tax returns with confirmed links to identity theft in 2016, a 37% drop from the year before. The nation's tax agency also stopped 443,000 potential tax refunds linked to identity theft, a 30% yearover- year decline.
Financial institutions stopped 124,000 suspect tax refunds in 2016, half the number detected in 2015. The companies have stopped 127,000 suspicious refunds so far this year, reflecting a handful of cases involving several thousand accounts.
The number of taxpayers who told the IRS they had fallen victim to identity theft dropped to roughly 376,000 in 2016, a 46% decline from the year before.
According to the same article, "The declines stem in part from the first-ofits- kind partnership between the IRS, state tax agencies, major tax preparation companies, and other tax industry participants." Information sharing and other tactics are being used to combat this type of identity theft.
Additional safeguards will be put in place this year including the broader use of 16-character security codes on W-2 tax forms. Tax professionals will also gather more information about clients who use their services including name, Social Security number, and details of estimated payments.
What to Do If You're a Victim
If you do file a return and get a notification from the IRS that your return has already been filed, or if you get notification from the IRS about "suspicious activity" related to it, these occurrences are red flags that something is wrong. Here's what you need to do:
1. If the IRS sends you a letter describing the conditions above, follow the directions in it to verify your identity.
2. Remember that you still need to pay your taxes, so as you go through the following steps, be sure to not let that responsibility fall through the cracks.
3. Take the following additional steps, keeping in mind that they can happen in any order:
Fill out IRS Form 14039, which is the IRS Identity Theft Affidavit, and attach it to your tax return.
Request a copy of the fraudulent tax return by filling out IRS Form 4506-F.
File a complaint with the Federal Trade Commission (FTC) at identitytheft.gov.
File an identity theft report with your local police department.
Place a fraud alert in your credit reports by contacting one of the three main credit reporting agencies: Equifax (equifax.com or 800-525-6285), Experian (experian.com or 888-397-3742), or TransUnion (transunion.com or 800-680-7289). While you're there, get a copy of your credit report and look for any suspicious activity.
If you believe the person who stole your Social Security number used it to work, contact that person's employer to explain what happened.
Don't forget to work with your state tax agency to find out what steps to take through them.
Tax time is enough of a challenge without having to deal with a stolen identity. Be aware and be careful to keep it from happening to you.
Watch Out for These Other Tax Scams
Identity theft isn't the only scam that tricksters might try to pull on you. Beware of these other tax-related tricks:
Phishing – Fake emails or websites designed to steal taxpayer information.
Phone Scams – Phone calls from fraudsters impersonating IRS agents, trying to get information, and threatening arrest and other negative consequences.
Preparer Fraud – Unscrupulous tax return preparers taking part in refund fraud, identity theft, and other scams.
Fake Charities – Knowing you might want to donate to charities at the end of a tax year, these criminals pretend to be part of charitable organizations to try and take your money.
Inflated Refund Claims – People who promise inflated refunds and ask you to sign a blank return.
Identity Theft Recovery Plan
If your tax return has been compromised, it's possible the responsible party has invaded other aspects of your personal and financial lives as well. The FTC has put together a detailed document to help you recover from identity theft. It outlines things like what to do right away, what to do next, and how to handle certain types of accounts such as utilities, checking accounts, and rentals. In addition to tax identity theft, it discusses child and medical identity theft. It also includes sample letters — for example, a letter to a debt collector — and a description of your rights. If your identity has been stolen, or even if you just suspect it has, download this valuable information at consumer.ftc.gov/articles/pdf-0009_identitytheft_a_recovery_plan.pdf.
What to Expect from Identity Theft Protection Services
As another layer of protection against identity theft — tax and otherwise — you might be considering an identity theft protection service. But, before you use one, know what you're actually getting. According to the FTC, "No service can protect you from having your personal information stolen. What these companies offer are monitoring and recovery services." Meaning, they can help you identify the signs of such a theft and help you minimize the amount of damage it can cause.
The FTC states, "Credit monitoring tracks activity on your credit reports.If you spot activity that might result from identity theft or a mistake, you can take steps to resolve the problem before it grows." With these services, you get alerts when a company checks your credit history, public records show you've filed for bankruptcy, your credit limits change, and other similar activity.
Meanwhile, "Identity monitoring alerts you when your personal information is being used in ways that generally don't show up on your credit report," according to the FTC. In this case, the alerts inform you of things like change of address requests, payday loan applications, and court or arrest records.
Learn more at consumer.ftc.gov/articles/0235-identity-theft- protection-services.