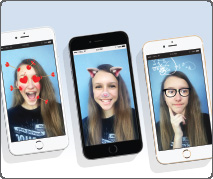 Social Media Basics :
Fun With Photo Filters
Social media offers plenty of options to get creative with your images
One of the biggest recent trends in social media is photo filters. Used by several of the most popular social platforms, photo filters allow users to modify the appearance of an image, or part of an image — most often people's faces. Filters can simply alter the mood of a photo, or completely change the image with whimsical mask-like layers.
The Filter Craze
There are several reasons social media users find filters appealing. Some are designed to make people look better, and are used by those who want to post more attractive images of themselves. Other filters are just plain silly, and it's fun to play with different options.
Another reason to use filters is that filtered photos attract more likes and comments, a phenomenon that's backed up by science. Yahoo Labs and Georgia Tech collaborated in a study that — after researching 7.6 million Flickr photos — found that images with filters are 21 percent more likely to be viewed, and 45 percent more likely to be commented on. They also found that certain filters were even more likely to encourage views and comments, specifically those that increase contrast, correct exposure problems, and create "warmer" colors.1
Unfortunately, science also shows that too much filtering may be detrimental to users' self-esteem. In one survey, 46 percent of adult women said that social media makes them feel more self-conscious about their appearance, and 55 percent of teen girls said the same.2 Still, several apps are available to help people look their best in photos, including FaceTune, Retrica, and YoCam Perfect.
Snapchat and More
Snapchat was the first social media application to embed filters. Snapchat filters enable users to make themselves look like a dog sticking out its tongue, a flower child, a strawberry, a cat, or a bee — just to name a few. Additional filters enable people to swap faces with a friend, or show the time or location of their snaps. Other platforms, including Instagram and Facebook, now have filter functions as well.
A study of Instagram posts reveals strong filter favorites. Design service Canva found that Instagram's Clarendon filter was the most-used across the U.S. According to Canva, "Clarendon is an all-purpose filter that brightens, highlights, and intensifies shadows for color that pops." It also happens to be the first default filter in the editing process, so that might have something to do with its popularity as well.3 Second- and third- favorite Instagram filters varied from state to state, with Gingham (which applies a vintage effect) chosen the most.
Facebook's contribution includes filters, masks, and emoji video reactions for its Messenger chat function. Users can also try stylistic filters to change the lighting or hue of videos, or animated effects like falling hearts or shooting stars.
The popularity of fun filters has created a market for apps designed primarily for this purpose. They include Masquerade, SNOW, BOO!, and Camera360.
Beyond Social Media
For those who want to work with filters outside of the social media environment, there are several applications — most of them free and easy to use — including PicYou, InstantRetro, Picplz, and Rollip. Each one has its own set of features and functions. Common ones include different moods like sepia, vintage, or grunge; cropping; rotation; resizing; and photo collage creation. Some of them are just phone apps, while others can be used on a desktop as well. If you're feeling particularly creative, Prisma allows you to create your own filters.
Tips for Using Filters
Using filters in social media isn't hard, but it does take a bit of learning to get up to speed.
If you're new to Snapchat, you may not have filters turned on. To do so, take a photo within the app, then swipe left or right. You should see a message that says, "Turn on filters." Click the "I want filters" button at the bottom of the screen, and follow instructions from there.
Instagram allows you to manage your filters. Simply take a photo using Instagram, click Next, and swipe through all the filters until you get to "Manage," and select. Uncheck all the filters you don't need, and they'll no longer be visible to you as a post option.
Have a special event, like a wedding, coming up? You can create your own social media filters. For example, a wedding filter might have the names of you and your new spouse, along with the wedding date. Then you and your guests can apply it to photos from the event.
FAST FACT: Long before social media, film camera photographers used physical filters to modify captured images.