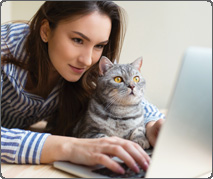 Cover Story:
Get Your Paws On Helpful Pet Resources
The internet is packed with valuable tips for pet parents
Anyone spending even a little time online knows how much Americans love their pets; many social media posts are devoted to their adorable antics. Well over half of American households now include pets — dogs, cats, horses, birds, fish, reptiles, amphibians, and more. We're pampering our pets and spending more money on them than ever before, and that spending is expected to continue increasing over at least the next few years.
The benefits for adults of having an animal companion are now well known:
Decreased blood pressure and risk of heart attacks
Decreased stress levels
Prevention of allergies
Reduction in chronic pain
Lower cholesterol levels
Increased physical activity
Improved mood
More socialization
Having a pet around also helps children learn responsibility, avoid loneliness, and eventually come to terms with death.
With the benefits of pet ownership come serious responsibilities, and many pet parents want to learn the best ways to keep their animals healthy and happy. Common questions asked by pet parents include how to adopt pets, what and how often to feed them, how much exercise they need, and how to handle behavioral issues.
Many of these questions can be answered using the educational resources gathered here including pet websites, blogs, and apps. Like a good hunting dog, they're sure to point you in the right direction.
FAST FACT: Freshwater fish, cats, and dogs are the most popular pets, followed by birds, saltwater fish, and small animals.1
Companies Cash in on America's Pet Obsession
Pets have become big business for the companies that make products for them. According to a survey by the American Pet Products Association (APPA), well over half of American households now include pets. Accordingly, spending in this market was projected to reach $70 billion in 2017, approaching double the amount from 2007.1 Market research firm Packaged Facts projects that total sales will be nearly $100 billion by 2020.2
A recent Mashable article states that one company alone earned $100 million in revenue in 2016.3 The company, Bark & Co., includes the subscription delivery service BarkBox. Bark & Co. has made it big with investor help, while other pet startups have cashed in by selling to other companies. For example, online retailer Chewy.com was sold to PetSmart, the leading brick-and-mortar pet retailer, for $3.4 billion.
This booming industry has been so successful in part because of the way people now regard their pets.
The Mashable article explains, "People… increasingly see their dogs as more of a household peer in their own right." With that shift, the market can support niche retailers like Pupbox, which caters specifically to puppies with training materials, accessories for teething, and other pup products.
Owners' increased focus on their pets has led to benefits for all furry companions, with many companies donating money to animal-related causes. For example, according to SAGE Business Researcher, Nestlé Purina invests more than $30 million per year in pet welfare, while retailer Planet Dog donates two percent of every sale to its own nonprofit foundation, which funds the training and placement of service animals.4
This big business is a triple-win for pets, pet parents, and pet companies.
1APPA, "Pet Industry Market Size & Ownership Statistics," http://www.americanpetproducts.org/press_ industrytrends.asp, accessed November 4, 2017.
2Debbie Phillips-Donaldson, Petfoodindustry.com, "Why pet food's future is so bright," http://www. petfoodindustry.com/blogs/7-adventures-in-pet-food/ post/5910-why-pet-foods-future-is-so-bright, accessed November 4, 2017.
3Patrick Kulp, Mashable, "Dogs have spawned a whole industry of online shopping startups," http://mashable.com/2017/04/28/pet-startups-round-up/ #w.y1vYmARaqx, accessed November 4, 2017.
4Janice Arenofsky, SAGE Business Researcher, "The Pet Industry," http://businessresearcher. sagepub.com/sbr-1863-102160-2772364/20170227/ the-pet-industry, accessed November 4, 2017.
Cat Got Your Tongue?
Pets influence so much of our lives — even the way we speak. Here are a few dog- and cat-related expressions and what their origins are believed to be:
"Hair of the Dog That Bit You" – People used to think that if a dog bit you, you could use its hair as a remedy to prevent rabies. The phrase is now used to suggest that people who have had too much to drink in the evening should have another drink the next morning to prevent a hangover.
"Cat Got Your Tongue?" – One theory on the origin of this phrase is a story of how ancient rulers cut out disobedient subjects' tongues and fed them to cats. It's now used to describe someone who is quiet, as though their tongue has also been given to a cat.
"Dog Days of Summer" – This phrase refers to the period of time between July 3 and August 11 each year, when the night sky reveals Sirius, the "dog star," within the Canis Major (Greater Dog) constellation.
"Curiosity Killed the Cat" – Cats and their overflowing curiosity tend to land them in countless predicaments which might lead to harm — the most clichéd being stranded in a tree. This expression came about as a thinly veiled threat used when someone is being a little too nosy.
FAST FACT: The most popular dog names in 2016 included Charlie and Bella. For cats, they were Oscar and Coco.
Source: Bow-wow Meow Pet Names, "Top 20 Names: Most popular pet names of 2016 revealed!," https://www.bowwow.com.au/ find-a-name-for-your-pet/top-20-names, accessed November 6, 2017.
People Think Pets Deserve Pampering, Too
As pet parents increasingly see their furry companions as full-fledged household members, they want to provide pet versions of human products, services, and experiences.
Healthy Pet Food
People are becoming more conscious about their own food and want their pets to have the healthiest nourishment as well. Many people now buy organic pet food. Raw and grain-free options are other popular choices.
Natural Pet Products
Pet parents are also looking for natural flea and tick repellants, supplements, and toys. Online retailers like Earth Animal (earthanimal.com) cater to these needs with chemical-free flea and tick treatments, vitamins and herbs, and toys made from non-toxic materials.
High-end Pet Grooming
Humans love their pampering services such as massages, pedicures, and haircuts, and now want to share those experiences with their pets. Providers in all these areas — as well as yoga, acupuncture, and Reiki — will make sure pets are properly primped, tuned, and relaxed.
Pet-friendly Travel
Many hospitality businesses understand the benefit of allowing furry family members to join in vacation fun. A number of apps are available to help you find pet-friendly places, and traditional travel sites like Expedia (expedia.com/g/rg/pet-friendly-hotels) now allow you to perform pet-friendly hotel searches.
Pet Health Insurance
Between food, toys, vet visits, and other items, pet expenses can really add up. That's why sales of pet health insurance are increasing dramatically. Pet insurance can offer peace of mind for unexpected expenses, but run the numbers before you buy to make sure the cost is worth it for you.
FAST FACT: The world's largest domestic cat is a Maine Coon that's 48.5 inches long.
Top "Petworking" Sites for Meeting and Mingling
If you want to share your love for your pet with others, consider joining one of these petworking (pet networking) sites:
DoggyBnB (doggybnb.com)
Sometimes it can be a challenge to find a good sitter for your pooch. This site (and app) helps you network with others to find care when you need it from people you know. Dogster (community.dogster.com) This forum is especially for dog owners with questions, answers, and, of course, photos.
Catster (community.catster.com)
Similar to Dogster, this forum enables cat lovers to ask and answer questions and upload photos of their favorite felines.
PetBrags (facebook.com/groups/petbrags)
Set up as a Facebook group, this site enables you to sign up and then add your pet photos, videos, posts, discussions, and tips.
YouPet (youpet.com)
YouPet enables you to create a profile for your pet, meet other pets and their people, play games, and watch videos.
How to Find the Right Caregivers for Fur Babies
Like parents with children, pet owners want to find the best care for their fur babies, whether we're talking about veterinarians, pet sitters, or groomers. Here are a few tips for finding the right caregivers for your precious pet or pets:
1. Ask around. If you're looking for a pet sitter, ask your vet. If you're looking for a vet, ask your pet sitter. Also check out neighborhood sites like Nextdoor to see if any of your neighbors provide pet-sitting services and ask friends and coworkers for their recommendations.
2. Interview the candidates. Ask candidates questions to make sure they're a good fit for you and your pet. Ensure they have the appropriate credentials and experience with your pet's special needs (such as age, illness, or particular habits).
3. Ask for references. A good provider will have names and contact information of satisfied customers. Be specific when you speak to them. Instead of, "Do you like this provider?" ask, "Is this provider dependable/friendly/responsive?"
4. Arrange a play date. Give your pet the opportunity to meet the person who will be caring for them. Arrange a 15-minute meeting during which you can make sure your pet approves of your choice.
5. Get it in writing. When working with a pet sitter, it's a good idea to have a contract that spells out the terms of your agreement including the services to be provided and how much you will pay. You can find a sample agreement at legaltemplates.net.
Take the time to find the right caregivers for your pet, and you can rest assured that Fido's or Fluffy's paws will be in good hands.
FAST FACT: Depending on the breed, a dog's sense of smell is 1,000 to 10 million times better than a human's.
Tips for Adopting a Pet
Having a pet is a big commitment that can last many years, so it makes sense to give the matter considerable thought and research before you adopt. Start by making sure now is a good time. Think about whether you have time to devote to a pet each day, whether your housing situation will allow it, and whether you can afford pet-related expenses such as food, vet visits, and pet sitters.
Next, you'll want to consider which species and breed might be right for you. For example, some cat breeds are friendlier than others. If you want a "lap cat," research which ones will fit that description.
Before the exciting day when you bring your new pet home, be sure to prepare. Buy food, beds, and toys for your pet. For dogs, get a good leash so you can start going on walks right away.
Find more pet adoption tips at aspca.org/adopt-pet/adoption-tips.
Best Bets for Spoiling Your Pets
Sure, most pets are fine with the basics: food, water, a couple of favorite toys, and a soft place to sleep. But if you want to go above and beyond to really spoil your pet, there are lots of options out there for you.
Subscription Boxes
Pet subscription boxes will send you a package full of goodies each month or however often you designate. For example, Bark Box and LootPets offer toys and treats for dogs. Surprise My Pet sends dog or cat toys and other pet supplies. KitNipBox provides cat toys, treats, and other cat products.
Fancy Collars
No matter your pet's personality, there's a collar out there to express it, from bejeweled to flowered to patterned to spiked. To buy them, visit general sites like Amazon, Etsy, or Petco; or try pet-specific sites like Muttropolis (muttropolis.com) and Snooty Pooch (snootypoochboutique.com), which sell items for both dogs and cats.
Luxe Cat Condos
Cats love to climb and scratch, and cat condos (also known as cat trees or cat towers) provide just the right venue for active kitties. They can be simple — just a bed on top of four posts — or elaborate with multiple levels and rooms, or shelves that can be mounted on a wall. Shop around for one that works best with your budget, your feline friend, and your home environment.
Extravagant Dog Houses
Being "in the doghouse" as an expression to mean you've done something bad takes on a whole new meaning with lavish dog houses that include multiple rooms and levels. Just like human houses, they can be built to any specification or design including farmhouse, mansion, Victorian, modern, and even the Taj Mahal!
QUICK TIP: If your vet uses it, download the PetDesk app to get alerts and set appointments.
Check Out Pet Blogs for Information and Advice
Pet parents wanting to learn how to take the best care of their cute critters can find a multitude of resources online, including many pet-specific blogs. The highly regarded Petco blog (community.petco.com/t5/Blog/bg-p/blog) offers posts on things like what to feed your dog, how to build a more beautiful aquarium, and the importance of play for your cat.
Another valuable resource, the Adopt a Pet blog (adoptapet.com/blog), recently posted a story about an organization that helps pets displaced by natural disasters.
Other blogs are more specific to a certain type of animal, such as The Conscious Cat (consciouscat.net), which includes book and product reviews, stories about remarkable cat owners, and food recommendations. Here Pup! (herepup.com) offers specific information about different dog breeds, medical tips, and profiles about organizations doing great work with dogs.
Be sure to check your favorite local pet organizations to see if they have a blog related to the animals in your area.
8 Great Head-to-Tail Websites
Every pet parent wants to take great care of their furry, feathered, or scaled charge, and these websites can help. You'll find information for many aspects of pet care including adoption, health, and travel.
Pet Care
Amazon Pet Hub
(amazon.com/pet-shops-dogs-cats- hamsters-kittens/b?ie=UTF8&node=2619533011)
If you love Amazon, your pet will too. Use the retailer's pet hub section as your one-stop-shop to get food, medicine, and other supplies delivered right to your door. Find items for dogs, cats, fish, birds, horses, reptiles, amphibians, and other animals. Or click the Pet Care Tips tab to get great advice without spending a penny.
Veterinary Wisdom
(veterinarywisdom.com/petparents)
The saddest part of owning pets is losing them, but you can make arrangements to give compassionate end-of-life care and make their journey as comfortable as possible. This site offers tips from veterinarians for planning ahead, making decisions, getting support, and helping kids through pet deaths.
Pets at Home
(petsathome.com/shop/en/pets/advice)
This site offers advice on caring for cats, dogs, birds, chickens, fish, horses, and more. Read up on how much exercise they need, what to feed them, and signs of illness to watch for. Also check out the special section on wildlife to care for your "unofficial" pets in the yard and garden.
Traveling With Pets
Pet Travel
(pettravel.com)
This site, founded by a travel agent, provides information to people traveling with pets. Its database includes over 35,000 pet-friendly hotels and other accommodations and businesses that serve pets. If you're traveling internationally, visit the section on pet passports and quarantines.
Trips With Pets
(tripswithpets.com)
Use this site to find pet-friendly things to do on your travels, shop for pet travel gear, and review airline, rental car, and hotel pet policies. Learn about specific travel situations such as bringing pets in cars, and check out the special section on moving with pets.
Pet Adoption
ASPCA
(aspca.org)
The American Society for the Prevention of Cruelty to Animals (ASPCA) is one of the largest humane societies in the world. On its website, you can find out how to adopt an animal or read about key animal advocacy issues and how the organization is helping.
American Kennel Club
(akc.org)
Looking for a specific breed of dog to adopt? Check out this purebred dog registry to learn about your new best friend's pedigree. Not sure which breed is right for you? Try the fun Breed Selector to find a great canine match.
Petfinder
(petfinder.com)
This site makes it super simple to find a pet to adopt. Just enter your location and details about the type of pet you want. Or, if you're not quite ready for that step, read some of the helpful articles about pet adoption.