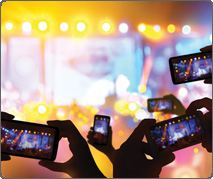 Cover Story:
Live Streaming
Makes Social Media Livelier
Live streaming is the next step in the evolution of online tools to help you stay close to friends and family. For years, you've captured and shared important moments using text, photos, and regular videos. Now live videos allow you to do it even better.
People are using live streaming to bring others into their world, from cooking in the kitchen to professional sporting events to kids' music recitals. The possibilities are endless, and in the next few pages, you'll find everything you need to know to add this fun technology to your social media mix.
We start with the history and influences of live streaming and why it's become popular so quickly. Then we walk you through the features of some of the most prominent live streaming services and provide a step-by-step tutorial for using Facebook Live. You'll learn why some live streams go viral and how they've influenced what shows up in the news. You'll also pick up some fun ideas for ways to use live streaming and discover what the future holds for this new communication medium.
Whether you're using live streaming to involve others in a family celebration or to share the fun of a community event, you're engaging others in your world, which adds something special to theirs.
81% of internet and mobile audiences watched more live video in 2016 than in 2015.
Video's Power Has Grown for Decades
Before there was online video there was TV, and viewers grew accustomed to watching filmed and live images in their living rooms. As the internet became more widespread, network-produced TV shows found a new home, as did videos created by ordinary people and businesses. At the same time — throughout the 1990s and 2000s — there was tremendous growth in the computing power of devices and in the speed of internet connections. This established the technological foundation to display all this new video content.
Live video is an outgrowth of the trend that exploded in 2005 when YouTube launched its video-only website. The site provided the perfect platform to watch videos for entertainment, education, and news. Now over one billion people use the site, viewing nearly five billion videos daily.1
Seeing video's power and ability to attract viewers, Facebook ranks video posts highly within its feed algorithm. This means if you post a video, it's more likely to be seen than a text-only or photo post. As of February 2017, Facebook had eight billion video views a day from 500 million users.2
YouTube, Facebook, and other video purveyors understand they can bring in even more viewers, and therefore more ad dollars, with more video content. Since live video can be created by anyone at any time, these sites are encouraging users to do so by introducing live streaming features.
Of course, those that use these features benefit, too, as they explore the many possibilities of live video. It's likely to become an increasingly common way for individuals and businesses to communicate in the years ahead.
1Fortunelords, "36 Mind Blowing YouTube Facts, Figures and Statistics – 2017," https://fortunelords.com/youtube-statistics/, accessed July 27, 2017.
2 Eleonora Israele, business.com, "Get Camera Ready: Live Steaming is The Future of Social Media," https://www.business.com/articles/ why-live-streaming-is-the-future-of-social-media/, accessed July 27, 2017.
5 Human Needs Satisfied by Live Video
Live video has a way of drawing people in that goes beyond text, photos, and regular videos. Why is that? Experts believe it's because live video satisfies these needs:
1. Curiosity about other people's lives. We all like to take a peek behind the curtain every now and then. Live video is like reality TV without the editing.
2. Need for inclusion, or FOMO. A need to feel included and a fear of missing out (FOMO) are two sides of the same coin. People can view live video and be in the know.
3. Desire for connection. Live video is immediate and as close to being physically with someone as possible online.
4. Need to know what happens next. As with a live sporting event, a desire to know the outcome of whatever someone is doing in a live video broadcast can be irresistible.
5. Need for instant gratification. Those doing the broadcasting get to fulfill their need to connect through responses to their live stream.
QUICK TIP: Think of live streaming as a window you can open to allow others to see your world.
Lights, Camera, Go Live!
If you think you might want to dip your toes into live streaming, you have many options for applications to use to do it. Here are descriptions of some of the most popular ones:
Periscope
Twitter's contribution to the live streaming world, Periscope, is a stand-alone app that allows users to live stream and send the streams out through Twitter.
Facebook Live
Facebook users can start a live stream any time with a few taps. Unlike Twitter's offering, Periscope, Facebook's streaming feature is integrated into the platform. You can choose to save streams as videos.
YouTube Live
The original home to all things video, YouTube continues its offering with an easy-to-use live streaming function. Upon completion, live streams are converted to regular videos. Live.ly Developed by music streaming platform musical.ly, the live.ly app allows users to broadcast live streams and interact with each other in real time. Once completed, live streams permanently disappear.
Instagram Live
The popular photo- and video-sharing app Instagram allows users to go live to followers any time with its Live Stories feature. Live streams are not preserved, so users can feel comfortable sharing things they may not want available later.
Which service you choose will depend on which platforms you're already using. For example, YouTube users will likely be comfortable with that service's live stream function. You'll also want to consider certain features, such as disappearing versus retained live streams, or the ability to embed the stream if you want to use it elsewhere.
FAST FACT: New Samsung camera apps feature a button to start a live YouTube broadcast.
What Makes a Great Live Video?
All live video streams are spontaneous and have the potential to spark interest in viewers. But all live streams are not created equal. Some of the most viral Facebook Live videos offer insight into what makes a great live stream.
The best of the best is known as "Chewbacca Mom" and features Candace Payne sitting in her parked car having just bought herself a birthday gift: a Chewbacca mask that roars like the Star Wars character when the wearer opens their mouth. Candace gleefully and repeatedly shows how it works, interrupted by an infectious minutes-long giggling fit. By the time you're done watching, you can't wait to hang out with Candace again.
In another favorite, Ted Yoder plays a beautiful rendition of the Tears for Fears song "Everybody Wants to Rule the World" on a hammered dulcimer. The setting is a peaceful yard with a few family members (including a pet raccoon!) enjoying the show. A third standout features Dena Blizzard hilariously demonstrating a fictional game called "Chardonnay Go" — a play on Pokemon Go — which guides users to random glasses of Chardonnay in their immediate area.
Tutorial: How to Get Started on Facebook Live
Mark Zuckerberg is a huge fan of live video, and Facebook's version of it is called Facebook Live. Use it to take your communication with your Facebook friends to the next level. Here's how it works:
For best results, use Facebook Live when you have a strong connection. Wi-Fi works best.
Start as you would for any other type of Facebook post — by tapping on What's on your mind or Want to share an update at the top of your News Feed.
Select Go Live.
You'll be prompted to describe your video.
When you're ready, tap the GO LIVE button. There will be a three-second countdown and then your video stream will start.
Film yourself or your surroundings and watch for responses from followers. You can respond via messaging or by speaking directly to them in your live stream.
When you're ready to end, tap Finish.
You'll see a message letting you know the broadcast is paused and asking if you really want to finish or resume. Tap Finish.
You'll see a message letting you know the live stream is ending.
You'll see a message asking if you want to post or delete your video. Make your selection and follow the instructions from there.
Facebook Live in the News
Facebook Live has influenced news organizations on two levels. First, they're using it as part of their regular news distribution. Benefits include limited equipment needs, reduced production time, and the power of live video to attract viewers. According to The Poynter Institute, news outlets NPR, The Verge, and BuzzFeed have used this delivery method successfully1.
On another level, Facebook Live is also very easy for regular citizens to use to post their own news. Ordinary Facebook users don't have a responsibility to adhere to ethical reporting standards, but Facebook Live streams are contributing to professional journalism in interesting ways. For example, some Facebook Live videos of breaking news events are serving as a starting point for formal reporting.
According to The Conversation, Facebook is responding to these developments by hiring a former journalist to lead its news partnerships team and developing The Facebook Journalism Project2.
1Benjamin Mullen, Poynter, "How 4 news organizations are using Facebook Live to reach broader audiences," https://www.poynter.org/2016/how- 4-news-organizations-are-using-facebook-liveto- reach-broader-audiences/404441/, accessed July 24, 2017.
2Seth Lewis and Nicole Smith Dahmen, The Conversation, "What Facebook Live means for journalism," http://theconversation.com/whatfacebook- live-means-for-journalism-72233, accessed July 24, 2017.
Your Live Streams are Limited Only by Your Imagination
Remember the awkwardness you felt when you first used Facebook and other social media platforms? You probably weren't sure how to operate it, what your friends would find interesting, or what to do when they responded. You may have similar reservations if you've thought about trying live streaming. But, as with social media in general, the best way to learn is by doing.
Keep in mind that live streaming is immediate. Unlike other types of social media posts (text, photos, video), your audience is viewing what you display in real time. It's almost as if they're there with you. What could you share in a live stream? The sky is pretty much the limit – from a big gathering such as a community concert to simply decorating cookies with the grandkids. Think of live streaming as sharing online the way you have in the past, but more directly and with immediacy.
Just as in real life, there's no edit button when you live stream, and anything can happen. This characteristic creates a potential for a greater emotional connection and allows you to be more casual. You can just be you!
Some apps have been developed to help you live stream in specific situations:
Peek allows you to hold private live streaming sessions with friends you specify.
Watch2Gether enables you to open a "room" and invite friends to watch or listen to media from YouTube, Vimeo, Dailymotion, and SoundCloud together and simultaneously talk to each other.
Steam allows you to watch a friend play a game, so they can show you tips for getting past that level you're stuck on.
How Businesses Use Live Streaming
Businesses are always looking for ways to make themselves more visible and have historically done so with the media available at the time — from print advertising to radio and TV commercials to internet ads and social media accounts. Now that live streaming is gaining popularity, you can bet companies are going to be using it more often. Here are just a few possibilities:
Events – Any company that attends a conference could walk the floor, stopping at the most interesting booths.
Interviews – A music venue could broadcast interviews with musicians that play there.
Meet-and-greets – A software company could introduce "the faces behind the voices" in the customer service department.
How-to presentations – A small grocer could hold a virtual class on how to make a recipe using foods it sells.
Q & A sessions – An interior designer could answer questions about choosing furniture.
Remember, live streaming is interactive, so get ready to watch, listen, and respond.
Look Forward to More Options and Improved Quality
Given that live streaming just hit its stride in 2016 with the release of Facebook Live, the medium will only keep growing. Watch for these likely trends in the coming months and years:
More video.
Streaming video (including outlets such as YouTube and Netflix) currently accounts for roughly two-thirds of internet usage. The increase in live streaming will boost that amount to 82 percent by 2021, according to Cisco's 12th annual Visual Networking Index Forecast.1
More OTT broadcasting.
Over the Top (OTT) broadcasting refers to media companies sharing content via internet channels "over the top" of traditional broadcasting channels. For example, HBO broadcasts its programming on demand via the internet as well as through its existing cable channel. Twitter has successfully used this method to live stream NFL games.
Virtual reality video.
Likely to be primarily within the live gaming arena at first, virtual reality (VR) functionality will be added to video with increasing frequency. VR devices such as the Oculus Rift enable users to feel as though they're a part of the action being depicted through the video.
Next-generation formats.
New video formats, such as H.265 and AV1, will start to become more common, joining the current H.264 standard. The next-generation technology will improve video performance, making them faster and more efficient.
Expanded opportunities.
As consumers, we'll be seeing a lot more live streaming from companies wanting to connect with us in a new way. At the same time, we'll incorporate live streaming into our standard communication toolbox and find new ways to express ourselves through this medium.
1Cisco, "VNI Global Fixed and Mobile Internet Traffic Forecasts," http://www.cisco.com/c/en/us/solutions/service-provider/visual-networking-index-vni/index.html?stickynav=1, accessed July 21, 2017.
What Parents Need to Know About Social Video Chats
Social video chatting is another form of streaming video that's popular among teens and tweens. In addition to using this capability on Facebook, Instagram, and Snapchat, kids can download apps such as Houseparty, AirTime, and Periscope to use for this purpose.
Such apps are great for satisfying the need to spend plenty of time with friends, but they come with risks: kids may spend too much time video chatting and not enough doing important activities like homework. They may feel pressured into oversharing or be exposed to mature content they're not ready to handle. There is also the ever-present risk of adult predators trying to take advantage of these apps.
Parents need to be aware of which apps their kids are using and talk with them about reasonable use. To learn more, visit Common Sense Media at www.commonsensemedia.org and search for "Latest app craze." You'll be directed to a thorough description of many of today's popular apps and get sound advice for helping your children use them safely.
29% of internet users aged 18-29 have participated in video calls or chats or teleconferences.
Source: http://www.pewinternet org/ 2010/10/13/video-calling-and-video-chat/