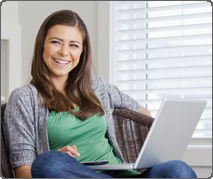 Internet Connections:
8 Truly Handy Tech Tips
Give them a try to make your life a little easier
It can be fun to learn a new trick on your computer to replace the clunky old way you've been doing something for years — whether it's a shortcut that saves you time or a "hack" that enables you to do something you once thought impossible. Here's a list of tech tips to read through, test out, and save for future reference. You'll be glad you did.
1. Open a closed tab.
Closing the wrong tab is frustrating. But luckily, you don't have to remember what page you were on. All you have to do is hit Ctrl+Shift+T on a PC or Cmd+Shift+T on a Mac and the last tab you closed will open again to the page you were viewing. Please note: This only works if you haven't shut down the browser.
2. Get Amazon on the phone.
Sometimes, you just want to talk to a human on the phone when you have a problem with an Amazon delivery. But, if you've ever been on Amazon's "Contact Us" page, you know they don't list a phone number. Your only options appear to be send them an email or chat with someone in the chatbox. There is a way to get Amazon on the phone, however. If you look closely under the "Start Chatting Now" box on the contact page, you'll notice a link that says, "We can call you." Fill in your information and a customer service agent from Amazon will call you back as soon as possible. You need to be logged into your Amazon account for this to work properly.
3. Undo almost anything.
You can undo almost any action on your computer, from typing the wrong thing to accidentally deleting a file, with Ctrl+Z.
4. Clear your cache instantly.
Your browser downloads cache (temporary internet files) when you visit a website so the page will load faster the next time you visit. Sometimes, though, old saved cache can cause problems. If you're having trouble opening a website, clearing your cache is a good first step to troubleshoot the problem.
To clear your cache quickly and easily when you're on a website, simply click Ctrl+Shift+R. This shortcut will reload the page with a cleared cache.
5. Disable Facebook's video autoplay.
There's nothing more annoying, or surprising, than having a video suddenly start playing when you're scrolling through Facebook — especially if you're in a quiet environment with other people. To stop this, head to facebook.com/settings and look on the left for "Videos." Click on the link and choose the option to turn off autoplay.
6. Find your Wi-Fi password.
Avoid the headache of trying to find that little slip of paper you wrote the Wi-Fi password on with this tip. If you use Windows, go to Network and Sharing Center and right-click on the Wi-Fi network connection icon. Click Wireless Properties and tick off the Show Characters box to see your password.
On a Mac, find the Keychain app and open it. Inside the app, find your Wi-Fi name in the list of credentials and double click it. It will show your password.
7. Use an emoji panel on a desktop.
If you're a fan of emojis, but don't know how to use them on your computer, you're in luck. Desktop operating systems now have built-in emoji menus. On Windows, hold down the Windows key and the period key. On a Mac, hold down Cmd+Ctrl+Spacebar. Now you can add emojis to anything you send.
8. Put your USB drive in the right way every time.
This tip is the closest you'll come to learning real magic. Look at the nearest USB cable or drive. There's a little symbol on one side that resembles a trident. When the USB slot is horizontal, that symbol is on top. When the slot is vertical, that symbol will be facing you.
QUICK TIP: A shortcut is a sequence of keys you press on your keyboard to perform a function on your computer. A classic example is Ctrl+C to copy text.
Become a YouTube Superuser!
YouTube is an easy platform to use for watching and sharing videos, but there's more to it than meets the eye. These tips will take your YouTube expertise to a whole new level.
Use YouTube keyboard shortcuts. Use your keyboard to control the video you're watching. K pauses a video. J and L will jump forward or backward 10 seconds, respectively. You can also mute a video using M.
Get a transcript. If you want a transcript of the video you're watching, click the three dots near the bottom of the video, right beside "Save." Then click "Open transcript."
Share a YouTube video that starts at a specific moment. Click on the SHARE button below the video. Below the link is a checkbox that lets you share the video at the exact moment you stopped it.
To choose how you appear and what you see on YouTube, visit www.youtube.com/account.