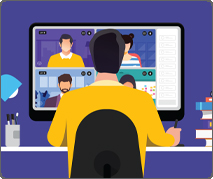 Beyond the Basics:
5 Tips for Looking Your Best on Video Calls
Make a few changes to go from "Oh, no!" to "I look good!"
You may be participating in more video calls these days, whether in a virtual meeting for a community group or just hanging out with family and friends. People are using platforms like Skype, Zoom, and FaceTime in unprecedented numbers to stay connected while staying at home.
If you're new to joining video calls, you've probably experienced the sometimes horrifying results of unflattering camera angles and poor lighting. It can be very difficult to focus on anything else when you look old, washed out, and tired — even when you're not.
Follow these pro tips to look your best on your next video call. That way, you can stop worrying about how you appear and start focusing more on the conversation.
#1 Choose your light source carefully.
This is probably the most important factor to consider before getting on a video call. Our houses were not designed with these calls in mind, so it's likely you'll find yourself in a room with terrible lighting. To fix that, go to a room where you can face a window. Having a natural light source directly in front of you will dramatically improve your appearance on camera. In the absence of natural light, you can purchase a ring light at your local electronic store or online. If that isn't an option for you right now, any decent lamp will work as long as it's positioned in front of you, either centered or slightly to the right or left.
Avoid sitting with the light source behind you, as you'll be a silhouette to the other participants. The same goes for having the light directly above you. It casts a shadow straight down, giving you a bit of a raccoon look.
#2 Think about your background.
Pay attention to what is going on behind you. If your background is cluttered or messy, it's not going to make the best impression. Choose an attractive space with either a blank wall or one with neatly displayed paintings or pictures. A bookshelf in the background can also be great.
Alternatively, some video calling platforms let you change the background to any image you want. Just remember to keep it appropriate for work if it's a business call.
#3 Position the camera at eye level.
Position your laptop or tablet so its camera is at eye level, using books or other objects to prop it up to the right height. This helps you avoid having to look either up or down at the camera, which leads to awkward and unflattering angles.
#4 Maintain good posture and use body language.
Sitting up straight makes a huge difference when you're on camera, just as it does when you're talking to people in real life. Good posture helps you look better and appear more confident.
Also, remember that a video call provides more ways to express yourself than a voice call. You can use your hands and facial expressions for emphasis, and you'll probably look more natural when you do so.
#5 Wear what makes you feel good.
With the exception of job interviews or high-level work meetings, your attire can be decidedly casual during most video calls. You just need to be concerned with what you're wearing on the upper half of your body, since only your face and chest area will show in the video. (In other words, feel free to wear shorts or pajama pants on the bottom as long as you have a "real" shirt on the top.) Some people are having phone with video calls these days, telling everyone to wear a crazy hat.
Whether you're on FaceTime with family or Zoom with colleagues, these five tips will help you put your best face forward on your next video call.
FAST FACT: A ring light is a circular light used by photographers to create diffused, natural light when taking pictures.
Cool Options for Zoom and Skype Users
Once you get the basics down, you can kick things up a notch by taking advantage of the more advanced features offered by Zoom, Skype, and Facetime. Here are some fun options to consider:
Look better with a Zoom beauty filter. If you're having one of those days where you don't think you're looking very good, Zoom has the answer — a feature called Touch Up My Appearance. Basically, it's a softening filter, like the ones you'd find on Instagram, FaceTune, or your phone's selfie camera.
To turn on this feature, click the up arrow next to Start Video. Click Video Settings, and under My Video, check the box for Touch Up My Appearance.
Blur your background on Skype. On Skype, you can blur the background of your video to hide any mess. The background blur feature (which is the same on Microsoft Teams, as Microsoft owns both platforms) uses AI to keep the focus on you. To use this feature, click or tap on the camera icon at the bottom of the screen and toggle on Blur my background.