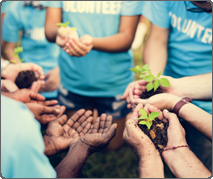 Cover Story:
Volunteering Builds Better Communities
Take advantage of the many opportunities to help others (and help yourself)
According to Independent Sector, a membership organization for nonprofits, "About 63 million Americans volunteer about 8 billion hours of their time, talent, and effort to improve and strengthen their communities." But what does it take to be a volunteer?
Volunteerism is different from what you might expect. Almost anyone — regardless of age, ability, or availability — can volunteer in some capacity. In the following pages, we offer resources to help you find the best fit if you want to lend a hand.
Finding volunteer activities isn't difficult but if you're new to this, be sure to visit our sections about determining how you want to contribute, how children and teens can participate, and how to discover organizations that need your help. Our look at recent trends reveals that volunteering is more convenient than ever with technology-based sign-up and assignment options. In fact, a whole subset of volunteering, referred to as virtual volunteering, has emerged.
Finally, don't forget to read about how volunteering can be great not just for the people you're helping but for your own health and well-being. National Volunteer Week is April 19-25 this year, which is a great reminder to reach out whenever you're ready and offer your services to an organization whose mission is important to you.
FAST FACT: Americans contribute approximately $203.4 billion to the national economy through nonprofit organizations of all types.
Source: https://independentsector.org/news-post/new-value-volunteer-time-2019/html
You'll Benefit in Many Ways
When you think of volunteering, you might concentrate on the benefits it brings to the people or causes you're helping. For example, working in a food bank helps feed the hungry, and planting trees helps the environment. But volunteering also benefits volunteers in ways including the following:
Make Friends
When you volunteer, you typically work with others who you have something in common with — your desire to help. This shared interest is a great place to start in building friendly relationships. You may also develop connections with volunteer recipients, especially if you get to spend one-on-one time with them.
Learn New Skills
Volunteering isn't all stuffing envelopes or dishing out meals. You may be able to discover a skill you didn't know you had, such as teaching English to those learning the language, or be able to hone existing skills through leadership positions.
Improve Health
The Mayo Clinic states that volunteering can decrease the risk of depression, give a sense of purpose, help people stay physically and mentally active, and reduce stress levels. All these benefits contribute to a happier and longer life.
Get Free Stuff
Want Many nonprofit organizations give freebies to volunteers. For example, if you work as an usher at your local theater company, you may get free tickets to plays. If you volunteer at a museum gift shop, you may find yourself with a museum membership.
Find Paying Work
If you happen to be looking for a job, volunteering may help you find one. Networking with other volunteers might just bring you the connection you need, or you may be able to get hired for a position within the organization where you're volunteering.
Source: https://www.mayoclinichealthsystem.org/hometown-health/speaking-of-health/helping-people-changing-lives-the-6-health-benefits-of-volunteering
Which Type of Volunteering is Right for You?
If you want to find ways to give back to your community and the world, the decision to volunteer may be an easy one. But determining what organization to volunteer with and in what capacity may be a little trickier. With so many opportunities available, here are a few questions to ask yourself to find the right one.
What issue pulls at your heartstrings every time you hear about it?
What are your strengths and skills?
How far are you willing to travel to volunteer, or would you rather do something online?
How much time per week or month do you have available for volunteering?
Are you looking for a one-time opportunity or an ongoing commitment?
For additional direction, you may want to take the quiz at https://rewardvolunteers.coop/volunteer-quiz/.
QUICK TIP: If you'd like to empower women and girls, check out LiveYourDream.org to choose how to help.
Trends Include Special Skills and Flexible Timeframes
As people's needs, interests, and abilities change, the ways in which organizations engage with them as volunteers are changing as well. Additionally, technological advances have brought entirely new ways for helpers to contribute. Here are a few ways in which the volunteer landscape is shifting.
Flexible Timeframes
Technology makes it possible for volunteers to not have to be at a certain place at a certain time. Instead, they can perform work, such as data entry or texting, when and where it's convenient for them. Additionally, "microvolunteering" refers to volunteer tasks that can be completed in a brief amount of time.
Better Training
Like any other job, volunteer positions often require a learning curve. That's why organizations are beefing up their training programs to include not only information about the work being done, but also about the organization's history, culture, vision, and values.
Special Skills
More volunteers are eager to use their professional skills to help others. This approach has always been the case in the medical field with doctors and nurses assisting in disasters, for example. Now, according to Volunteer U, those with business skills are donating them to nonprofits to help them thrive.
Effective Recruiting
Online volunteer sites like Volunteer Match (volunteermatch.org), Idealist (idealist.org), and Network for Good (networkforgood.org) can help organizations find the perfect volunteers for their mission and can support those who want to help find the perfect opportunities.
Screening Volunteers
With rigorous background checks, organizations are getting more serious about ensuring volunteers are an asset to their mission, providing a safe and secure environment, and protecting constituents and their own reputation.
If You Elect to Volunteer in an Election Year
A U.S. presidential election year like 2020 offers many volunteering opportunities for your preferred local, state, or national candidates. If you've never been involved in this way before, here's what to expect:
Start by going to the website of your favorite candidate. Campaigns are typically overjoyed to get new volunteers and usually make it easy for you to sign up.
Once you sign up, you'll likely be contacted by a campaign representative to see what kinds of activities you're interested in, such as canvassing, helping with mailings, or participating in a phone bank.
You may also have the opportunity to help voters actually vote by making sure they're registered or helping them get to a voting location on election day.
If you do well initially, you'll probably be invited back to participate again in future campaigns.
Volunteering for a campaign can be highly rewarding, especially if your candidate wins! If not, the teamwork and civic pride you'll experience are still well worth the effort.
QUICK TIP: Want to get involved in an election but don't want to work for a candidate? Consider becoming a poll worker (see eac.gov/voters/become-poll-worker).
Virtual Volunteering Means Helping from Home
In the digital age, we can work, shop, and learn from home. Organizations that hire volunteers are taking advantage of this trend by providing virtual volunteer opportunities, so those who work an off-hour schedule, have limited mobility, or need to stay close to home to care for a loved one can still contribute their skills.
No Set Schedule
There are many tasks that can be accomplished offsite, including bookkeeping, fundraising, website development, graphic design, copywriting, and translation. Volunteers who have the skills for these and other activities, but who are unable to show up in person, can do them at their convenience. For instance, a harried parent with a full-time job could spend half an hour performing data entry whenever it best fits into the day.
Career Building
For some, virtual volunteering can enhance their education or career. For instance, a psychology student may pick up some weekend shifts as a crisis line responder. A new graphic designer might take on some design projects with a local nonprofit to build their portfolio. A budding event planner might step up to organize a fundraising event.
Virtual Tools
Even finding virtual volunteer opportunities can be done virtually. Websites like Catchafire (catchafire.org) list the needs of organizations, and volunteers can choose those that seem like a good fit. Also, with online workspace tools such as Slack, people from all over the world can come together in one virtual space to get physical or virtual assignments, ask questions, and get support from fellow volunteers.
QUICK TIP: See unitedway.org/get-involved/ways-to-give/workplace-campaign to learn about starting a workplace United Way campaign.
Is There a Volunteer Program at Your Workplace?
There are many ways a company can contribute to the community, such as allowing employees time off to volunteer; serving as a drop-off point for canned food, winter gear, and other items; or setting up volunteer days in which many employees work on a project (such as home building) together. If your company doesn't have a program yet, here are some benefits to share with your boss or HR representative:
A volunteer program can prevent turnover, as employees who give back are more satisfied workers and are more likely to stick around.
When employees volunteer, they expose the company to others in the community who might benefit from the company's services.
Employees who volunteer together build a stronger bond, leading to more effective teamwork.
Businesses that give back attract customers (especially those in younger generations) concerned about ethics.
Volunteering gives employees an opportunity to hone their skills and build new ones that can be beneficial at work. Remember, doing good is good for business.
How to Find the Right Fit
Just like finding the right job, it's important to try and get a good fit with a volunteer opportunity. You should be on board with the cause and comfortable with the tasks assigned to you. Also similar to finding a job, there are many ways to approach looking for your next volunteer commitment.
Ask Around
To get some initial ideas, ask your friends and family what kinds of volunteer work they do, if you don't already know. If any of their mentions interest you, ask them where to get more information about the opportunity as well as how to apply.
Give Back
If you've taken advantage of the services of a nonprofit organization, consider giving back to that same group. For example, say you broke your leg and, during your recovery, used a service that gives rides to medical appointments. You could now volunteer as a driver to assist others.
Target Your Cause
If there's a cause you believe in passionately, go to the organizations that support it. If you're an animal lover, for instance, you may want to approach your local animal shelter to see about helping abandoned pets find new homes.
Promote Your Availability
Use social media to announce your desire to find a volunteering opportunity. Create a post on Twitter or Facebook. Upload a photo of you in a volunteer-ready pose to Instagram. Share your interests in your LinkedIn profile.
Go Online
Finally, you can check out one or more of the many resources that pair volunteers with volunteer opportunities. Visit USA.gov (usa.gov/volunteer), All for Good (allforgood.org), or Just Serve (justserve.org).
FAST FACT: Utah residents donate more volunteer hours than any other U.S. state.
Source: https://www.cnn.com/2019/06/04/us/volunteering-statistics-united-states-america-cfc/index.html
Volunteer Opportunities for Children and Teens
Many volunteer opportunities are well within the skill set of children, even young ones. The benefits of volunteering for children include building empathy and compassion. These skills are so important that some states require volunteer hours for high school students.
The following list, partially based on one from We Are Teachers (weareteachers.com), describes some ways in which children can contribute on their own or with guidance from parents or teachers. Note that many organizations (such as food banks and animal shelters) welcome children who want to volunteer with their parents.
Send letters to soldiers or hospital patients.
Participate in a skate-a-thon or walk-a-thon for a favorite cause.
Provide company for the elderly.
Take care of and play with animals.
Sponsor a food drive.
Collect clothing and other essentials for the needy or homeless.
Donate clothing, hair, sports equipment, or other items to a good cause.
Collect books for a library, community center, or other outlet.
Young people who volunteer often become adults who volunteer. Get the children in your life off to a good start.
Use These Sites to Connect with Your Community
Just as the number of volunteer opportunities are almost endless, there are many ways to find them. In addition to the websites listed in the previous pages, the following resources can help you find ways to help, no matter your passion, skills, and availability.
Encore
(encore.org)
Encore is specifically designed for those over 50 who want to find their purpose. The site offers opportunities to help through four primary programs: Gen2Gen, the Encore Network, Encore Fellows, and Encore Prize. Check out the helpful resources, then search for the best fit for your skills.
GivePulse
(givepulse.com)
This site offers unique, exciting, and educational opportunities for social change. You can search for volunteer positions in your location having to do with animals, arts and culture, at-risk youth, civic engagement, conservation, disaster relief, education, homelessness, literacy, social justice, veterans, and much more.
Habitat for Humanity
(habitat.org/volunteer)
This organization has been around for decades, building and repairing homes for families around the U.S. and the world. You can volunteer to help those efforts, or to work at a Habitat ReStore, which provides home building supplies. Special programs are available for women, youth, and veterans.
Feeding America
(feedingamerica.org/take-action/volunteer)
Feeding America is the nation's largest domestic hunger-relief organization. Its mission is to end hunger by getting nourishing food from farmers, manufacturers, and retailers to people in need. Use this site to sign up to sort, pack, or stack food at a food bank near you.
Create the Good
(createthegood.aarp.org)
Create the Good, operated by the American Association of Retired Persons (AARP), connects you with volunteer opportunities to share life experiences, skills, and passions in your community. To get started, just register and create a profile to receive local opportunities that match your skills and interests.
American Red Cross
(redcross.org/volunteer/volunteer-opportunities.html)
The Red Cross helps victims of crisis situations. There are many ways you can contribute to this effort, including offering disaster services, helping the Red Cross blood team, supporting the armed forces, providing health care, assisting with fundraising efforts, educating others, or taking a leadership role.
DoSomething
(dosomething.org/us)
This site focuses on providing volunteer opportunities for young people. Using the site's digital platform, DoSomething members join in volunteer, social change, and civic action campaigns to make real-world impact on causes they care about. Causes include education, mental health, homelessness and poverty, the environment, and bullying.
QUICK TIP: When you sign up for a volunteer assignment, take it seriously. Show up, be on time, and do your best work.