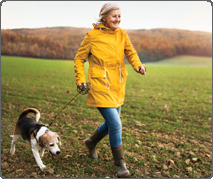 Cover Story:
Make Your Golden Years Even Brighter
Dozens of online resources for the young at heart
While aging presents challenges for many people, it also presents opportunities. You can try a new occupation or even start your own business. You can travel and participate in hobbies you may not have had time for in the past. You can reconnect with old friends and enjoy time with your grandkids or other family members.
In the following articles, we help you explore the many facets of living well in your later years, from basics like housing and finances to fun stuff like travel and dating. We're especially excited to share the senior dating site Seniormatch, which can help you find romance later in life; the Institute on Aging technology guide, which includes many ideas for using technology for support; and a section on raising grandchildren, which an estimated 3 million older adults are doing today. Be sure to invest some time reviewing the sites in the finance section, whether you have a comfortable nest egg or need some help making ends meet. You'll also want to fly over to the travel section for great inspiration and resources regarding destinations, vacation options, moneysaving tips, and even advice about living abroad.
Whether you're 50 or 90, we hope you find something here to help you live your best life.
QUOTABLE QUOTE: "In the end, it's not the years in your life that count. It's the life in your years." — Abraham Lincoln
Support for Seniors Starts Here
Getting older means different things to different people. Some continue to work, some have strong family and community connections, and some enjoy traveling the world. No matter how you choose to spend your later years, there are online resources to help you enjoy them. Check out these general interest sites for seniors.
Senior Living
(seniorliving.org)
This extensive site offers information on money, housing, health care, and more. You'll find articles on senior safety products, transportation and mobility solutions, dating, travel, mental health, insurance, and more.
RetireWOW
(retirewow.com)
Here's another great resource for finding information on a variety of topics. The site includes sections on activities, financial, health, relationships, and work. In particular, the site promotes "the new retirement" in which more seniors continue to hold full- or part-time jobs.
Seniormatch
(seniormatch.com)
This dating site is designed specifically for those 50 and over looking for dating or activity partners, travel mates, and companionship. As with other dating sites, you enter information about yourself and allow the application to find your match. You can also download the companion app.
Senior Forums
(seniorforums.com)
Want to chat with other seniors? This is the place to do it. You can join a discussion about a wide variety of topics including military veterans, weight loss and fitness, holidays, entertainment, hobbies and crafts, pets, and the outdoors.
Technology Guide
(ioaging.org/the-2018-guide-to- best-technology-resources-and-tools-for-seniors)
This Institute on Aging guide offers a thorough overview of technology for seniors. Tech can help seniors live healthier lives, stay mentally alert, and maintain personal connections. There can be some barriers to learning about technology, which the guide shows how to overcome.
QUOTABLE QUOTE: "You are never too old to set another goal or to dream a new dream." — C.S. Lewis
What makes a Senior Citizen?
Are you a senior citizen? It depends on who you ask, since there's no single definition. Merriam-Webster defines it as "an elderly person, especially one who has retired." If you're looking for an exact age, consider these facts:
At 50 you qualify to join the American Association of Retired Persons (aarp.org), which is an organization devoted to providing information, advocacy, and discounts for seniors.
Some restaurants and other companies offer discounts to those 55 and older.
If you have an individual retirement account (IRA), you may begin making withdrawals without incurring a penalty at age 59½.
Many people retire around age 60.
You can start collecting Social Security benefits at age 62.
You may start using Medicare at age 65.
If you have an IRA, you must begin making withdrawals at age 70½.

So, when do you start being a senior? If you're over 50, pretty much any time you want.
Dollars and Sense for Retirees
Whether you've been a serious saver all your life, or life circumstances have put you behind in your savings goals, there are ways to make your money last. Check out these sites before and during your retirement years.
Social Security Benefits Estimator
(ssa.gov/benefits/retirement/estimator.html)
Retirement planning should start with what you expect to receive in Social Security benefits. Use this tool to find out what your monthly payments are expected to be. National Council on Aging (ncoa.org/economic-security) This section of the National Council on Aging site will help you find training and jobs, access benefits, and better manage your money.
New Retirement
(newretirement.com)
For comprehensive financial retirement planning, visit this site to develop a free personalized plan, or, for more features, sign up for an affordable monthly service.
Find a Job
(USA.gov) (usa.gov/find-a-job)
Want to keep working after retirement? Great! Lots of people do it. This site offers a good starting point for your search including job listings, training, and work-at-home options. It includes special sections for vets and those with disabilities.
Seniors on Social Security
(seniorliving.org/finance/social-security)
If you weren't able to save — or save enough — for retirement, this SeniorLiving.org resource can help you find ways to live comfortably on a limited income.
SmartAsset Retirement Calculator
(smartasset.com/retirement/retirement-calculator)
This calculator asks a few easy questions, then shows your expected retirement savings. You can change various factors (such as what age you'll retire) to see how to save more.
QUOTABLE QUOTE: "Age is an issue of mind over matter. If you don't mind, it doesn't matter." — Mark Twain
What You Need to Know About Social Security
You're eligible to apply for Social Security benefits if you're 61 years and 8 months old. If you're there, or getting close, you might want to bookmark the Social Security Retirement Benefits site (ssa.gov/benefits/retirement). There you'll find information about how to apply for benefits and related information. Some things to keep in mind:
You may start receiving benefits as early as age 62 or as late as age 70.
The longer you wait, the greater the amount you'll receive.
Your "full retirement age" (the age at which you may receive full benefits) depends on the year you were born.
Before you reach full retirement age, continuing to work may affect your benefits.
Your spouse and other family members may qualify to receive benefits on your record.
Thoroughly review this site and speak with a financial planner before deciding when to apply for benefits. (Note that some banks, investment brokerages, and financial nonprofits provide free or reduced-fee financial planning services for seniors.)
These Sites Offer a Healthy Dose of Information
Managing your health can become more challenging as you get older due to age-related problems, chronic diseases, and even minor issues that become harder to shake. If you've brushed off health care in the past, now's the time to dedicate some attention to this critical aspect of your life.
Healthy Aging
(hhs.gov/aging/healthy-aging/index.html)
While staying healthy can involve many factors, this site helps you understand the basics. It offers resources on staying active, getting the right nutrition, maintaining community connections, and managing health issues.
Family Caregiver Alliance
(caregiver.org)
As a senior, it's likely there's a caregiver in your life — whether it's you giving care to someone else with health issues or someone taking care of you. Caregivers can use this site to learn about health conditions and caregiver strategies as well as find needed support.
Managing Medicare
(medicare.gov)
One of the biggest changes to your health care as a senior is receiving Medicare benefits. This site is a one-stop-shop for understanding and managing your coverage. It also offers guides for finding doctors, hospitals, home health services, and more.
Aging in Place
(ageinplace.org)
This extensive site offers numerous resources including a list of in-home service providers (and a search function to find them in your area); "practical advice" articles on housing, health, transportation, and more; and a list of organization chapters throughout the country.
Telehealth for Seniors
(aginginplace.org/telehealth-and-seniors)
Telehealth is used to deliver healthcare virtually. This Aging In Place webpage will help you understand what telehealth is, its benefits and drawbacks, what types of situations it's best for, and how you might be able to use it to optimize your health.
QUICK TIP: Popular tools for staying healthy are Fitbit activity trackers and smartwatches (fitbit.com), which help you count steps, monitor heart rate, and more.
Educate Yourself to defend Against Medicare Scams
Knowing that Medicare has been sending out new cards, scammers may call you pretending to be a Medicare representative and asking for your personal information before they can send you a new card. They may also tell you you'll be charged a fee if you don't provide certain information, or use other ways to try and trick you into divulging information they can use to steal your identity.
Some of these calls may sound convincing, but Medicare will never ask for your personal information over the phone, so don't give this information to anyone who calls asking for it. Instead, hang up, call Medicare at 1-800-MEDICARE yourself, and report the scam. You can also file a complaint with the Federal Trade Commission (FTC) (ftc.gov/complaint). Additionally, visit medicare.gov/forms-help-resources/identity-theft-protect-yourself to learn the truth about Medicare's card replacement initiative.
With a healthy dose of skepticism, you won't be fooled by Medicare scammers.
Make Lifelong Travel Dreams Come True
When you travel in retirement, you may want to explore medical travel insurance and be more mindful about personal safety. But these caveats are balanced out by the great advantages of more time and great discounts. These sites offer resources for several types of travel.
Trips to Take When You Retire
(travelandleisure.com/trip-ideas/trips-to-take-when-you-retire)
This Travel + Leisure slideshow presents 11 wonderful trips to consider taking after you're retired. From a U.S. coast-to-coast road trip to fascinating places abroad, you're sure to find a location of interest.
Go Cruisin'
(cruisecritic.com)
No matter where in the world you want to go, use this site to find your perfect cruise vacation. Check out the articles to learn more about the ships and destinations, as well as things like how to get a cabin upgrade and tips for first-timers.
Explore Voluntourism
(gviusa.com/resources/over- 50s-volunteering)
If you've thought about volunteering and you also love to travel, consider "voluntouring." GVI offers over 150 volunteer projects in Africa, Latin America, Asia, Europe, and Australia that benefit children, wildlife, the environment, and more.
A Buying Guide for Senior RVs
(seniorliving.org/recreational-vehicles)
This article covers most of what you'll need to know about the RV lifestyle including when to use an RV, the costs, insurance, storage, and buying versus renting. (If nothing else, rent before you buy to make sure a purchase makes sense for you.)
International Living
(internationalliving.com)
If you want to not just travel, but live abroad, check out this site. It provides advice on a wide range of topics including costs, health care, and the best places to explore. Be sure to review the Expat Advice section for tips from those who are in the know.
QUICK TIP: The My TSA app (tsa.gov/mobile) allows you to find information about traveling with disabilities or medical conditions and equipment.
Where to Find the Best Travel Discounts
The best way to get senior discounts for travel is to ask. Any time you book a reservation, inquire whether the company offers a discount and what age you have to be to qualify. Here are some major areas to consider when traveling:
The U.S. National Park Service offers a lifetime Senior Pass for those 62 and older for $80. See nps.gov/ planyourvisit/passes.htm#CP_ JUMP_5088578 for details.
Amtrak, Rail Europe, VIA Rail Canada, and Ontario Northland all offer senior discounts for railway travel.
Many airlines, hotel chains, car rental agencies, and restaurants offer senior discounts.
Some governments offer senior discounts that enable you to travel less expensively in those places.
Additionally, consider getting a membership to the American Association of Retired Persons (AARP), which enables you to take advantage of AARP discounts.
Leave a Legacy of Active Grandparenting
As a grandparent, you have the option of stepping back and letting the parents do all the work in raising your grandkids. You also have the option to be more proactive and involved. Check out these sites for people looking for ways to optimize their role as grandparents.
Grand Magazine
(grandmagazine.com)
Another senior-focused site, Grand Magazine includes many resources for relating to your grandkids. Explore topics such as how much screen time kids should be allowed when visiting with Grandma and Grandpa and how grandparents can help their college-bound grandkids.
Verywell
(verywellfamily.com/for-grandparents-4162029)
The Grandparents section of Verywell offers advice to grandparents on topics ranging from handling a grouchy grandkid to tips for a successful sleepover to leaving a "legacy letter" to your grandchild. Other topics include fun activities to enjoy together and how to avoid family conflicts.
Ask Granny
(askgranny.com)
This senior-focused site features an extensive collection of resources for grandparents. Check out the section of child-friendly sites or the one for grandchild gift suggestions. Find articles on topics like caring for infant grandkids, tips for traveling with grandchildren, and entertainment for children.
Grandkids Matter
(grandkidsmatter.org)
This extensive site features articles on many aspects of grandparenting such as reading with your grandkids, exploring the world together, talking with young grandchildren, sharing your past, giving parents a break, and even addressing challenging issues.
Considerable
(considerable.com/family-home/children-grandkids)
This section of the Considerable site is all about the grandparent-grandchild relationship. Learn about things like fun foods to make with your grandchild, the health benefits of babysitting your grandchild, how to celebrate Grandparents Day, and common grandparenting surprises.
Raising Grandkids? You're Not Alone!
According to the American Association of Retired Persons (AARP), an estimated 3 million older adults are raising their grandchildren.1 If you're one of them, you may be facing the challenges of having this unexpected responsibility. Fortunately, many online resources are here to help.
AARP GrandFamilies Guide
(aarp.org/relationships/friends-family/info-08-2011/grandfamilies-guide-getting-started.html)
Guidance on support, legal issues, finances, housing, health, and much more.
Grandfamilies.Org
(grandfamilies.org)
Dozens of resources to help, no matter where in the process you are currently.
ChildCare.Gov State Resources
(childcare.gov/state-resources-home)
Choose your state to find child care, financial assistance, and other valuable services.
Child Welfare Information Gateway
(childwelfare.gov/topics/permanency/guardianship/)
Resources about guardianship including state and local examples.
Grandparents Raising Children Support Group
(dailystrength.org/group/grandparents-raising-children)
Advice and support from others in similar situations.
Find Coverage for Your Family
(insurekidsnow.gov/coverage/index.html)
Learn how to navigate the world of health insurance programs and dental providers.