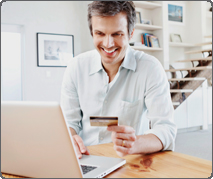 Beyond the Basics:
Be On Guard Whenever You Shop Online
Outsmart the scammers by using these shopping strategies
As more people move more of their shopping online, unscrupulous scammers are following suit. As a result, too many unfortunate shoppers end up with counterfeit or low-quality goods, or worse yet, are left empty-handed after paying for a product they never receive.
Follow these best practices to spot dubious ecommerce sites before you buy — and thwart those online scammers.
Take a Closer Look
Most fake websites look like the real deal at first glance. These fake sites are often modeled on well-known sites to lull visitors into a false sense of security. But there are a few tell-tale signs you can look for to verify the site's legitimacy. If the site URL address starts with "https," you know they're using Secure Socket Layer (SSL) encryption. This is a sign that the company is serious about keeping your data safe.
You should also look for "seals of approval" that indicate independent authentication. Most online retailers understand that prospective buyers need to know their financial information will remain protected during an online transaction. They go to great lengths to display well-known badges of certification prominently on their site, such as the VeriSign Trust Seal or the McAfee SECURE trustmark. These logos signal to visitors that the site is secure and verified by a respected third party.
Do Your Homework
When you're dealing with a well-known online retailer, it's safe to assume they're acting in good faith. However, if you're tempted to go with a lesser-known vendor who's offering the same product for a much cheaper price, you should do a little research before clicking that "Buy" button.
Start with their contact information. Is there a business address on the site? Plug it into Google Maps and see what comes up. Likewise, you can run a reverse-lookup on their phone number to see if the results match the business name.
Check out online reviews of the vendor or the product you're considering for purchase. Just remember when you're reading those reviews that positive reviews can be faked too, so look for reviews with specific details that reflect a real experience with the product or business. Needless to say, a lot of negative reviews should raise suspicion.
Guard Your Personal Information
Obviously, you'll need to provide some information when making an online purchase, but beware of any site that asks you for more information than necessary (for example, forcing you to complete a sign-up form to complete an order). You should only need to provide your name and address for delivery purposes and credit card details for payment. Any request for personal information like your Social Security number or your mother's maiden name is a red flag. Never provide that type of information, since it leaves you open to identity theft. Keep your private information private.
Use a Credit Card
Established online retailers offer multiple payment methods to their customers including major credit cards and secure payment gateways like PayPal. If you're dealing with an online vendor who requests payment via wire transfer or debit card, be suspicious. The problem with these payment methods is that once the money leaves your bank account, it's gone. By contrast, credit card transactions are traceable, and credit card companies typically offer strong consumer protection, particularly in disputes with a seller over charges for items you did not receive or when you aren't satisfied with a product.
Trust but Verify
Online shopping is one of the great conveniences of modern life. Comparing prices is easy, and payment and delivery is virtually painless. By remaining vigilant and only doing business with reputable (and verifiable) vendors, you'll ensure a safe and enjoyable online shopping experience this coming holiday season!
FAST FACT: According to the Better Business Bureau's Scam Tracker, reports of online purchase scams rose dramatically in 2018, representing an increase of 124 percent over 2017.
Don't Forget to Also Buy Local
While online retailers may offer products at lower prices than some of their brick-and-mortar competitors, there's a lot to be said for supporting local businesses in your community. Here are three reasons why you should consider buying local this holiday shopping season (even if it costs a little more).
It boosts local economies: When you buy from local small-scale businesses, you're not only helping to create jobs in the community, you're also helping ensure that the profits (and subsequent investments) are likely to stay local.
It's environmentally friendly: Products that are manufactured and sold locally require less packaging and shipping, which means less carbon-intensive services like transportation, warehousing, and refrigeration.
It strengthens communities: Shopping in your own backyard strengthens the relationship between you and the people who make the products you use. By spending your money at locally owned businesses, you're helping to build a thriving and prosperous community.