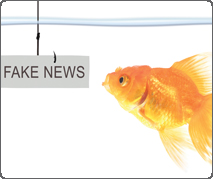 Internet Connections:
Facebook Works to Combat Fake News
Measures include the "About This Article" feature in your News Feed
Having trouble telling the difference between fake news and actual facts in your Facebook News Feed?
With all the recent controversy around what news is real and what news is fake, Facebook has introduced a new feature to help you tell the difference. It rolled out its new "About This Article" feature earlier this year as a way to provide more context about the news articles that show up in your News Feed.
What "About This Article" Reveals
The feature is easy to spot. As you scroll through posts in your News Feed, news articles will get a small "i" above and to the right of the headline. Tap on it, and you'll see additional information about the news article such as:
Name and location of the publisher
Do you recognize the publisher? If the publisher is not a reputable news outlet that's known to you, think twice about believing what's in the article.
Link to follow the publisher's Facebook page
Does the publisher have a Facebook page? That can be an indicator of how well-established the publisher is.
Links to related articles for additional reading on the topic
Are other publishers reporting similar information on this topic? If this article is one of only a few instances of the story, it might be suspect.
Links to other articles by that publication
How many other articles has this publisher published, and what are the topics? If the other articles from this publisher seem fishy, this news story might be fishy, too.
Map showing where the article has been shared
How widely has this story been shared? If the story is being shared across a wide geographical area, chances are that it has more traction and credibility.
Total number of people who have shared the article
The number of times the article has been shared can tell you how many other people find the information credible.
Name and profile pictures of your Facebook friends who have shared the article
Has anyone in your own network shared the article? If someone you trust has shared the information, you might be more confident in its reliability. On the other hand, if your paranoid uncle has shared it, you might want to take a pass!
When any of this information isn't available, Facebook will state that explicitly. For example, Facebook will note if there's no Wikipedia page for the publisher of the article, which can be a valuable piece of context to know. After all, how credible can an article be if the company behind it lacks enough standing for a Wikipedia entry?
Facebook's Additional Measures
Facebook has taken other measures to help combat the spread of fake news in the U.S. It trained its algorithms to deprioritize fake news and clickbait as well as articles shared by individuals who post at extremely high frequencies. It also cut off fake news sites' ad revenue and blocked advertisements created by Pages that share misinformation. And it's ramping up use of third-party verification services for increased fact-checking on content published on the platform.
In a blog post, Facebook said, "We'll continue to listen to people's feedback and work with publishers to provide people easy access to the contextual information that helps people decide which stories to read, share, and trust, and to improve the experiences people have on Facebook."
QUICK TIP: If you believe a story in your News Feed is not real, report it. Click the three dots in the upper right hand corner and select "Give feedback on this post."
Do You Know How to Spot Fake News?
It's getting harder and harder to tell fake news stories from genuine ones. As the old saying goes, "Trust, but verify." Here are some tips you can use to judge for yourself whether the information (and its source) can be trusted:
Check the domain name. Does the URL have any unusual or extra characters (for example, abcnews.com.co)?
Check the story on hoax websites. Is the story flagged as a hoax on any of the fake news debunking websites like snopes.com?
Check other news outlets. Is the story being reported by other reputable news outlets?
Check for sources. Does the article attribute its facts to an authoritative source, even if the source is unnamed?
Research the author. What else has the author published? If the article does not identify an author, beware!
Social media platforms are among the most effective channels for disseminating news broadly and quickly, but they can be a doubleedged sword. By empowering Facebook users to evaluate the credibility of the content that shows up in their News Feeds, the company is enlisting the Facebook community itself in the fight to stop fake news from spreading. While no method is foolproof, working together might be the strongest defense of all.