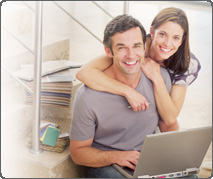 Cover Story:
Create Your Dream Home and Avoid Nightmares
Use online tools to help make your home projects go more smoothly
Get Floor-to-Ceiling Ideas From Home Improvement Sites
Along with the economy, home remodeling and decorating are making a comeback, and there's no shortage of helpful resources online. Get started on your next project with the valuable information on these sites.
Online Design Tools
CNET Digital Home DIY – www.cnet.com/1990-7381_1-6222935-1.html
Use your mouse to hover over rooms of a virtual house to find digital projects (like giving your iPod speakers or recording hi-def TV) you can complete. Choose a project to get instructions for how to complete it and video examples of the project in action.
mydeco – us.mydeco.com
With this site, you can design rooms and see both the bird's-eye view and camera (as though you were standing in the room) view. You can upload a room plan or start a new one from scratch. The controls are easy to use and give you plenty of flexibility.
Armstrong Design a Room – www.armstrong.com/flooring/design-tools.asp
Pick your floors, walls, and even kitchen cabinets with this useful design site. Since it's Armstrong, the focus is on the floors but you can still try combinations of colors for the other components to see what your own room could look like.
Autodesk Homestyler – www.homestyler.com
Get inspired with this site's design gallery or start a room of your own. Use the simple controls to add elements to or delete elements from a room. You can save and share your room designs, and the site creates a shopping list for each room you create.
Floor Planner – www.smallblueprinter.com/floorplan/floorplan.html
This site allows you to create a simple, blueprint-like floor plan by adding walls, fixtures, fences, doors, windows, furniture, and landscaping. Manipulate objects to get them just right, then save your file so you can work on it more later.
QUICK TIP: For eco-friendly decorating, get second-hand items from thrift stores, flea markets, or friends; or create your own furniture by repurposing old items and materials.
Social Media Can Improve Home Improvement
Home remodeling and decorating don't seem like particularly social activities. But they can be, thanks to the Web. There are many ways you can use social media to improve your home improvement. Here are just a few:
On Facebook and Twitter, ask friends for ideas, tips, and recommendations for contractors.
Follow Lowe's (www.facebook.com/lowes on Facebook, @lowes on Twitter), Home Depot (www.facebook.com/homedepot on Facebook, @homedepot on Twitter) and other suppliers to find deals and ideas, and get questions answered.
Post a photo of a room you want to spruce up on Facebook and ask friends for ideas about how to decorate it.
Use LinkedIn to find contractors in your area.
Start a blog about your project and be sure to include plenty of photos.
Decorating Inspiration
Martha Stewart Decorating 101 – www.marthastewart.com/decorating101
Not sure where to start with home decorating? Martha's Decorating 101 section covers the basics with colors, floors, light, walls, and windows. You'll find helpful slide shows on topics like installing wallpaper, outdoor lighting, and decorating with patterns.
HGTV – www.hgtv.com/decorating
The HGTV decorating site has loads of decorating information and ideas. Get color do's and don'ts, painting techniques, accessory ideas, window treatment advice, and much more. Many of the articles include eye-catching photos and videos.
Better Homes and Gardens Decorating – www.bhg.com/decorating
Whether you're looking for backsplash designs, how to find your perfect paint color, or solutions for closet clutter, you'll find it here. Each section includes a detailed slide show and options to print, save, or share, or comment on your favorite ideas.
Home & Garden Decor & Style – www.sheknows.com/channels/decor-and-style
This extensive decor site makes it easy to find what you need with sections like What's Hot, Decorating Tips, and Room by Room. Articles are easy to read and feature topics like "Girly Themes for Girly Rooms," "Hot Trend: White on White," and "Table Settings for Outdoor Gatherings."
Remodeling Resources
DIY Network – www.diynetwork.com
If you're adventurous enough to do it yourself (DIY) with home improvement, this site is a must-visit. From painting techniques to carpet installation to basement remodeling, you'll find step-by-step instructions for many common projects.
DoItYourself – www.doityourself.com
Another take on the DIY theme, this site offers how-tos, videos, forums, and a place to see others' "did it myself" projects. Detailed instructions ensure you'll have successful projects of your own to share. Or, if you get tired of doing it yourself, you can use the site to locate a contractor in your area.
This Old House – www.thisoldhouse.com
One of the first home improvement TV shows now has a website packed with home remodeling
information. Start planning your project with the Planning & Ideas section, learn how to do projects on your own with the How-to & Repair section, and learn about tools under Products & Tools.
Bob Vila – www.bobvila.com
This site will help you put home remodeling in context, whether you're buying, selling,
looking to go green, or wanting to see video tours of different styles of homes. The site also has extensive information on typical home remodeling topics.
Kitchens.com – www.kitchens.com
One of the most popular home remodeling projects is kitchens and you'll find plenty of inspiration and ideas here. Topics include colors, appliances, budgets, contractors, and even Feng Shui. Check out the Get the Look section to find out what you need to create nine fabulous kitchen designs.
QUICK TIP: Always use proper safety precautions when working with power tools, ladders, chemicals, electricity, buried lines, and other potentially dangerous home improvement situations.
Decorating on a Budget
Design on a Dime – www.hgtv.com/design-on-a-dime/show/index.html
The Design on a Dime TV series is dedicated to the idea that a beautiful room doesn't have to be expensive. This site follows the same philosophy and provides articles, videos, and show episodes to help you make the most of your design dollar.
Budget Wise Home – www.budgetwisehome.com
Turn to this site to get help decorating your home "on any budget." This friendly blog shows budget-friendly projects the author has completed, giving you the confidence to complete them, too. Learn how to hang a gallery wall, reupholster a chair, or install a kitchen counter.
Country Living – www.countryliving.com/homes/how-to-get-the-look/budget-decorating-makeover-0109
With decorating, little things can make a big difference. This site is a slideshow with 33 ideas for little, inexpensive things (like installing a new shower curtain or beautifying bookshelves) you can do to make your home more lovely.

Hiring Contractors
Federal Trade Commission – www.ftc.gov/bcp/edu/pubs/consumer/products/pro20.shtm
The organization that protects America's consumers has provided this information to make sure you know what you're getting into when you hire a contractor. You'll find a description of various home improvement professionals, how to avoid loan scams, and much more.
Renovators Place – www.renovatorsplace.com/renovation-tips/contractors-architects.cfm
This "resource for renovators" includes an extensive list of articles about contractors: when to hire them, how to hire them, what happens when things go bad. The site also provides a contractor directory listed by state.
QUICK TIP: Use decor to stay organized: Try a decorative basket for each person's keys and sunglasses; pretty hooks to get coats off the floor; or a fun ottoman that doubles as storage.
Hide Your Wires
A high-quality home entertainment system provides a convenient way to enjoy movies, TV, music, and games at home. But all those ugly wires can ruin your decorating efforts. Fortunately, there are methods for getting them out of the way.
The best strategy is to not have wires in the first place. Entire wireless home theater systems are available or you can purchase wireless components, such as speakers, individually.
If you do end up with wires, try flatwire, a type of tape used to get wires out of the way by adhering them to floors or walls. Or, hide wires by pulling back carpet, running the wires along the perimeter of the room, and replacing the carpet. You can also try a multimedia wall plate, which allows you to push wires into a hole in the wall, and then cover up the hole with the plate.
Don't let your home entertainment detract from your home decor!
QUICK TIP: Putting in a pool to increase your home's value may seem like a good idea but experts agree it usually doesn't up the price and may even increase the time it takes to sell your home.