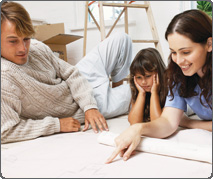 Sites of the Season:
Sites for Winter
These sites may inspire you to pursue new projects in 2012
Don't let the winter blahs sap your creativity. Check out the sites below to get fresh ideas for photography and home improvement projects.
Fascinating Photographs
With current technology, photography is so much more than it used to be. Whether you're just an observer, or also a participant, you'll enjoy these engaging photography sites.
www.dearphotograph.com
This site, presented in blog format, allows viewers to upload photos of past snapshots (often from the era of film photography) held against the original setting in the present day. These new works of photographic art offer a fascinating juxtaposition between past and present. Accompanying captions provide glimpses into how photographers remember the people and events in the photos. Browse through these interesting images or upload some of your own.
www.historypin.com
Historypin provides a way for photos (and the stories that go with them) to be shared across years and locations. With the combination map/timeline, you can choose a time and a place that you want to see photos for. Of course, you can also upload your own photos, share stories about photos, or build a photo collection on any theme you want. Check out the Community section to find out how Historypin works to build history through photos with schools, libraries, and others in the community.
www.nasa.gov/multimedia/imagegallery/iotd.html
Of all photographic images, space photos are some of the most compelling, and this site offers a new one every day. Check out an astronaut suspended in space, a nebula, and ancient white dwarf stars. Or see pictures of Mars, the moon, or the last space shuttle crew. When you find an image you particularly like, you can download it, print it, send it to a friend, or share it on your favorite social media site.
Do-It-Yourself Directions
Looking to save some cash, but still want your next home improvement project to look like a million bucks? Check out these sites for step-by-step instructions for a variety of tasks.
www.doityourself.com
This site has how-tos on just about any household project you can imagine — replacing a refrigerator door gasket, repairing rust spots on your car, growing a healthy lawn, cleaning your humidifier, and so on. Check out the helpful instructional videos, participate in the forum, or sign up for the newsletter to get helpful tips in your inbox.
www.diynetwork.com
Leave it to the DIY Network to have a comprehensive home improvement site. From floors to doors and wallpaper to windows, get detailed instructions and colorful photos to help you do it all. Watch the videos in the Video Library, or if you're already a DIY Network fan, check out your favorite hosts and shows.
www.diyideas.com
This Better Homes and Gardens site features many quick projects that can dress up a room or help you find the storage space you never knew you had. Whether you want an entire room makeover or some simple ideas for holiday decorating, you can find it here. Check out the "your picks" list for the most popular projects or do a search for the next item on your "to-DIY" list.