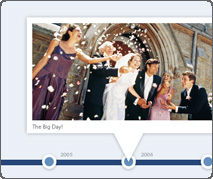 Beyond the Basics:
Time for Timeline
What you need to know about Facebook's new look
Facebook recently rolled out one of its biggest changes ever: Timeline. What used to be your Wall is now (or very soon will be) your Timeline. It's a scrapbook-like display that shows your most recent posts and photos at the top, and activity from previous months and years as you scroll down the screen. You can go as far back as your birth and add major events (such as graduations, moves, and marital changes) that happened between then and the time you joined Facebook.
Initial Responses to Timeline
As with most Facebook changes, there have been both positive and negative reactions to Timeline. Each side cites ease of viewing as one of the reasons. On the positive side, Timeline makes it convenient for others to view items that were formerly accessible only by clicking through many pages of posts. On the negative side, friends can more easily locate embarrassing, inappropriate, or just plain dorky posts and photos from your early Facebook days.
Some have complained about Facebook's policy of switching users over to Timeline without their permission and giving them only seven days to "clean up" their accounts — that is, to delete or hide some of those awkward early posts. Others feel the change is "confusing." But you can think about it like this: It's the same information presented in a different way and, if you do nothing (assuming your privacy settings are in place), the worst thing that can happen is a few older posts and photos might be viewed by some of your more curious friends.
New Timeline Features
Here are some of the major differences you'll notice with Timeline as compared with your previous Wall:
Cover. The cover is a background photo that appears at the top of the screen along with your profile photo. The idea is to use it to help tell your life story. If you love dogs, use a photo of your pet as your cover. Travel often? Upload a picture of a jet or one of your favorite destinations.
Views. With the new layout, there are several thumbnail/bookmarks for the primary sections of your account, including your friends, photos, Likes, and apps. Having all this information in one place will keep you organized.
Stories. Stories are all the posts that collectively make up your Timeline. Facebook makes it easy to edit, hide, delete, or showcase any story individually, using the pencil and star icons. You can also adjust who is able to see each one.
Activity Log. The Activity Log lists all your posts and activity since you joined Facebook. This handy feature allows you to examine all your interactions in detail and delete or hide anything you don't want to show on your Timeline.
Detailed Status Updates. Rather than the previous format's general invitation to update your status, Timeline offers a whole collection of Life Event categories to choose from: Work & Education, Family & Relationships, Home & Living, Health & Wellness, and Travel & Experiences.
Familiar Facebook Features
If you're a bit overwhelmed by Timeline, keep in mind that there are many things—some of them listed here—about Facebook that haven't changed:
News Feed. The posts from your friends on your Home page will look the same, and your favorites, apps, lists, and groups will still be visible in the left-hand column.
Ticker. Ticker is a recently introduced Facebook feature that shows all your friends' activity, such as comments on other friends' posts, comments on their own posts, playing games, and connections with new friends.
Friend Lists. Around the time rival service Google+ went live, making it very simple to share selectively with its Circles feature, Facebook added functionality to make it easier to share posts and photos with certain people and not others. Creating friend lists is a key part of using this functionality.
Subscriptions. Just as you don't want to share everything with everyone, you don't want to know everything about everyone. Subscriptions is a recent Facebook function that allows you to decide how frequently you want to see posts from each of your friends by choosing "all," "most," or "only important" updates.
Privacy. You still need to protect your privacy on Facebook for several reasons, including safety (posting when you'll be on vacation says "empty house" to potential thieves); security (employers, insurers, and others can use information available to them online against you); and personal boundaries (it's natural to want to share more with some people than with others). For instructions, check out the Facebook Help Center.
Timeline Apps Enhance Sharing
Along with Timeline, a new breed of apps has been introduced on Facebook. These apps enable you to share more about your favorite activities. For example, foodies can share recipes with Foodily; music lovers can share tunes on Spotify; and RunKeeper allows runners to share their routes. Your app activity will show up on your Timeline and also in the ticker seen by your friends.
Once you have installed an app and given it permission to post your activity on Facebook, it will never ask again. This is convenient but it also means you need to be careful about what information you provide up front. When signing up for an app, be sure to select who can see your updates. Later, you can use the privacy settings to adjust your selections or remove an app at any time.
Visit www.facebook.com/about/timeline/apps for a listing of all the new apps.