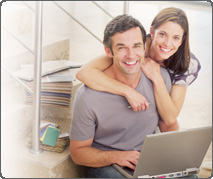 Cover Story:
Create Your Dream Home and Avoid Nightmares
Use online tools to help make your home projects go more smoothly
With the economy rebounding, there's been an increase in home improvement activity and this trend is likely to continue. A recent Bloomberg article notes that consumers who were more careful with their money during the recession are now starting to spend it again. In addition, homeowners are more likely to stay in their current home and remodel it than to purchase a new one. This bump follows a slump that started in late 2007.
If you've been waiting to do a home project, now's the perfect time to take it on. With so many resources available online, it's never been easier to find great ideas and how-tos. From the loftiest vision for your home (adding a swimming pool and hot tub) to the lowliest detail (what kind of nail to use), there are websites to help. You can get your questions answered ("When should I hire a contractor?" "What's in style now?" "How does my project impact the environment?") and — with the comment feature available on many sites — maybe answer a few questions for others.
You can use the information you find online to plan your home projects and make important decisions about tools, materials, and labor. You can also tap the social networks you've already built for suggestions and support.
The following pages will help you find resources on these topics and others such as this year's color of the year, do-it-yourself remodeling tips, and ways to decorate on a budget. Find the online tools that work for you and use them to create your dream home.
Source: http://www.bloomberg.com/news/2011-03-10/home-remodeling-to-rebound-in-u-s-as-owner-confidence-improves.html
5 Steps to Planning a Home Remodeling Project
Home remodeling can be fun and rewarding, but also has the potential to become frustrating and disappointing. Things like making informed decisions, hiring the right contractor, and careful planning can ensure that your project turns out well. Here are a few tips for the planning stage, which can be the key to a successful outcome:
1. Have a vision. Think about the problem you're trying to solve. Is it a bathroom too small to accommodate the number of people that use it? A kitchen stuck in 1952? Write down what you want the end result to be such as "roomy bathroom" or "modern kitchen." If you need ideas, visit Houzz (houzz.com) for inspiration.
2. Learn from others. Ask family, friends, and coworkers about their experiences with similar types of projects. What part was easiest? What was hardest? Were they happy with the outcome? What would they do differently if they had it to do again? Use Facebook (facebook.com), Twitter (twitter.com), and other social media services to broadcast your inquiries.
3. Get real. Based on the responses you get from #2, determine whether you can do the job yourself or need to hire a contractor. Not sure you'll be able to handle the job? Find your project on DIY Network (diynetwork.com) to learn more about what's involved.
4. Think ahead. Before you get too wrapped up in your project, think about when you might want to sell your home and consider that some projects increase home values more than others. The videos at this HGTV Front Door site can help you understand how to get the most home value for your money: www.frontdoor.com/sell/10-ways-to-increase-the-value-of-your-home/1231.
5. Work out a budget. Before you start talking to contractors and suppliers, it's helpful to get a ballpark estimate on pricing. Use the home improvement calculators at Craftsman Network (www.craftsmennetwork.com/calculators-start.html) to determine the likely cost of your project. Planning your home improvement project may seem like an inconvenience, but you'll be happy you did it when you see how smoothly that project goes.
FAST FACT: According to the Joint Center for Housing Studies of Harvard University, "Over the coming years, real spending on homeowner improvements is expected to grow at a 3.5 percent average annual pace."
Source: http://www.jchs.harvard.edu/research/publications/new-decade-growth-remodeling
Questions to Ask Before You DIY
Before you decide to do it yourself (DIY) on your next home improvement project, ask yourself these important questions. The answer to all of them should be "yes":
Do I have the time?
Complex projects can take several weekends or more to complete.
Do I have the experience?
Some projects are straightforward but others — such as electrical and plumbing projects — are best left to the professionals.
Do I have the tools?
Consider whether it's really worth it to buy a specialized tool for just one project.
Do I know how to be safe?
The most common home improvement injuries happen with seemingly basic tasks like climbing a ladder.
FAST FACT: A "man cave" is a room or space within a house dedicated to a man pursuing hobbies or socializing with other men. It's decorated in a style free of feminine influence.
Decorating Trends to Try
From saving green to decorating with orange to going green
Clothing fashions come and go, and so do trends in home decorating. Here's what to do to stay on top of today's trends:
Keep It Thrifty
Post-recession decorating means thinking twice before paying someone else for something you can create on your own. You might be surprised to learn how easy it is to make your own bookshelves, mirror frames, or even clocks. There are many homemade home decor sources online including this Home Made Simple site: www.homemadesimple.com/en-us/homedecor/pages/our-10-favorite-home-decor.aspx.
In addition to creating decor yourself, decorating on a budget ideas include picture frames, pillows, paint, and plants. This Good Housekeeping slide show presents these and other inexpensive decorating ideas: www.goodhousekeeping.com/home/decorating-ideas/cheap-decorating-ideas#slide-1.
Brighten Up With Color
Being on a budget doesn't mean you have to go drab. Pantone, the world-renowned authority on color has selected Tangerine Tango (a shade of orange) as its "color of the year." Orange and other bold colors can be used against neutral tones as accents on walls, accessories, and furniture. Visit www.pantone.com/pages/pantone/category.aspx?ca=88 to see Tangerine Tango.
One way you might want to use orange is unexpectedly, since another trend is to mix and match colors, patterns, styles, and centuries. For example, you can mix country charm with industrial sleek or place a flowered pillow on a plaid chair. The key is to make sure some elements of the two different pieces do match. Visit this Real Simple slide show for more eclectic home decor ideas: www.realsimple.com/home-organizing/decorating/tips-techniques/home-decor-ideas-00000000057149/index.html.
Remember the Environment
Concern for the environment has reached just about every area of life and home decor is no exception. Eco-friendly choices like using cork instead of hardwood for floors, paperstone instead of marble for countertops, and eco-friendly light bulbs offer infinite design options and, often, cost savings. Learn more about eco-friendly decorating at HGTV Green Home (www.hgtv.com/green-home/index.html).
Reduce, Reuse, Remodel
Green (or environmentally conscious) remodeling is a much-discussed topic in the world of home improvement. In fact, simply remodeling a home rather than purchasing a new one is considered
green because doing so protects undeveloped land.
Another green remodeling concept is recycling. Many home remodeling supplies — including carpeting, insulation, and drywall — are now made of recycled materials so their environmental impact has been reduced. Products made locally are also desirable, since less carbon expenditure is required to transport them.
Finally, old-fashioned energy efficiency, such as proper insulation, is still key in keeping the environmental impact of a home in check.
Not sure what to do first? Consider having an energy audit done to see how your home is currently performing. Do an online search for auditors in your area or check with your utility provider for assistance.
Source: http://www.drenergysaver.com/blog/2011/11/9-green-remodeling-principles-to-live-by/
QUICK TIP: For an instant uplifting and cheerful effect, use flowers. They can be fresh, dried, or part of your decor in the form of pillows, pictures, or upholstery patterns.