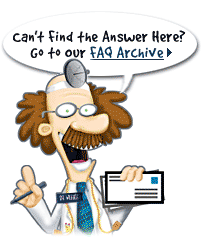 Frequently Asked Questions:
Ask Dr. Webbie
Answers to Your Internet Questions
Is there an Internet question you'd like to see answered in a future edition of Website Compass? Email your question to DrWebbie@WebsiteCompass.com.
To assist him in answering your question as specifically as possible, be sure to include the following: the name of the browser you are using (i.e. Microsoft Internet Explorer 7.0, Firefox 2.0, etc.), the name of the email software you are using (i.e. Microsoft Outlook Express 6.0, OS 10.4 Mail, etc.), and the version of your system software (i.e. Windows 98, Windows XP, etc.)
QUESTION: I find it annoying when videos play automatically. Can I stop this from happening?
ANSWER:
To capture the attention of consumers no longer noticing billboard-style banner ads, many online advertisers are turning to autoplay videos. As soon as the webpage loads, the video begins to play without you clicking a play button. As you've discovered, it can be annoying to suddenly be faced with a loud, often irrelevant, video. Plus, it sometimes takes longer than expected to locate the video and turn it off.
Fortunately, you can disable autoplay in most browsers to gain control over which videos you choose to view. Below are the instructions:
Firefox
You can disable video autoplay in the advanced settings of the Firefox browser. Type "about:config" into the address bar and click "I accept the risk" on the warning that appears. As you look through the settings, look in the "Preference Name" column for the "media.autoplay.enabled" option and double click it to disable the autoplay feature. When the "Value" column reads "False," you'll know that autoplay has been disabled.
Google Chrome
In order to turn off autoplay videos in Google Chrome, you'll first need to download one of two extensions — Video Autoplay Blocker or Disable HTML5 Autoplay. You can find these in the Chrome Web Store by typing "disable autoplay" into the search box.
To install one of these extensions, click the "Add to Chrome" button and click "Add extension" when the pop-up appears. Once installed, the icon will appear in your browser's toolbar. You can then click on the icon to update your settings accordingly and turn off autoplay videos.
Safari
Users of the latest version of Safari (High Sierra) have the ability to quickly disable autoplay within the browser settings. When visiting a site that contains videos, simply click "Safari" in the menu and click "Settings for this website." A pop-up menu will appear. To disable autoplay, click on
QUESTION: I feel like I need to take a break from Facebook. How do I temporarily deactivate my Facebook account?
ANSWER:
Let's start with an overview of what Facebook deactivation entails. If you deactivate your account, people can't see your Facebook timeline or search for you. However, your friends may still see your name in their friends list and some information, like messages you sent to friends, may still be visible. You can reactivate your Facebook account and choose to come back whenever you want.
To deactivate your Facebook account, follow these steps:
Click the down arrow in the top right of any Facebook page.
Select Settings.
Click General in the left column.
Click Manage your account, then click Deactivate your account and follow the instructions to confirm.
Keep in mind that if you choose to keep Messenger active or are logged into Messenger when you deactivate your Facebook account, Messenger will remain active. This means you can still chat with friends on Messenger, your Facebook profile picture will still be visible in your conversations on Messenger, and other people can search for you to send you a message.