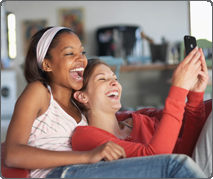 Social Media Basics :
You're Invited to a Houseparty
No need to leave home — just join a call, play a game, and have a blast
Houseparty is the perfect app for this pandemic period because it allows you to safely engage with friends and family in fun ways. You can just talk as you would with other video chat apps, or you can play games together. Here we explore how to enjoy a Houseparty and turn social distancing into distant socializing.
How Houseparty Works
If you've used video chat apps like FaceTime, Hangouts, or Skype, you already have a pretty good idea of the video functionality of Houseparty. The difference is that Houseparty is more dependent on connecting with friends. The more people you friend in the app, the better, because it increases the likelihood that someone will be available to chat any time you want to use it.
When you open the app, you're alerted to which friends are "in the house," meaning they're available to chat. You can connect in several ways: by initiating a call yourself, by someone initiating a call with you, or by joining a call already in progress.
Yep, that's right; you can invite yourself, just as you would at a real house party! Once you're in a call, you can talk as you do with other video chat apps, or you can tap the dice icon at the top of the screen to start playing a game. Games can include up to eight people and are a great way to break the ice and get everyone involved.
Other features include private messaging and Facemail, which enables you to record a 15-second video and send it to a friend.
Freewheeling Fun
While Houseparty has been around since 2016, its popularity, especially among older users, has increased this year as people are looking for fun ways to virtually connect with those they can't get together with in real life. Houseparty allows users to retain some semblance of pre-pandemic life, such as game nights, even if they're screen-to-screen instead of face-to-face.
You can use Houseparty to chat one-onone, but it's really meant to be used by groups. The vibe is more freewheeling than that of other apps because it enables people to join or leave calls as they please. It's not like a Zoom teleconference that you must receive an invitation for and attend at a certain time. In fact, the CEO of Houseparty, Sima Sistani, likes to say, "Zoom by day, Houseparty by night." This feature can add an element of spontaneity that other video chat apps lack.
Like a real party, Houseparty is a good way to meet new people. Only someone who is friends with one of the people on a call can join (or "crash" in Houseparty parlance) that call. That means you might end up chatting with a friend of a friend who you'd like to connect with directly. Like different rooms of a real party, you can also switch between various calls going on at the same time. But, unlike a real party, you can make yourself invisible on the app, yet still show up to calls.
Socialize Safely
As with all online activities, using apps involves a certain amount of risk. However, rumors of personal information being stolen notwithstanding, Houseparty doesn't seem to present danger above and beyond other apps.
Still, you should take the same precautions you take when you use other apps, including only connecting with people you know and creating a complex password that you don't use anywhere else. Additionally, you can set your account to private mode using the app's settings. If at any time you feel unsafe or want to delete your account for other reasons, you can easily do so by tapping Account > Settings > Privacy > Delete Account. Source:
QUICK TIP: Have enough people on your chat? Lock the room by tapping the lock icon at the bottom of the screen.
Best Houseparty Games to Play
Houseparty games mimic those in the physical world. For example, Chips and Guac is like Cards Against Humanity, a card game based on word association. Chips and Guac is arguably one of the best games the app offers because it can get very silly very quickly. Here are some more fun options for when you're chatting on this video app:
Quick Draw is like Pictionary. You must draw the word or idea given to you and your friends have to guess what it is. Like Pictionary, this game reveals who the true artists in your group are.
Trivia: Finish the Song Lyric is one of the 18 trivia games on Houseparty. Players must sing out loud, so get ready for some off-key fun.
Heads Up: Act It Out is similar to Charades. Players must act out clues in a way that can be captured by their phone's camera. Look for other Heads Up games as well.
To add more variety to Houseparty games, consider purchasing additional decks and trivia topics.