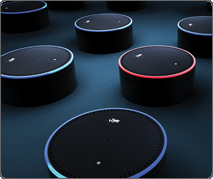 Cover Story:
Is it Smart to Use a Smart Speaker?
Learn what they do, when they can help, and how to stay safe
The popularity of smart speakers is rising fast. In the U.S., 87.7 million adults were using smart speakers in January 2020, up by 32 percent from 2019. The year before that, the total jumped by 40 percent.
It's easy to understand why. From the moment you wake up in the morning until the moment you go to sleep, smart speakers can help you have more enjoyable and productive days.
Consider a few scenes from a "day in the life" of a smart speaker: At 7:00 a.m. you have it play a podcast while you prepare breakfast. At 9:00 a.m. you tell it to turn the heat up two degrees. At 11:00 a.m. you use it to play a game. At 2:00 p.m. you tell it to add orange juice to your grocery list. At 6:00 p.m. you have it adjust the lights. At 8:00 p.m. you ask it for tomorrow's calendar events. At 10:00 p.m. you have it play ocean sounds to lull you to sleep. In the next few pages, we'll explore how you can make the most of smart speakers, how to operate them safely, how to use one to create a smart home, and how to choose the best one for you. We think you'll especially like our smart speaker security tips.
We hope by the time you're done reading, you'll feel smart about these multifunctional devices.
FAST FACT: The performance of a smart speaker can vary depending on its placement. The best location is close to the center of the room.
"Alexa, Tell Me What You Can Do"
You may be wondering why you need yet another electronic device in your life. Honestly, maybe you don't. But, before you decide, take a look at some of the things a smart speaker can help you do.
Answer questions. Smart speakers can help you get information you need throughout your day, like the current temperature, instructions for cooking a particular kind of food, or miscellaneous facts and figures.
Set timers. Say you're making Thanksgiving dinner and need to time everything just right. Ask your smart speaker to set a "turkey timer," a "stuffing timer," and a "potatoes timer." It will run them all simultaneously and alert you as each one finishes.
Play music and podcasts. Smart speakers work with applications like TuneIn and Spotify to deliver your favorite music and podcasts. You can even set up your speaker to play certain sounds at certain times — like ambient music or crashing waves at bedtime to help you fall asleep.
Play games. Are you a big Jeopardy! fan? You can play it on your smart speaker, along with many other games and quizzes. This feature is great if you have a few spare minutes between activities or need to entertain your kids.
Control smart devices. Smart speakers can serve as hubs for smart home devices, so you can easily adjust things like lighting and temperature using your voice. (See page 6 for details on how to make it work in your home.)
Go shopping. You can use a smart speaker to make shopping lists. Just speak the wake word followed by a command like, "Alexa, put milk on shopping list." At the store, use the corresponding phone app to see your full list.
Speakers Can Be Smart for Seniors
While people of every age can enjoy the convenience of a smart speaker, seniors may have even more reasons to take advantage of the technology. Certain smart speaker features help those with limited mobility, dexterity, vision, or memory to more easily handle everyday activities.
Mobility. Those who have a hard time getting around can stay put while a smart speaker adjusts the temperature, opens or closes window blinds, locks or unlocks doors, controls entertainment options, and more.
Dexterity. Providing a hands-free experience, smart speakers can enable seniors to do things like call grandkids using only their voice.
Vision. Smart speakers allow users to perform functions without the need for visual cues, including play games, get news updates, or manage a calendar.
Memory. With a single, easy-to- remember command, a smart speaker can execute multiple tasks, such as a bedtime routine that adjusts lighting, sets an alarm for the next morning, and plays soothing music for sleep.
QUICK TIP: Need to know the answer to 863 x 1,239? Ask your smart speaker to perform the calculation.
Sure, It's Smart, But Can It Keep a Secret?
You may have heard smart speakers are "always listening" and therefore recording all your conversations. While it's true these devices are always on alert for the wake word that activates them, the threat of your personal conversations being recorded is actually very low.
How Do Smart Speakers Work?
To activate a smart speaker, you speak its wake word and then issue a command. For example, the wake word is "Alexa" for an Amazon Echo device, so you might say, "Alexa, what's the weather forecast?" The device only records these interactions, not everything you say when you're near it.
The danger is that some words sound enough like the wake word to activate the device. "That's exactly what I was saying the other day" might sound to your speaker like, "Alexa what I was saying the other day." In these cases, the device may record what you say following the perceived wake word.
How Do Technology Companies Use My Information?
The tech companies that make these devices — such as Amazon, Apple, and Google — analyze about one percent of recorded commands to improve device functionality. Identifying information is removed, however, so even if your command was heard, no one would know it was you.
Can Smart Speakers Be Hacked?
Like all electronic devices, smart speakers can be hacked. Because they're typically connected to other devices, they can also be used as an entry point to attack them. The bottom line is that smart speakers are about as secure as any other electronic device. Since using them does entail some risk, you'll need to decide for yourself whether it's worth the potential benefits.
QUICK TIP: Ask your smart speaker to help you learn a language.
Up Your Speaker's Security IQ
Fortunately, when using a smart speaker, there are steps you can take to prevent privacy intrusions and hacking. Security software company Norton offers these tips:
Be selective about what you connect to your smart speaker. For example, avoid connecting to security functions like door locks.
Use your device's software to delete any commands you don't want kept.
Never tell your smart speaker sensitive information like credit card or Social Security numbers.
Set up a purchasing password so no one without the password can make purchases using your device.
Use WPA2 encrypted Wi-Fi, not an open hotspot. 6. Enable voice recognition, which can tell different voices apart.
Create a secure password for the service account linked to your device.
Source: https://us.norton.com/internetsecurity-iot-can-smart-speakers-be-hacked.html
Use These Guidelines to Find Your Perfect Speaker
OK, you're ready to take the plunge and buy a smart speaker. Since there are many on the market, you'll need to decide which one will be best for you. Here are some questions to ask yourself to find a smart match.
How much do you want to spend?
Smart speaker prices start at $49 for an Echo Dot and go up to $399 for a Sonos Move. Set your budget before you do any further searching.
What ecosystem do you already use?
Are you a die-hard Apple fan? Do you prefer Google's software? Or is Amazon something you can't live without? If you're already issuing commands to your phone starting with "Hey Google," then it will be easy to do the same with a Google Nest.
How picky are you about sound quality?
If sound quality doesn't matter to you, choose your smart speaker based on other features. If it does, pick one like Sonos One. It's designed with music in mind and connects to about 100 streaming audio services worldwide.
Do you want to use it as a smart home hub?
Many smart speakers are designed specifically to help you build a smart home. They include Samsung SmartThings Hub, Amazon Echo Plus, Google Home Hub, and Apple TV 4K. These devices allow you to connect devices without wires, create on/ off schedules, and control your gadgets while away from home.
Where do you want to use it?
Smaller speakers like the Echo Dot are great for small spaces or if you want to put one in each room. Models with screens are good for the kitchen, especially if you want to view recipes or watch videos while you cook.
How to Set Up a Smart Speaker
How to Set Up a Smart Speaker Setting up a smart speaker is pretty straightforward, and you don't need any special technical skills to do it. However, if you're not comfortable with this type of task, ask a tech-savvy friend to help. The exact process differs between devices, but the steps will be something like these:
Make sure you have electrical power and Wi-Fi available.
Plug in the device.
On your phone, download or open the corresponding app.
Using the app, go through the setup process and adjust your personal settings.
Speak the wake word to activate the device. Note that, with Amazon Echo devices, you have three options for what you want the wake word to be.
Try a few simple commands like asking the device to tell you the weather or play a song.
Using the app, "train" the device on your voice.
Speakers Can Make Your Home Smart, Too
A smart home is one in which the controls for things like lighting, air conditioning, and garage doors can be operated remotely using a mobile device or smart speaker. Rather than being a once-and-done process, building a smart home is something you can do gradually over time.
Choose an Assistant
The first step to building a smart home is choosing an assistant. Just as a human assistant needs to be a good personality fit, you should pick the voice assistant you're most comfortable with. For example, if you love starting conversations with your smartphone by saying, "OK Google," you can choose a device that features Google Assistant.
Select Hub Hardware
The device you use as your hub will be limited by the assistant you want. If you want to use Google Assistant, for example, you'll need to buy a device that supports it, such as Google Home, Sonos One, JBL Link Portable, or Harman Kardon Citation 100.
Buy Smart Devices
Look for devices that pair with your specific smart speaker. Start with something simple like a smart plug. Smart light bulbs enable you to distantly adjust the lighting in any room. A smart thermostat gives you remote control over the temperature in your home.
Make Smart Connections
Next, connect each device to your hub using instructions that come with the device. Keep in mind you may need to make some adjustments to your speaker settings before you begin. For example, with Alexa-based devices, you use the Alexa app to enable the skills you need for each device.
Speak Up!
Now it's just a matter of issuing commands to learn just how smart your house has become.
QUICK TIP: If you have multiple smart speakers in your home, you can broadcast music to all of them at one time.
Tips for Smart Home Security
Network security is always important but even more so with every connected device you add to your home. Safety.com notes that the most vulnerable components of your smart home are "outdoor devices with embedded computers that support little or no security protocols." In-home devices such as smart bulbs, security cameras, and baby monitors are also subject to attack because they rely on weak security features.
You can counteract these vulnerabilities by choosing well-known device brands and making sure your Wi-Fi network is secure. Purchase a high-quality router and create a non-identifying network name and a strong password. Consider creating a second network specifically for your smart home devices and a third for guest use. Also consider using a firewall in addition to your router. Finally, register each device with the manufacturer to be sure you get software updates.
If all of this sounds a bit beyond your capabilities, consider hiring a professional installer.
Source: https://www.safety.com/how-to-protect-smart-home-from-hackers/
Prepare for an Even Smarter Future
Smart homes may still seem futuristic, but the capabilities we have now are just the beginning. TechRadar invites readers to "picture a huge TV screen that turns into a wall, art or something else entirely with a simple gesture." Here are some more cool things to look forward to:
More voice commands. Using your voice as an input method is likely to increase faster than the use of touchscreens and keyboards.
Gestures. In addition to voice commands, future smart speakers may be able to detect gestures, such as swiping, that enable richer human-tech communication.
More natural conversations. Valid voice commands for smart devices are likely to become more conversational and natural sounding. Better personalities. You might have noticed that smart speaker responses are a little … stiff. Future versions of voice assistants will be able to recognize context and even display human emotion.
Robot bodies that more around. The next evolution of a smart speaker could be a robotic pet that can learn more about you, improving its helpfulness.
Personalized experience. Smart speakers will get better at recognizing different human voices and customizing information they share based on who's asking.
Proactive experience. Rather than always having to ask your smart speaker to do something, it will anticipate your needs and offer actions to you.
Better security. Smart speaker manufacturers will find ways to make things like automatically paying for items or services more secure.
Extraordinary sound quality. High-end smart speakers like the Amazon Echo Studio are already being developed specifically to offer the best musical experience.
More games. The popularity of audio games will continue to grow as developers find new ways to integrate them with existing digital games, movies, or books.
Source: https://www.techradar.com/news/alexa-what-will-you-be-able-to-do-in-2030
QUICK TIP: Surprise someone on their birthday by giving your speaker a greeting to read when you issue a certain command.
Ready for Your First Robopet?
Voice commands have become more commonplace with a variety of devices, so talking to a robotic dog or cat, known as robopets, may not feel all that strange.
Some of these devices are furry critters that exhibit typical animal behaviors like looking at you when you speak, walking around the house, coming when you call, and even doing tricks. Others are plastic, but still entertaining, with the ability to play games with you.
If you want to buy a robopet, choose if you want it to be plastic or more realistic looking. Check for touch sensors, which make the pet respond when, for example, you scratch it behind the ears. Also consider its sound and video sensors to know whether it can respond to commands
or recognize your face. Finally, if you want to "train" your robopet, make sure it includes artificial intelligence, which enables it to learn.