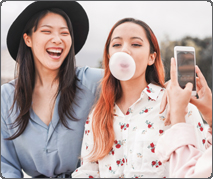 Social Media Basics :
There's Something for Everyone on TikTok
Download this highly popular app for a unique entertainment experience
TikTok (see tiktok.com/en) is a performance-focused video sharing app that's popular with younger users (known as Musers). But no matter your age, you can have fun watching, sharing, and creating brief videos.
How TikTok Began
Started by Chinese entrepreneurs Alex Zhu and Luyu Yang, TikTok began with the name Musical.ly in 2014. After gaining a dedicated following primarily in the Americas and Europe, the app was acquired by Beijing-based media and tech company ByteDance in 2017. At the time, ByteDance owned a similar app, TikTok, which was popular in Asia. ByteDance decided to combine the two apps into one, retaining the TikTok name. The combined app incorporated new creator tools, interactive filters, and performance improvements such as filters, background effects, and personalized recommendations.
Slate magazine noted, "Since digital mindfulness is all the rage right now, the new app is able to warn Musers when they've been using it for more than two hours."
Musers need to be reminded because it's easy to slip into following recommendations for the next video and the next and the next. At least partly due to its addictive nature, TikTok has grown to approximately 800 million active Musers worldwide.
Showcasing Talent and Having Fun
TikTok borrows features from similar apps. For example, as with Instagram Stories, all videos appear in portrait mode. As with Snapchat, you can use fun filters in your video creations. Similar to Facebook's Likes, TikTok allows you to use hearts to show appreciation.
The videos on TikTok are only 15 seconds long, which gives Musers just enough time to showcase their talents in dance, gymnastics, cheerleading, comedy, music, lip-syncing, and more. Sometimes videos combine these talents in what might be considered unusual ways. For example, in one video, a young woman lip syncs to a popular song while viewing images of Leonardo DiCaprio on her computer. (Like many TikTok videos, it's more interesting to see it than to have it described.)
Musers can incorporate popular songs from TikTok's library of clips or from their own original sounds. Like YouTube, TikTok has spawned its own stars, some of whom have millions of followers who reward them with hearts, shares, and gifts of anywhere between 5¢ and $50 in real money.
A couple of fun community activities on TikTok are challenges and memes. Musers can respond to challenges, which often require creating a dance video featuring a particular song. Memes developed outside of TikTok often find their way onto it.
TikTok Tips for Newbies
While TikTok is primarily used by younger people — 41 percent of users are between 16 and 24 years of age — anyone who's used other social media apps will find it easy to learn.
When you download TikTok, you'll start seeing featured videos. You can switch the default to show content from people you follow, which can be your friends and/or other Musers you like. To load a new video, tap the Home icon in the bottom left corner. To search for something specific, including key words and hashtags, use the magnifying glass (search) icon next to the Home icon.
While watching a video, tap within it to pause. On the paused screen, you'll see on the right a user icon for the video's creator. Tap it to view the user's profile. You'll also see the number of hearts and comments the video has received. Tap there to add your own heart or comment. At the bottom of the screen you'll find a caption and the name of the song that's playing. Tap to explore hashtags or songs.
To post your own video, start by tapping the plus sign at the bottom of the Home screen. See page 12 for full instructions.
QUICK TIP: Explore YouTube's collection of tutorials to learn how to make a great TikTok video.
Can People Make Money from TikTok?
People can and do make money on TikTok in a variety of ways. Music labels that post videos of their musicians get exposure that brings in more sales. Companies can promote themselves by posting videos featuring their products or services or by buying sponsorships from TikTok, and this exposure leads to additional sales.
Musers can make money in several ways. They can be gifted money by their fans and followers. They can also showcase their talent on TikTok to take their performance career, small business, or brand to the next level. One Muser who successfully built a group of one million followers now serves as a highly paid consultant to help companies do the same.
Another way for both companies and Musers to make money is through influencer marketing. Companies pay Musers who have many followers and fans to promote the company's products or services. The companies make money through the resulting additional sales.
FAST FACT: One billion video views occur daily on TikTok.