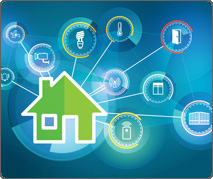 Cover Story:
Smart Ways to Boost Your Home's IQ
The newest smart home technology increases safety, comfort, and convenience
Technology continues to develop at an astonishing pace in all areas of life. From driverless cars to cryptocurrency to amazing apps, the world seems more like a sci-fi movie every year. Our houses are no exception, and consumers are taking steps to create smart homes that automatically turn on lights, play music, and even clean at the push of a button or voice command.
Many individual components can be part of a smart home. The most important is the hub or controller you use. If you have a smart speaker, such as Amazon Echo, you're already halfway there. All you need to do is purchase and set up compatible smart items — such as outlets, lightbulbs, an entertainment system, and appliances — and suddenly your home will be a lot more intelligent.
Because the costs of all these items can add up, you'll want to think about what's most important to you. Want to save money on your electric bill? Get smart lights that turn off and thermostats that turn down when everyone leaves the house for the day. Concerned about security? Check out smart locks, cameras, and floodlights.
Where do you find out about all these products? Right here! The following pages are your guide to the best hubs and controllers as well as highly rated products for home security, entertainment, heating, cooling, lighting, appliances, and health and wellness. Remember, home is where the smart is!
QUICK TIP: To get started with smart home deployment, think of tasks you already do regularly and find smart solutions to automate them.
Command Central for Your Smart Home
If your smart home were a body, a hub or controller would be its brain. These devices are the gateway for controlling various functions, including security, heating, cooling, lighting, entertainment, appliances, and more. Check out these options to see which one might work best for your household.
Samsung SmartThings
(samsung.com/us/smart-home/smartthings)
Samsung offers several SmartThings hubs as well as a number of compatible devices such as motion trackers and power outlets. It supports a wide range of smart home standards including Z-Wave, Zigbee, Bluetooth, and Wi-Fi. With a high level of reliability and relatively low price, it's a favorite among reviewers.
Apple HomeKit
(apple.com/ios/home/accessories)
HomeKit is an automation platform that works with a variety of smart home products such as lights, thermostats, windows, fans, speakers, security systems, and garage doors. Using iOS apps and Siri voice commands, it encrypts all data for security and works remotely when you're away from home.
Amazon Echo
(amazon.com)
Amazon Echo, which uses the Alexa voice platform, enables users to play music, make calls, create shopping lists, and ask questions. The smart home component includes lights, thermostats, garage doors, sprinklers, and appliances. No apps or special skills are required to set it up as your smart home hub.
Google Home
(store.google.com/product/google_home)
Like the Echo, Google Home performs a wide variety of functions including smart home control. Using your voice, you can have it turn lights or appliances on or off, lock doors, or change the temperature. Google Home works with more than 1,000 smart home devices from more than 150 brands.
Wink Hub 2
(wink.com/products/wink-hub-2)
Great for smart home beginners, Wink Hub 2 can help you control windows, doors, lights, locks, and appliances. Like SmartThings, it interfaces with many smart home standards and a variety of smart home devices. Getting set up is easy, and 512 MB of memory speeds up smart home commands.
Smart Home Networks Go Beyond Wi-Fi
So you finally got your Wi-Fi figured out, but guess what? Your new smart home technology may or may not be able to use it. Smart home devices operate on a variety of other networks including Bluetooth, Z-Wave, and Zigbee. When you're shopping for smart home upgrades, it's worth knowing a little about each one:
Wi-Fi. Wi-Fi is typically used for data- and power-intensive activities like streaming media, browsing the web, and playing games. Many smart home devices don't use it because doing so would require the need for a long-lasting battery.
Bluetooth. Bluetooth was designed to connect devices in close proximity to each other, such as your phone, computer, earbuds, and car. This capacity works well for many smart home applications, such as door locks, and has the added benefit of high security.
Zigbee and Z-Wave. These networks are ideal for connecting devices that are physically far apart, but, unlike with Wi-Fi, the integrity of the signal is consistently strong. Because they're low-bandwidth, the devices that use these networks are typically very simple, such as smart lightbulbs or motion sensors.
These Smart Watchdogs Help Deter Crime
Say goodbye to awkward light timers and neighbors' half-hearted efforts to "keep an eye on your house" when you're not there. The smart devices listed below allow you to take control of these functions and more. These products represent just a sampling of those available to raise your home's security IQ.
Abode Home Security Starter Kit
(goabode.com/sale)
Not yet sure about all this smart home stuff? Start simply with this kit, which is easy to install and integrate with other smart home products including door locks, lights, smart switches, and thermostats. Easily control all your home's devices using the system's mobile and web access.
Aura Motion Sensor
(aurahome.com)
Using plug-in beacons throughout your home and a smartphone app, Aura allows you to monitor motion so you can be aware of people's comings and goings even when you're not there. It can even be set to turn on lights, adjust temperature, and start music when you enter a room.
Ring Floodlight Cam
(shop.ring.com/products/floodlight-cam)
This motion-activated security camera uses two-way audio to enable you to speak to anyone on your property from anywhere, using your phone. This feature is great for keeping an eye on your kids, but you can also use it to activate floodlights or a siren to scare burglars away.
Arlo Pro 2 Security Camera
(arlo.com/en-us/products/arlo-pro-2/default.aspx)
Keep an eye on things at home even when you're not there. Use your smartphone, tablet, or PC to see what's going on now or set up alerts to be notified whenever motion or sound is detected. Save videos to the cloud and share s pecific segments with others.
August Smart Lock
(august.com/keyless-entry)
Whether you use Google, Apple, or Amazon for your smart home controller, you can program this lock to disengage when you arrive and lock behind you when you leave. You can enable tempo- rary access for home service professionals, such as house cleaners or dog walkers, and track their activity.
Entertain These Hi-tech Home Ideas
Your home can be smart about security, temperature, lighting, and even your health. So why not entertainment? You can have fun with these home entertainment options:
Smart speakers. Wi-Fi connected speakers allow you to choose what you want to hear throughout your home. (Example: Sonos at sonos.com)
Smart projectors. These portable projectors allow you to share apps and videos virtually anywhere using built-in Wi-Fi. (Example: FAVI projectors at favientertainment.com)
Home theater systems. A group of speakers in one room envelopes you in sound. Access movies, apps, videos, and, of course, music. (Example: LG Home Theater System at lg.com/us/home-audio)
Entertainment hubs. Pull it all together with a hub that controls every home entertainment device with simple taps or your voice. (Example: Logitech Harmony Hub at logitech.com/en-us/product/harmony-hub)
Smart remote control. Replace that clunky collection of remotes under your couch cushions with one streamlined app. (Example: SURE Universal Remote at sureuniversal.com/platform)
Automate Comfort with State-of-the-art Temperature and Light Control
Just like in your favorite sci-fi show, you can control your home's temperature and lighting functions with a simple button tap or voice command. The following products make it easier to stay in your favorite temperature zone, keep the lights to your liking, and save on energy costs at the same time.
Ecobee4
(ecobee.com/ecobee4)
Smart thermostat Ecobee4 comes with room sensors to detect the temperature throughout your house. It also detects the presence of people and self-adjusts accordingly. It works with Amazon Alexa Voice service so you can give it voice commands to make lists, play news, or — of course — turn up the heat.
Philips Hue Bulbs
(www2.meethue.com/en-us)
Philips Hue products combine brilliant and energy-efficient LED light with intuitive technology to change the way you light your home. The bulbs give you soft white lighting that you can control with your voice. Or use the remote control, a great feature for making it seem like you're home when you're not.
Nest Learning Thermostat
(nest.com/thermostats)
After you use it for a few days, Nest learns what temperatures you like at different times of day and automatically sets itself accordingly. This process saves energy and money on your energy bills. It can direct you to ideal temperature settings and can be controlled with a smartphone app.
Eve Light Switch
(elgato.com/en/eve/eve-light-switch)
This device can be used with any bulb to create an easily controllable lighting experience. Touch it like you would a traditional switch or use your iPhone to operate it from afar. You can set it to light up when you need it and go dark when you don't.
Hisense Air Conditioners
(hisense-usa.com/appliances/portable-ac)
These portable air conditioners allow you to stay cool and comfortable without spending thousands on a cooling system or installing a heavy traditional unit in a window. In addition, they can easily be moved from room to room. They're quiet and sense the temperature to save energy whenever possible.
FAST FACT: They say cooking is an art and baking is a science. Make sure you get the measurements right with the Perfect Bake Pro (makeitperfectly.com/bake).
Bill Gates' Famous Smart Home
Just like its owner, Bill Gates' home has a very high IQ. The 66,000-square-foot Medina, Washington estate is named "Xanadu 2.0" after an estate mentioned in the movie Citizen Kane. Being built into its surroundings enables it to regulate temperature more efficiently. The artwork on the walls can be changed with the touch of a button, and visitors can make computer screens situated around the house display their favorite works. A maple tree treasured by Gates is monitored by a computer; if it dries out too much, water is automatically brought to it.
Each person who comes into the home gets an electronic chip that serves as a beacon to tell the house how to set the conditions in each room. As people enter and leave rooms, lights turn on and off, and favorite songs are played on the sound system hidden in the walls. Naturally, the chips keep track of each person's preferences and make adjustments as they learn.
Tell Your Kids: Chores Just Got a Whole Lot Easier
From vacuuming while you sleep to automatically adding items to your grocery list, smart appliances can add a new level of convenience to your life. Here are just a few that you'll want to consider for your smart home.
Samsung Family Hub Refrigerator
(samsung.com)
This family of appliances helps you create shopping lists, order groceries, and see inside your refrigerator. But it also goes beyond food to integrating family member schedules, sharing photos, and sending messages. It can even stream your favorite music or TV show for entertainment while you eat.
iRobot Roomba 890
(irobot.com)
A dream come true for people who love a spotless house but hate to clean, the Roomba moves across the floor, picking up dirt, dust, and messes as it goes. With sensors and software, it adjusts to your environment. The related app allows you to schedule future cleanings.
June Intelligent Oven
(juneoven.com)
This countertop convection oven uses adaptive heating elements and fans to maintain the proper temperature. Just choose your food and how done you want it, and June takes it from there. The handy app allows you to control cooking from anywhere and be notified when your meal is ready.
Whirlpool Top Load Washer With Remote Control
(whirlpool.com)
Isn't it funny how, with so many washer settings available, none of them seem quite right for your wash load? This washer solves that problem with customized settings. In addition, you can use your smartphone to remotely start and pause cycles, track cycle progress, and receive energy and completion notifications.
Kenmore Elite 14677 SMART Dishwasher
(kenmore.com)
Using the associated app or your voice, you can remotely monitor cycle progress, get diagnostic alerts, and troubleshoot quickly and efficiently. Meanwhile, your dishes get the benefit of four wash arms and multiple motions to blast dishes from every angle. This clean machine also boasts a sleek design and quiet operation.
Smart is Great, but Intelligent is Even Better
What's better than a smart home that performs tasks on demand? An intelligent one that learns your habits and proactively makes your life easier. Artificial intelligence (AI) is the technology that makes this vision real.
For example, let's say you and your family have left the house for the day to go to school and work. You don't have to worry about turning off the lights and appliances or locking the door because your AI-enabled house, using sensors and past data to know you're really gone for the day, has done it for you. Then, when it's time to come home, your house has heated up or cooled down to the perfect temperature, turned on lights if it's dark, and put on your favorite relaxation music.
An intelligent home can also save you money. By adjusting the temperature and lighting based on known user preferences and whether or not people are in a particular room, the system ensures you only use as much energy as is needed and no more.
Enhance Your Health at Home
One of the best things technology has to offer is more ways to keep us healthy. Doctors can perform operations from across the globe, patients can walk into a kiosk to get diagnosed, and you can stay right at home to enjoy the benefits of the following health and wellness tools.
Nokia Sleep
(health.nokia.com)
Nokia Sleep slips under your mattress to detect sleep cycles, snoring, and heart rate. Easy to set up, it syncs with the Health Mate app via Wi-Fi. It also integrates with other smart items in your home to dim lights or adjust the thermostat when you go to bed.
QardioBase 2
(store.getqardio.com)
This scale-like machine measures not just your weight, but also your body mass index (BMI) and distribution of body fat, muscle, water, and bone mass. Multiple user auto-recognition means it can be used by the whole family. The device integrates with the MyFitnessPal app to help you achieve your health goals.
Olfinity Air System
(olfinity.com)
Few things are more important to your health than the air that you breathe. This appliance improves air quality based on standards set by the World Health Organization and delivers healing aromatherapy. Set up the smartphone app to monitor, track, enhance, and get reports on the air in your home.
Sensio Air
(wlab.io)
With the appearance of a bronze football, this device works with sensors to track particles like dust, pollen, and mold. You record your allergy symptoms to teach it when allergens are likely to be a problem for you. It then warns you when you need to be on guard.
KardiaMobile
(store.alivecor.com)
If you need to track your heart rhythm, this device is convenient and easy to use. The information can be sent to your doctor or used in conjunction with a full report for a future office visit. It works with most smartphones and tablets on both the Android and iOS platforms.
Here Come the Robots
If you're over a certain age, you probably watched a TV show called The Jetsons, which is a cartoon about a futuristic family. They had many smart features in their home, but probably the smartest was their housekeeper robot, Rosie. Fast-forward a few decades, and Rosie the Robot is nearly a reality.
Still in development, the robot called Aeolus can recognize faces, respond to voice commands, and move around on its own. It can clean up clutter, use a vacuum cleaner, or grab you a beer from the fridge. Unlike Rosie, it can't cook a meal. But, if you think of a chore for it to do while you're away, you can remotely control it with your smartphone.
Other robots currently on the market or coming soon include Root, which teaches kids to code, and a robot dog from Sony designed to form an emotional bond with humans.