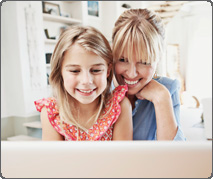 Beyond the Basics:
Facebook Feed to Focus on Friends and Family
You may see fewer posts from advertisers and media outlets
The original "social network," Facebook started as a platform where friends and family could connect online. When someone shared a post on their Facebook page, their friends — and everyone else in their network — would see it too. It was a great way to find long-lost friends, keep in touch with family in other places, and share interesting stories from around the web.
When more and more people got on the Facebook bandwagon, advertisers began to notice. With over half of Facebook users checking social media more than once a day, brands saw the opportunity in such a large captive audience and started paying Facebook to promote their content.
As Facebook began adding new features, the type of information exposed to users began to change. For example, Facebook introduced a "Trending" section that promoted stories other people on the network were reacting to and sharing, whether those people were in the user's personal network or not.
The result? A Facebook news feed that was full of content from advertisers, celebrities, and news outlets, but light on updates from family and friends. Eventually, this led to a decline in personal user engagement on the platform.
Reasons for Making a Change
With so much non-personal content in their Facebook feed, many people went from active contributors to passive consumers of information on the site. Spending time on Facebook became an exercise of scrolling through their news feed, skimming over brand posts, and clicking on promoted links without really engaging with any of the content.
This development was not without consequences. A 2015 paper in the Journal of Experimental Psychology found that passive usage of Facebook, even for only 10 minutes a day, had a negative mental impact on students and their sense of well-being. Mindless browsing and clicking, without any social interaction, left subjects in a worse mood than before they got on the site.1
Meanwhile, more and more people were getting their news from social media platforms like Facebook. And as the tumultuous 2016 election cycle in the U.S. showed, those stories were not always verified or even true. With so-called "bad actors" pushing false news stories onto the platform, those stories found their way into people's news feeds and were often indistinguishable from bona fide news stories from reliable news outlets.
What You'll Notice
When Facebook CEO Mark Zuckerberg announced changes to the Facebook platform in January 2018, he acknowledged the problem. Posts from businesses, brands, and media were crowding out "the personal moments that lead us to connect more with each other." The Facebook team's focus would shift from helping users find relevant content to helping them have more meaningful interactions.
So what does that mean for the Facebook community in practical terms? First and foremost, it means that Facebook users will start seeing more updates from family and friends in their news feeds again. By changing the algorithm used to decide what shows up in a person's news feed, Facebook will be able to prioritize content from people in a user's own network, especially posts that have prompted a lively thread of conversation to take place.
Facebook is also demoting news items with clickbait headlines, as well as false news stories, which — even though they have a high click-through rate — do not improve user engagement in any meaningful way. What's more, Facebook is seeking input from users about the sources that they trust.
Will We Be Better Off?
These changes will almost certainly be better for users. Instead of a Facebook news feed dominated by professionally produced content they didn't ask for, users will now see more personal updates from their friends and family as well as posts from groups in which they're members.
Facebook is taking the additional step of prioritizing content from sources deemed trustworthy by Facebook users themselves. While advertisers and publishers may see a significant drop in their readership, it is mostly the organizations who rely solely on Facebook to generate traffic that will feel the impact of these changes.
By tilting the news feed experience back in favor of personal exchanges with friends and family, Facebook is returning to its roots: Encouraging stronger connections between people who use the network, beyond the surface interactions of "likes" and "shares."
Time will tell how sweeping the changes turn out to be, but the company's response to its users' concerns are a good sign. While Facebook may see a decline in revenue in the short term, the gains in deeper user engagement will no doubt benefit the community and the platform over the long term.
How to Manage Your News Feed
If you like seeing posts from a certain news outlet or other organization and want to make sure they remain on your Facebook news feed, take these steps:
1. Go to the organization's Facebook page.
2. At the top, next to the "Like" button, find the word "Follow" or "Following." (If it says "Follow," click that once before continuing; it will change to "Following.")
3. Click the word "Following" and choose "See First."