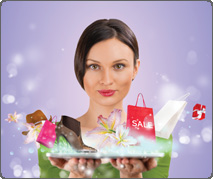 Cover Story:
Online Shopping Trends
Say hello to new ways to "buy buy"
The amount of shopping people do via the internet has increased dramatically in recent years, and it's no wonder. This purchasing method offers the convenience of being able to compare products from a wide selection of retailers and then buy in an instant from your computer or mobile device.
What's more, online retailers are adding innovations to improve the customer experience so you'll return again and again. They include personalization to point you to products you may like based on past purchases and subscription services to keep new merchandise arriving regularly.
Browse around the next few pages to explore these developments as well as other fascinating aspects of today's online shopping. You'll find some little-known tips for the best mobile shopping sites, the most worth-it loyalty programs, and the smartest ways to save money. You'll also get valuable advice on how to stay safe in the ecommerce world.
Despite the appeal of online shopping, it can't provide everything available from your local brick-and-mortar stores. Plus, there are many community advantages to buying local. Try to develop a combination strategy that reflects your priorities. For example, you might do your regular grocery shopping down the street but sign up for a monthly subscription to have gourmet extras mailed to you. Or you might order some of your clothing online, but also visit local stores to try on fashions and take them home that day.
Clearly, you have a growing number of options in how to shop these days. So enjoy the process, whether you place items in a virtual shopping cart or push a real one (with or without squeaky wheels) through a store.
Americans + Online Shopping = A Love Connection
It's no secret that Americans love shopping, and online retail sites make it even easier to do. According to a study conducted by the Pew Research Center, around 80 percent of Americans are online shoppers, and 15 percent buy online weekly. This is a huge jump from 2000, when just 22 percent of Americans surveyed had made a purchase online. According to vpnMentor, the U.S. leads in overall ecommerce spending, and shopping is the fifth most popular online activity behind email, instant messaging, location-based services, and social networks. Here are a few more key observations:
Reviews. Reviews are critical to making online buying decisions, as well as offline comparisons. The Pew report found that 82 percent of adults surveyed said they read online customer reviews at least sometimes before purchasing an item for the first time. (Interestingly, however, only one in 10 Americans "nearly always" post their own reviews.)
Influencing factors. Another recent study by BigCommerce showed that when clicking the "buy" button, consumers are most influenced by price, shipping cost and speed, and discount offers. Nearly 25 percent of online shoppers are also swayed by social media recommendations, and 42 percent are prompted by tips from friends and family.
Mobile. The Pew study revealed that 51 percent of respondents have made a purchase using a mobile phone (the number is 77 percent for consumers aged 18 to 29), and 15 percent have made purchases by following a link from a social media site.
Most popular sites. Among the most influential sites for shopping are Amazon.com — which, according to vpnMentor, is the only retail destination among the top 10 most visited websites — and Pinterest, which is by far the most-used social media platform for online browsing and buying.
FAST FACT: Consumers spend more mobile time on retail sites, but mobile purchases only account for 20 percent of dollars spent online.
Source: http://www.marketingcharts.com/ online/these-are-the-fastest-growinge- commerce-categories-in-the-us-76302/
Fastest Growing Ecommerce Categories
A recent study by consumer behavior measurement company comScore revealed some interesting ecommerce growth trends. According to MarketingCharts, which reported on the study, jewelry and watches are the fastestgrowing category in the U.S., with 39 percent year-over-year growth in 2016. Next in line were furniture, appliances, and equipment at 26 percent, and computer software at 24 percent. Apparel and accessories only increased by 20 percent, but remains the top product category. The prize for largest increase in dollars spent went to video games, consoles, and accessories.
Source: http://www.marketingcharts.com/ online/these-are-the-fastest-growinge- commerce-categories-in-the-us-76302/
Get in the Checkout Line for These Shopping Extras
As the online retail industry evolves, new ways to improve your shopping experience are emerging. Automation and personalization are at the top of the list.
Automation
Features like Amazon Dash Buttons allow you to reorder household items you use frequently. Entire delivery services like Instacart for groceries, UberEats for restaurant food, and Postmates for a variety of items are also gaining popularity. As ecommerce continues to evolve, watch for more services that automate shopping and delivery.
Personalization
Retailers are taking advantage of many new technologies including artificial intelligence (AI). Stores can use it to create a more personalized shopping experience based on customers' digital histories. For example, companies like North Face are using past buying data to provide customized recommendations for additional purchases.
Easier Returns
One of the downsides of online shopping, especially when buying clothes, is not being able to handle merchandise before you buy. But consumers feel better if they at least know they'll be able to return items easily if they don't work out. That's why many retailers are adopting an automated return processing system that uses prepaid shipping labels. The savviest retailers, like Zappos, already offer a free, no-questions-asked return policy.
Subscription Services
Love wine? Laithwaites Wine Club is an online subscription service just for you. Are you a yogi? There's one for you too, Yogi Surprise, as well as subscription services for foodies (Blue Apron), fashionistas (Stitch Fix), makeup lovers (Julep), vinyl record aficionados (Vinyl Me, Please), and guys who like a clean shave (Dollar Shave). Retailers in this growing service sector note your preferences and send you periodic boxes filled with your favorite goodies.
QUICK TIP: If you shop a store consistently, consider downloading its app to make mobile purchasing even easier.
Best Shopping Sites for Mobile Use
There's an art to designing a great mobile shopping site, and some retailers do it better than others. Here are a few of the best:
Zappos. The home page gives you easy-to-navigate categories to find what you want right away. Just a few more taps and you've purchased a great pair of shoes.
Sephora. Need a cosmetics fix? Head to the Sephora site and check out suggested items, or use the categories or search function to find your favorite product.
REI. The home page offers information about upcoming classes at a store near you. To shop, just tap the menu button to browse your favorite adventure gear.
Target. There's plenty of information here about products and sales. Plus, you can create an account for purchases and your list of favorite items.
Money-saving Tips for Savvy Online Shoppers
Just like in the physical world, smart online shoppers can save big. Here are a few tips and tricks to get you aboard the saving train.
Outsmart the algorithms. Some retail websites use algorithms to present different prices to different shoppers according to your previous shopping activity. Get around this trap by clearing your browsing history before you shop or using your browser without signing in.
Know when to shop. Some retailers offer better deals on certain days. For example, Tuesdays are typically the best day to buy computers, while Saturdays bring specials from book retailers Amazon and Barnes & Noble.
Subscribe to email alerts. Many retailers are more than happy to let you know when the bargains are to be had. Just sign up for each one's newsletter to receive offers and sale alerts.
Abandon your cart. To use this strategy, log in to the account of your favorite online retailer and add an item to your cart. Leave it there for a couple of days, and see if you get a coupon for a better price in your email inbox.
Buy a discounted gift card. Use a gift card swapping service like giftcardgranny. com to purchase a discounted gift card. Then use it to get a great deal on your next purchase at that store.
Goodreads Offers Great Deals for Bookworms
Book sharing application Goodreads isn't a retailer, but it can save you money on books. In your account, go to Account Settings and click Deals. Under DEALS, check the boxes for what kind of deals you'd like Goodreads to send you. Under RETAILERS, choose the sources where you normally purchase books. You'll get email alerts with a link to your favorite retailer when a book that fits your criteria goes on sale — often for much less than the usual price!
5 Ways to Save Money on Amazon
The retail giant Amazon offers many ways to be a smart online shopper. Here are just a few:
Subscribe and Save. This Amazon feature gives you discounts on regularly ordered household items.
Amazon Prime. This paid service pays you back with free two-day shipping, unlimited access to videos and music, and free photo storage.
Today's Deals. Click the Today's Deals link at the top of the Amazon screen and find discounts for electronics, apparel, kitchenwares, and more.
Gift Cards. Purchases shipped to certain states are subject to sales taxes. But not when you use a gift card.
Price Matching. Use this program to get cash back if you find out another retailer is selling your newly purchased TV at a lower cost.
Outsmart Cybercriminals When Shopping Online
Online shopping can be a whole lot of fun, but it can also present security threats. Every time you use your credit card or provide personal information, you're trusting that such data will be used responsibly. Given that this is not always the case, you should always take appropriate precautions including the suggestions listed here.
Know the site. Try to stick with well-known shopping sites with good reputations. If you want to make a purchase elsewhere, first do research to find out other shoppers' reactions to the retailer.
Protect your information. Notice what information is asked for in the checkout process. Don't provide any information you don't need to, and if you think any required information is unnecessary, cancel your purchase.
Use credit cards. Debit cards are convenient, but credit cards offer the added protection of the credit card company intervening on your behalf if a purchase goes wrong.
Understand the return policy. Most retailers will gladly take returns. If the one you're using doesn't, you could end up wasting money on items you don't want.
Refrain from purchasing in public. Conducting any type of business while using public Wi-Fi is unwise since scammers might be able to intercept your data.
Protect Yourself With a Virtual Credit Card
A virtual credit card is a number you can use for a one-time purchase online. You can determine an upper limit for purchase price, as well as an expiration date (as soon as the same day). Say you want to make a purchase with a specialized vendor with an iffy reputation. Your credit card issuer gives you a temporary number, and you authorize it for $50 for today only. Then you make that one purchase. You don't have to worry about your information being sold or stolen because the number won't work for additional purchases.
Which Loyalty Programs are Worth It?
Some retailers offer lackluster rewards that don't prompt you to shop there more often or choose the store over a similar one. However, here are some loyalty programs that will make it worth your while to keep coming back:
Target REDcard. Get five percent off in-store and online purchases.
Sephora Beauty Insider Program. Reward your beauty addiction with points that can be redeemed for products as well as exclusive discounts.
CVS Rewards. Get coupons and cash back to spend on future purchases. • Best Buy Reward Zone. Earn points, receive exclusive offers, and get access to special events.
Bloomingdale's Loyalist Program. Get points for purchases and use them to get gift cards later on.
JCPenney's JCP Rewards. Get a $10 reward when you spend $100 in a month.
DSW Rewards. Receive free shipping on most online orders, plus periodic reward certificates.
Nordstrom Fashion Rewards. Shop to earn points; redeem points for reward certificates.
Why Main Street Still Matters
Despite the popularity of online shopping, there are plenty of reasons to continue purchasing in brick-and-mortar stores. The most compelling is the ability to physically see and interact with products before buying. This is especially useful with clothing since size, color, and fit can't truly be evaluated without trying an item on. Seeing how things like computers and appliances function in the real world before taking them home is also highly useful.
Direct communication with another human is something else that can't be replicated online. Consumers appreciate this aspect of shopping at a physical store, especially when retailers use technology to drive a more personalized experience such as remembering customer preferences and offering customized shopping advice and pointers to new products.
In addition, there's nothing quite like the satisfaction of being able to bring an item home the same day — such as installing your new TV and binge- watching your favorite show that night, or cooking up a great barbeque for friends on a new grill that afternoon. The bring-it-home-today factor is an advantage over online shopping, which involves not only waiting for shipping but also paying for it.
Finally, shopping your city's downtown or the nearest mall is great for your community because the dollars you spend there go right back into the local economy. That revenue helps maintain a local flavor by selling regional items. It also enables small businesses to hire more of your friends and neighbors. Plus, since small businesses tend to donate more than national chains, it helps worthy local nonprofits to assist more of those in need.
So, keep clicking "buy" online, but don't forget to also shop regularly at local stores. Main Street is the main reason your community is what it is.
Take These Apps With You When You Shop
Going shopping in the physical world? Don't forget these apps to help you find the best deals!
RetailMeNot – Presents deals from thousands of retailers, as well as personalized offers.
Flipp – This app collects coupons, deals, and offers from various stores to help you plan your shopping.
Shopular – Displays only deals appropriate to you based on location or product type.
ShopSavvy – Scan barcodes or do a search for a specific item to find the best prices.
SlickDeals – View the best deals from a wide variety of stores.
Coupon Sherpa – Offers hundreds of coupons that you can sort by location, brand, or product type.
FAST FACT: Sam's Club offers customers a physical-online crossover experience by allowing them to pay for in-store purchases with the store app.