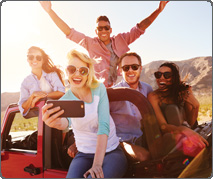 Social Media Basics :
Instagram Releases New Features
Disappearing photos and live video streaming are just part of the fun
Six years after its inception, Instagram decided to give itself a makeover. The photo-sharing app recently expanded its features, some of which mimic other social media outlets like Facebook, Twitter, and Snapchat. These new features allow you to expand your sharing beyond a stream of polished photos:
Send Disappearing Photos
Snapchat became famous as the first app to enable you to send photos that disappear after recipients see them. This feature is handy for sending silly, messy photos in which your hair isn't quite right or something else of that nature. Snapchat also allowed creative license with drawings, text, and stickers that could be added to photos. Now Instagram enables you to do the same things.
Livestream Video
Another new feature is streaming live video, one that Facebook also launched in 2016. Unlike Facebook, Instagram doesn't store live video streams. But in every other respect the two features are similar. Instagram now allows you to start a video at any time and have followers view it live for up to an hour. During the stream, others can comment unless you opt out of them.
Create Stories
Another Snapchat-like feature that Instagram has integrated is stories. With this feature, you can organize your photos into a story line that's viewable for 24 hours. To create a story, use the camera icon to take photos and videos as usual and tap the Your Story icon at the bottom of the photo screen. Each photo or video will be added to your story, which you can view and edit.
Use Stickers with Stories
Instagram's stories feature has been upgraded to include stickers. You can include your location, the current time or temperature, a heart, a flower, a balloon, a hat, sunglasses, emojis, and more. Themed stickers appear for various holidays, and you can attach as many as you want to each photo.
FAST FACT: As of mid-December 2016, Instagram boasted 600 million users, with 100 million of them joining in the previous six months.
Source: http://blog.instagram.com/post/154506585127/161215-600million
Like Photo Comments
With Instagram, users have always been able to like photos, but now you can also like the comments attached to them. This offers a nice benefit when you get a large volume of comments and don't want to craft a response to each one; instead you can just like them all. Instagram also sends you a notification whenever someone likes one of your comments.
Control Comments
On the other hand, maybe you don't want others to comment on your photos at all. If that's the case, you can turn off commenting on a post-by-post basis. To disable comments before posting, select Advanced Settings on the Share To screen and activate the Turn Off Commenting slider. To disable comments on an existing post, tap the three-dot icon and select Turn Off Commenting. Note that disabling comments on an existing post will cause comments already there to disappear; they'll reappear if you re-enable comments later.
FAST FACT: Facebook and Snapchat rolled out stickers in 2014. Twitter incorporated the feature in 2016.
Remove Followers
There are many reasons you might not want someone to follow you on Instagram, and now you can discreetly "lose" them. To remove a follower, find them in your follower list, tap the three-dot icon next to their name, and tap Remove. They won't be informed that they've been removed from your list. They'll still be able to see you on Instagram, but they'll no longer be able to see your posts. If you're following them, you'll still be able to see their posts.
Save Favorite Posts
Sometimes a post is so great you want to save it to look at again later. Instagram's bookmarks feature allows you to do just that. Locate the post you want to save and click the bookmark icon just underneath it on the right side of the screen. To find your bookmarks later, go to your profile page and click the bookmark icon there. Only you can see which posts you've bookmarked.
Instagram Enables Users to Report Self-harm Concerns
In addition to the fun new features for posting photos and videos, Instagram has developed one that's much more serious. Users can now report anonymously about others they suspect may be in danger of harming themselves. To do this, tap the three-dot icon on the post, then select Report > It's inappropriate > Self injury. Instagram has a support team available 24/7 to manage these reports. Other social media sites have similar systems including Facebook, which has a Report Suicidal Content form for submitting concerns. Facebook will respond by sending resources and messages of support. Experts recommend also taking the following steps:
Take the person seriously.
Make sure the person doesn't have access to firearms or large doses of medication.
Listen, communicate, and offer support.
Research and share suicide prevention resources.
Recommend a local mental health professional.
Remember, a threat of self-harm may be more than you alone can handle. Use the many resources available to you and your friend.