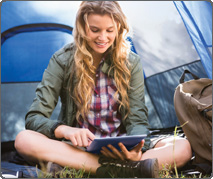 Cover Story:
Tech Meets Trek
Our obsession with technology is blending with our love for the great outdoors
If you think about it, technology has been a part of outdoor adventures for decades. Advances in clothing, gear, and vehicles have improved experiences for campers, hikers, climbers, bikers, kayakers, surfers, skiers, and others. For example, a sturdier pair of pants that also protects your skin from UV rays was a welcome invention, as was a gas stove that weighs only ounces yet can cook your food for a week.
More recently, electronic technology has brought even greater possibilities for convenience and safety. A tablet can provide entertainment for the kids when you want to relax by a campfire. A global positioning system (GPS) can help you get home if you lose your way in the wilderness. Of course, there are potential pitfalls as well: Your devices are subject to loss of battery power and could get lost or damaged. Or you may depend on them too much, which can actually make you less safe. But the good news is, there are many options for making electronics a beneficial part of your outdoor experience.
In the next few pages, we explore how technology can contribute to your adventures. You'll find a description of Google Maps' offshoot called Google Maps Treks, the best websites for planning your next trip, and essential gadgets to pack in your duffle bag. Plus, you'll learn how getting Wi-Fi while camping might be easier than you think.
We hope you'll discover some great ways to make the great outdoors even greater.
FAST FACT: The number of people hiking on the Pacific Crest Trail has increased dramatically since the release of the book and movie, Wild.
Source: http://mashable.com/2015/05/17/pacific-crest-trail-wild-effect/
How Much is Too Much Wilderness Technology?
Anyone who's spent time in the wilderness understands its uniquely special qualities: the sight of wildlife going about their business, the calming effect of being amidst acres of pine trees, and the complete quiet broken only by sounds of wind, a crackling campfire, or a softly babbling stream. So, does it make sense to bring elements of our everyday technology into that environment? Some places already encourage you to do so, such as campgrounds and national parks. But opponents say the more technology we bring into the wilderness, the less special it becomes.
Pros and Cons
A national park app could explain about wildlife, poisonous plants to avoid, and hiking trail locations. But some believe this type of engagement detracts from direct experience and leads to "connectivity creep." This means you use the app and decide as long as you're on your phone, you might as well check Facebook; pretty soon you're writing emails, setting up meetings, and moving money between bank accounts. All these things can be done at home, so why come to the outdoors at all?
There's something to be said for unplugging entirely — and the wilderness is a great place to do it — but not everyone is ready for that level of disengagement. Ask yourself if a tech-free trip is worth the price of not being able to post a photo from the top of a mountain in real time.
The Bottom Line
Fortunately, connection in the wilderness doesn't have to be an all-or-nothing choice. You can use the aspects of it that work best for you. Bring your phone with you, for instance, but put it on airplane mode and use it only for photos. The deciding factor should be whether your devices enhance or detract from your enjoyment of an outdoor adventure.
FAST FACT: The Wilderness Act of 1964 created a definition for "wilderness" and protected 9.1 million acres of federal land.
Explore the World from Home with Google Maps Treks
Google has taken Street View one step further to map remote areas of the world. Using a device called the Trekker, Google collects imagery of some of the most famous places on Earth as well as lesser-known sites. Toward these ends, Google partners with organizations like the Charles Darwin Foundation, the Jane Goodall Institute, and the Apa Sherpa Foundation. Treks use Street View supplemented with still images, video, text, and HTML5 to create a more immersive experience. Users can take self-guided journeys to places they hope to visit or those to which they may never go. People who want to get more involved can volunteer to add imagery to Google Maps through the Trekker Loan Program.
These Sites Can Help You Plan the Site of Your Next Adventure
Looking for an outdoor adventure, but not sure where to start? Visit these wilderness trip-planning sites for location ideas, descriptions, tips, and more.
Find a National Park
nps.gov
U.S. national parks are a treasure, and they offer a wide variety of places to explore. The National Park Service website offers detailed information about all national parks including things to do, programs and events, and trip-planning tips.
Hit the Trail
trails.com
Trails.com allows you to search your area — or one you want to visit — to find nearby hiking trails. Check out the "travel" section to read about best times to visit, RV parks, and more. Or, use the "browse by activity" section for expert advice about skiing, camping, birding, and cycling.
Topo Maps
natgeomaps.com
A good topographic map should be at the top of your "what to pack for an outdoor adventure" list, and National Geographic has them for both urban and remote areas all across the globe. Visit this site to find maps for areas you'll be visiting, especially if you plan to return.
International Adventures
backpacker.com/trips/international
The U.S. has plenty to offer in terms of great locations for camping, hiking, and other outdoor activities. But when you're ready to expand your horizons, check out this section of the Backpacker site. Click on an interactive map to get descriptions of global backpacking destinations.
Charging Your Devices Without an Outlet
Need a way to charge your phone or tablet with no outlet in sight? Try a hand-cranked charger. These chargers are small, relatively inexpensive, and compatible with most devices. They work like a miniature wind turbine, but instead of wind, a little "elbow grease" will get your device back up to 100 percent. Keep one in your backpack for emergencies (or for when you've been hiking all day and want to reward yourself with a round of Candy Crush Saga).
How to Watch TV Outside
Getting away from it all is great, but after hours of hiking, gathering firewood, and securing your food out of the reach of bears, you might be ready to kick back with a little living-room-style entertainment. In an RV, you may be able to get a TV signal using satellite, cable, or antenna options. If you're in a campground with Wi-Fi, you can simply stream video from a service like Netflix or use WatchTVEverywhere to access channels from your home's TV lineup. Other services, such as Amazon Prime, allow you to download shows and movies for later viewing. Don't forget about lower-tech options, like a DVD that just pops into your laptop.
Gadgets You'll Be Glad You Packed
While these gadgets aren't necessarily essential, they can add a great deal of comfort and convenience to your outdoor adventures:
A Specially Designed Camera. Look for a camera that's ruggedly built for outdoor use with sturdy exteriors that are dustproof and waterproof. It could be invaluable when trying to take photos under challenging conditions.
Drone. Capture bird's-eye-view photos of mountains, oceans, deserts, and forests to share with your friends.
Waterproof case. Remember that when you're on an adventure, so are your devices. Keep them safe and dry with a protective cover.
Charging backpack. Every mobile device needs to be charged, but it's not always easy in the wilderness. Try a backpack with a built-in solar panel to replenish that "juice" while you're hiking.
Portable floor. Yes, you're camping, and it's supposed to be rugged. But why bother with sticks and dirt stuck to your clothes when you don't have to?
FAST FACT: Over 325 million people visited national parks in 2016 — 18 million more than in 2015. Source: http://www.cntraveler.com/story/ us-national-parks-attendance-hit-recordhigh- in-2016
How to Get Wi-Fi When Camping
If you like to camp in remote areas, you may be out of luck when it comes to Wi-Fi service. However, many campgrounds are offering it as part of their service. Online lists like the one at wififreespot.com/rv.php can help you locate hotspots in areas where you'll be traveling. Another option is to use your cell phone or a MiFi (portable wireless router) to serve as a mobile Wi-Fi hotspot.
Outstanding Apps for Outdoor Enthusiasts
One benefit of using your favorite mobile device outdoors is you can take advantage of helpful apps. Here are a few to get you started:
Cairn
cairnme.com
Enter the details of your hike to update your friends and family members as to your status.
Fresh Air
freshairweather.io
The weather can make all the difference between a wonderful trip and a miserable one. Stay informed about current conditions with this app.
Peak Scanner
peakscanner.com
People for whom the destination is what matters can use this app to see how far off that mountaintop is.
Leafsnap
leafsnap.com
Part of the fun of going outside is learning about all the plants around you. Use this app to snap a photo of a leaf and learn details about the plant it came from.
GoSkyWatch
gosoftworks.com/GoSkyWatch/GoSkyWatch.html
The number of stars you can see from remote areas is astounding. Use this app to identify them.
Social Media Can Enhance Your Outdoor Adventures
These days, the role of social media comes up when discussing virtually any topic, and outdoor adventures are no exception. Here are a few ideas on how to use social media to your advantage:
Friends
When planning your trip, poll your friends on social media to find out the best destinations for the type of trip you want to take. For example: "Want to camp in southern Colorado for about three days and would love a spot near a good trail. Any suggestions?"
Communities
You can search Facebook for online communities related to your travel plan. For example, type in "camping in Colorado." Join the groups that interest you to get even more helpful information.
Adventure-Specific Sites
Sign up for an adventure-specific social network like Gociety (gociety.com). This online community connects you with others in your area who like doing the same things as you. Once you get to know other users, hit them up for suggestions and share status updates of your adventures. Even better, plan some trips with your new friends.
Photos
Of course you'll want to share photos before (maybe your car loaded up with gear), during (adventure shots of you camping, kayaking, or biking), and after your adventure! Be detailed in photo descriptions so others can use what you've learned on your trip.
Let Photography Go to Your Head with Helmet Cameras
Sure, you can capture beautiful images by simply holding your camera with your hands. But taking videos with a helmet camera, showing your perspective "shooshing" down that ski hill or making your way up a mountain biking trail, are even better! These cameras attach to your helmet and are lightweight and rugged enough to stay out of your way. When looking for a helmet camera, consider things like resolution, recording time, battery time, microphone, and accessories. Once you've made your purchase, check out the many helmet-view action videos online for inspiration.
What You Need to Know About GPS
A global positioning system (GPS) device may be one of the most useful ones in the outdoors. These devices use information from satellites orbiting the Earth to tell users where they're located at any given time. They can help you navigate through wilderness areas, determine distance traveled, set waypoints and record your path, and retrace your steps for the return trip. Just remember that your GPS can run out of battery power or get damaged or lost, so be sure to also have an extra set of batteries and a good backcountry map and compass that you know how to use.
Using Technology to Stay Safe in the Wild
Yes, technology makes spending time outdoors more convenient. More importantly, it can also help you stay safe. Here are a few ways technology can help keep your wilderness adventure from turning into a wilderness disaster.
Mobile Phones
Cell phone service in the backcountry is inconsistent, so you might want to consider using a satellite phone. Like a cell phone, it's portable, but you can get service virtually anywhere. You can use a satellite phone to make calls or send text messages in an emergency situation.
GPS
Getting lost in the wilderness is less of a concern with a global positioning system (GPS), which can be used to chart your course, track your miles, and determine how much altitude you've gained or lost. If you lose your way, it can help you get back on your intended route and find your way back. To make the most of a GPS, learn how to use it before you set out.
PLB
Pocket-sized personal locator beacons (PLBs) allow you to notify rescue personnel of an emergency. It works by emitting a distress signal to satellites that send the information to government stations (though they can't communicate back). Because you have to register the device in advance, personnel will know who you are. As with a GPS, learn how the PLB works before you embark on your adventure.
Just remember that no amount of technology can guarantee your safety. Know and understand the dangers you'll face when you camp, hike, bike, ski, surf, or embark on any other activity in the great outdoors. Always have backup methods (such as bear spray, a map and compass, or extra food) ready in case your technology fails.
FAST FACT: According to Yellowstone National Park, the chances of being injured by a bear are about 1 in 2.1 million.
Source: http://www.yellowstonepark.com/killed-by-bears/
Caring for Your Devices Outside
When you bring technology into outdoor environments, anything can happen:
Leave your tablet out on the picnic table at your campsite, and it could get rained on.
Drop your cell phone while on a trail, and it could fall down a mountainside.
Put your GPS in a loosely zippered backpack pocket, and it could fall into a stream.
To prevent these mishaps, take special precautions when using your technology outdoors. Use protective coverings, wrist loops, and waterproof cases. Each evening, take an inventory of all your devices to make sure they're safe from the elements.