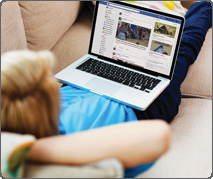 Back to Basics:
Treat Facebook Fatigue by Operating on Your Feed
Take action to see more of what you like and less of what you don't
Facebook is constantly changing what types of information it presents to you in your news feed and in what order. This is important, since what you see there can have everything to do with how you experience Facebook and whether it energizes you or fatigues you. Fortunately, many news feed problems can be easily fixed. Read on for the most common complaints and the "cure" for them.
Persistent Posts
Here's the scenario: You log onto Facebook and see a post you saw yesterday too…and, now that you think about it, for the three days prior as well. You commented the first time you saw it and read a few comments from other people, but you're not interested anymore.
The Fix
Facebook's algorithm prioritizes posts that get a lot of response. So if people are STILL commenting on your friend's engagement announcement after several days, you may still be seeing it well after you've already congratulated her. Here's what you can do:
From the home page, find News Feed at the top of the left column.
Click the three-dot icon and select Most Recent.
You'll now see most recent posts instead of what Facebook deems top stories.
Video Madness
Videos are all the rage these days, and they can be a lot of fun. But maybe you've already seen that one with the baby rhino or aren't really interested in how to make a burrito casserole.
The Fix
If you'd rather pick and choose which videos start playing, use these steps to get them to stop playing automatically:
From your home page, click the down-arrow in the upper-right corner. Select Settings.
In the left column, select Videos.
From the drop-down list next to Auto-Play Videos, select Off.
You're Over That Company
Maybe you started following Build-ABear back in 2008 when your kids were little. It's still cute, but not something you want taking up valuable real estate in your news feed today.
The Fix
When you like a company or organization page, you automatically start seeing its posts in your feed. If it's too much, you can unfollow the company without unliking it. Here's how:
Go to the home page for the company or organization you want to unfollow.
Under the banner photo, click the Following button/down-arrow, and select Unfollow under In Your News Feed.
If you also don't want to receive notifications from the page, click the Following button/down-arrow again and click All Off under Notifications.
Disappearing Friends
On the other hand, sometimes the problem is that you're not seeing enough of certain Facebook friends. It's possible that Sally just isn't posting as much as she used to; it's also possible that Facebook is hiding her posts from you.
The Fix
Based on the number of friends you share, or the amount you interact with that person, Facebook's algorithm makes them less visible to you. Fix it by adding these people to your Close Friends list:
On your home page, click the Friend Lists item in the left-hand column.
On the next screen, click Close Friends.
On the Close Friends page, type the person's name to add them to the list.
Posts You Don't Want
Sometimes it's nothing against your friend and his dog, but you really don't need to see another "cute puppy" photo. Or perhaps another friend posts 20 times per day and it's just a bit too much.
The Fix
Let's face it, some people like to post on Facebook. A lot. If you're tired of certain friends, or certain types of posts, you have options for minimizing or even eliminating their posts from your news feed. Here's what to do:
In your news feed, click the downarrow in the upper-right corner of the post you want to hide.
From the drop-down list, select the best option for what you want to do. If you hide the post, you won't see as much activity from that person. If you unfollow, you'll see no activity from that person.
On the next screen, select further options as needed.
Too Many Notifications
Facebook has the capability of notifying you about a wide range of actions including someone tagging you in a post, someone commenting on your post, whenever someone posts in a group you're part of, and more. But how much of this do you really need to know?
The Fix
While not technically part of your feed, too many notifications can be just as annoying as too many posts. Here's how to adjust your notifications to only items you want:
From your home page, click the globe icon and select Settings.
On the Notifications Settings page, select the notifications settings you want.
Your notifications will immediately reflect these changes.
How to Manage Facebook Ads
While you can't eliminate Facebook ads entirely, you can change how they appear for you. In fact, Facebook has an entire settings section devoted to how you see ads. Here's a quick tour:
Ads section. To access it, click the down-arrow in the top-right corner of your Facebook home page. Select Settings from the drop-down list. On the next screen, pick Ads in the left column.
Ads based on my use of websites and apps. Pick "on" or "off" to allow or disallow Facebook to show you ads based on other websites you visit. If you pick "off," you'll still see ads but they'll be less targeted to your interests.
Ads on apps and websites off of the Facebook Companies. Here the options are "yes" or "no." Again, you'll see the same number of ads no matter what. If you pick "yes," they'll be more targeted to you.
Ads with my social actions. This selection determines whether anyone can see when you like a particular company or organization. The choices are "no one" or "only my friends."
Ads based on my preferences. Here you can fine-tune how Facebook determines what to show you. Click Edit, and then Visit Ad Preferences to see what types of ads you're being shown based on certain interests.