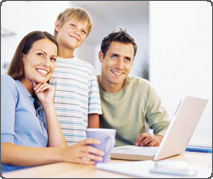 Beyond the Basics:
Sharing the Benefits of the Sharing Economy
Why more people sometimes go online to share things rather than buy them
The Internet has forever changed the way we define community. We used to think practically anyone we met online could be a threat, and it's still important to be careful. However, now we have "neighbors" we trust as far away as other countries. We've never met them in person but we've gotten to know them online, on our virtual front porches. Or they know someone we know. Or they've completed an online verification process that gives us reason to trust them.
Many people are using that newfound trust to connect to the world in new ways to obtain what they need. We are thinking of ways to share goods and services with others in our hometowns or hundreds, even thousands, of miles away, using the Internet to find people who have complementary needs. We are thinking in terms of using items through sharing, rather than spending unnecessary
money to own things.
This new semi-official model for commerce is called the sharing economy or collaborative consumption. The locations in which this sharing occurs are referred to as peer-to-peer marketplaces.
How the Sharing Economy Works
The premise of the sharing economy is finding another person to help you cover the cost, time, or other burden of anything. You might share the cost of a tangible product or share the work needed to accomplish a project that benefits you both. Some people share knowledge and ideas, even money itself. In a sharing economy, you connect virtually to find potential collaborators, which gives you a larger pool of potential sharers than if you searched in person. Sometimes you then meet collaborators offline to complete
the "transaction."
To make the sharing economy more convenient and turn it into a business, companies have created websites that gather potential crowds of product and service users in one place, selling ads, charging for memberships, or taking a cut of each transaction.
On broad-based sharing economy sites, you can search for many different types of goods and services. Craigslist is an early example of this type of site. These days, you'll more often find active sharing
communities on sites that focus on a specific category of goods or services.
For example, those who need to share rides look for collaborators on ride-sharing sites such as Getaround.com. To rent the use of your car when you're not using it or find a car to rent, you can go to Whipcar.com. You can share lodging through Airbnb.com, or rent unused garden space through Landshare.com.
As you can imagine, these sharing sites must work out a number of "housekeeping" challenges to make the sites work logistically and legally. Depending on the nature of the thing being shared, you might be asked to verify your identity or otherwise provide an official assurance of trust.
Personal and Global Advantages
There is no doubt that the sharing economy helps individuals and businesses save time and money. However, other aspects of collaboration also add to its appeal. It can enable you to:
Gain access to places you might not be welcomed otherwise. You could trade car repair services for a few rounds of golf at the country club you wouldn't otherwise have the money to join, or rent a timeshare condominium at an exclusive ski resort.
Reduce the world's overuse or waste of resources. If you share a car, you are helping reduce our dependence on oil. Restaurants and farms can find uses for excess food. Manufacturers can find work to fill unused factory hours.
Share goods and spaces to use them more responsibly. Plant a friend's unused garden space to save money, eat healthier, and use land efficiently. Dairy farms could share the cost of producing
methane gas from manure, then sell the electricity to offset expenses.
Making More Comfortable Connections
Interesting things happen when people participate in the sharing economy. They become more comfortable connecting with people from other places. They find themselves getting to know the people with whom they are doing business, better than when they simply walk into a store to buy. The level of trust required to share is turning into an opportunity to overcome isolation, help each other solve problems, and get to know people we might not otherwise know; this opens up all kinds of other possibilities.
Marketing and management professionals are keeping an eye on the evolution of the sharing economy because they believe it could lead to a fundamental change in the way we connect with people and do business. In the next few years, our boundaries of trust are likely to expand even further beyond our local streets.
Sites Where You Can Share and Share Alike
People are using the Internet to share all kinds of things, from cars and apartments to toys and tools. Here are some popular sites that help people participate in the sharing economy: