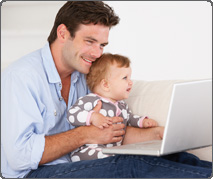 Cover Story:
Social Media From the Cradle to the Grave
How online sharing helps us shape major life events
Dating in the Digital Age
Dating has always been fraught with a lot of questions: "Is he/she available to date?" "Does he/she see this relationship going in the same direction that I do?" "Who else is he/she spending time with?" The uncertain aspect of dating is what makes it fun — or maddening — depending on how you look at it. Social media sites can make dating relationships even more complicated, or serve to answer some of those agonizing questions.
Dating Sites
Online dating sites, such as eHarmony, Zoosk, and Match, are social media sites with a specific purpose: to meet other single people to date. While these sites are efficient at connecting "available" people, there is a down side. Much can be concealed online because you haven't yet met that person's friends or seen them at work; not everyone may be the person they claim to be.
QUICK TIP: After a breakup, you can use your Facebook settings to temporarily stop viewing updates from your ex.
Facebook Official
Once you've found someone promising and have had a few dates, you might want to make it "Facebook official," which refers to setting your Facebook relationship status to "in a relationship." If your dating partner does this, the mystery of "how he/she views the relationship" is solved. But Facebook can also be a place for more questions, such as, "Who is that attractive person that keeps 'liking' my partner's posts?"
Beware of the Pitfalls
Daters with paranoid tendencies can get into trouble on Facebook, and even more so with foursquare. If you're foursquare
friends with your boyfriend, for example, you can see where he is any time he uses the application to check in, letting you know what he's doing. But this can also raise questions about who he's with or why you weren't invited to the activity.
Some social media sites offer insight into your partner's thoughts about you. Twitter, for example, is a great place to post brief, up-to-the-minute status updates. While you might enjoy reading about yourself in your partner's Twitter stream, you may also be tempted to misinterpret what is not being posted if your partner doesn't mention, say, the wonderful dinner the two of you just shared.
QUICK TIP: As witty and interesting as your dating partner may be, refrain from "liking" everything they post online.
The Next Level
Once a relationship has progressed, daters can use Pinterest to create interest boards together, answering (or posing) questions about both partners' taste in everything from camping equipment to music to interior design. Online daters would do well to remember that it's best not to read too much into social media interactions. The most important part of the relationship still takes place offline.
Saying "I Do" Now Starts With "Like" and "Post" and "Pin"
Use of social media in wedding planning and ceremonies is growing rapidly. With so many options available, it's easy to see why. Tweeted marriage proposals, Pinterest planning boards, and Facebook relationship status updates to "married" during nuptials are just the beginning.
Beginning With the Basics
Naturally, couples are sharing engagement news on Twitter and Facebook with status updates, and relationship status changes from "in a relationship" to "engaged." To get ideas for the wedding, engaged couples can follow wedding-related companies on Twitter, Facebook, Pinterest, and more.
Wedding Planning Online
Brides- and grooms-to-be who want to incorporate social media into their plans even more are using Pinterest to collect ideas for all aspects of the wedding (such as cakes, dresses, hair, catering, invitations, and photography). Those who are even more technically savvy are creating wedding blogs and Facebook wedding pages, and then directing guests to them on the wedding invitations.
There are also some wedding-specific social sites like WeddingWire (weddingwire.com), which is a "Yelp for weddings," allowing users to search for and compare wedding vendors. Lover.ly (lover.ly) is a site that is similar to Pinterest in that it allows users to collect images online but it is focused just on weddings. The site eWedding (ewedding.com) allows users to create a free wedding website and The Knot (theknot.com) offers planning tools, a blog, articles, vendor lists, and more.
Sharing the Love
During ceremonies, couples are implementing Twitter hashtags so guests can tweet from the wedding and associated events. And afterward, newly married couples can post photos and videos on a number of social media sites, including Facebook, YouTube, and Flickr. While it's possible to go social-overboard, smart use of social media can make wedding planning easier and more fun for everyone involved.
How to Create a Facebook Wedding Page
Creating a Facebook wedding page is similar to the process of creating a page for a business, band, or other entity. The first step is to log on to Facebook, scroll to the bottom of your home page, and click "Create a Page." Choose the "Artist, Band, or Public Figure" option and follow the instructions to set up the page. Once you have the page set up, you can populate the profile, add photos, and create events (e.g. wedding shower). Other features include blogging, boxes (e.g. for the wedding menu), and applications for including your wedding registry, polls, a calendar, music, maps, your Twitter feed, and more. Visit storkie.com/t-facebook-wedding-guide.aspx to learn more and see examples of Facebook wedding pages.
Dealing With Death Online
With so much of our lives now being shared on social media, it's only fitting that our deaths should be shared there, too. This can happen in a variety of ways, based on the social media site, the family's decisions, and the wishes of the deceased.
Social Media Death Policies
Facebook has a policy of "memorializing" the account of a user who has passed away. The memorializing process essentially freezes the account, allowing only existing Facebook friends to view and post remembrances on the profile. The process also removes any sensitive information, such as phone numbers and email addresses. Once this process is in place, no one, not even family members, can access the account. If family members prefer, the Facebook account can be removed entirely.
Other social media sites have their own policies:
MySpace allows a memorial site to be set up for deceased users.
Google (which includes Blogger, Gmail, YouTube, and Google+) allows access to authorized third parties.
Twitter closes the account and sets up an archive of the deceased's public tweets.
QUICK TIP: Don't leave your social media legacy to chance. Include in your will what you would like done with your social media accounts.
Remembrance Sites
Certain social media sites are geared to-ward remembering the deceased. One is Legacy.com (memorialwebsites.legacy.com), which allows users to create a detailed memorial website, including multimedia, a guest page, and a timeline, for a departed friend or relative. 1000memories (1000memories.com) allows users to upload photos, providing a perfect place to create a photo collage of a late loved one. The Things You Would Have Said (wouldhavesaid.com) lets users post a letter to someone who has passed or is otherwise missing from their life.
Honoring the Deceased
In a move that combines old technology (tombstones) with new (social media), some monument makers are now including QR codes on burial markers. A visitor to such a tombstone can use their device to scan the code and be directed to a website. There they can learn more about the departed, leave messages, and record stories.
Of course, social media can also be used to honor the dead. Friends and family members can share memories on any number of social media sites, post photos and videos of the deceased, and even create social media (e.g. a blog) dedicated to a lost loved one.