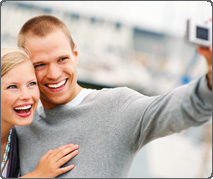 Back to Basics:
Pick the Best Way to Share Pics
You have three basic choices for online photo sharing
Every photograph is a neat little slice of life — a way of holding on to a meaningful moment. Digital photography combined with the Internet makes it easier than ever to preserve those moments and share photos in exciting new ways.
With online technology, you can send photos across many miles in a millisecond. You can store thousands of photos in a tiny chip on your computer or "in the cloud." You can also easily create digital albums, order photo-related gifts right from home, enter photo contests, and even sell your shots to commercial buyers.
There are three primary ways to share your photos online: email, photo sharing websites, and social media. The best way to choose between them is to examine why you want to share your photos and with whom. Your decision will depend on your desired level of security and privacy, the number of photos you want to share, whether you want recipients to be automatically notified, whether you want to share photos professionally or personally, and whether you want extra features such as photo editing.
1. Email: Secure and Easy
The safest way to share photos online is attaching them to email messages. Because the photos go directly to another person's private, protected inbox, it's difficult for unauthorized people to get to the photos.
The main drawback of email photo sharing is the difficulty of sharing more than a few shots at a time. For example, you may need to limit the number of photos that you attach to an email due to file size restrictions. In addition, if you send photos to a large group of people, their email programs could end up marking your message as spam.
2. Websites: Robust Storage and Features
On websites designed specifically for photo sharing, such as Photobucket, Flickr, Picasa, and SmugMug, you can store and share many photos at a time in digital albums or slideshows. It's easy to share with anyone by listing their email addresses. Some sites provide high security and free sharing but they might require receivers of photos to create an account. Other sites make photos available to anyone online and still others charge fees for things like online ordering of photo gifts, photo editing or commercial use of individual shots.
Sharing photos with a group of people on one of these websites can be quicker and easier than through email. Look for a site with good customer service in case you need help navigating features or run into problems. The best photo sharing services have a solid support system that's capable of answering any questions you have.
3. Social Media Sharing: Automatic and Random
The biggest advantage of sharing photos on social media sites such as Facebook and Twitter is not having to notify everyone separately. All of your friends will see your new photos in their newsfeeds or home pages.
You can draw attention further to a photo by posting a link in your status. When other people post photos of you, they can tag them with your name and, depending on your privacy settings, the photos will automatically appear at the top of your Facebook page. The latest photos posted will appear first.
The downside of posting photos on social media sites is that they can't be edited or printed from the site. Also, you can't be sure who will see them.
Be Sure to Back Up
No matter which method you choose for sharing photos, it's critical to back up at least your most important shots in a separate location. Most people download photos to their computer hard drives before uploading to a photo sharing service and the online site also serves as a backup.
If you mostly use email to send photos from your hard drive, consider backing up photos to a photo sharing site or a dedicated file backup site like Mozy, SmugMug, or Live Skydrive. Some online backup services, such as Dropbox, offer instant synchronization, so you don't have to manually upload photos.
Your local Internet Service Provider (ISP) might offer other options for storing photos (and other computer files) online. Tell them you're looking for a secure place to preserve your little slices of life.
Photo Sharing Etiquette
As with most activities on the Internet, photo sharing has evolved into a common practice, complete with unwritten rules of etiquette. Keep in mind the following do's and don'ts:
Share photos of other people only when you have their permission.
Don't tag people in photos on social media sites without asking them first.
Be aware of the technological capabilities of the people with which you want to share photos. Your mother might not know how to handle a social media site but she'd love to receive photos of the grandkids by email and print them herself. Some people may still prefer to receive photos the old-fashioned way: printed and sent by standard mail.
Never upload photos you haven't taken unless you have the photographer's permission.
Always give credit when using photos taken by other people.