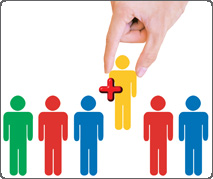 Cover Story:
Pluses and Minuses of Google+
How Google's new social media service stacks up
Google is synonymous with online searches; just think how frequently you hear people say, "I'll Google it." The company also offers many other products in categories including Web, mobile, media, office, online publishing, and geography/mapping. So it should come as no surprise that Google is attempting to make it big in social media too.
Early in 2011, Google launched Google+, a social media application similar to Facebook. However, Google+ is different enough from Facebook that some users are making the switch, and others are maintaining accounts with both services.
While Facebook boasts such advantages as more games, worldwide recognition, and many times the number of users, Google+ does provide some compelling benefits. They include simple privacy settings, a way to easily categorize contacts into intuitive groups and communicate with them separately, and the ability to hold multi-person video chat sessions.
We've put together this handy Google+ overview to familiarize you with this new social media option. You'll find:
A comparison between Facebook and Google+
Some initial reactions to Google+
Guidelines to help you know if Google+ is right for you
A snapshot of who's already using Google+
A look at the "+1" phenomenon
Reasons why Google+ is being used by educators
Tutorials on how to perform the basics in Google+
A series of "Quick Tips"
Ready? Set? Google+.
Google+ Versus Facebook
How do Google+ and Facebook compare? Here's a summary of the key differences and similarities between the two social networking services:
People Versus Friends
On Facebook, your connections are called "friends" and Facebook has historically assumed that you would want to share everything with all of your friends all the time. Google+, on the other hand, uses the term "people" to refer to your connections and was created with the idea that not everyone you connect with online is your friend. Rather, your connections are different people from different areas of your life, such as family members, acquaintances, work connections, former classmates, your kids' friends' parents, and so on. The way you share with each of these groups is different.
Circles Versus Friend Lists
Using a drag-and-drop interface called Circles, Google+ makes it very easy to categorize people according to these various areas of your life so you can share that off-color joke with college friends but not with conservative Aunt Martha. When Google+ was first introduced, Facebook quickly created Friend Lists, a function similar to Circles. But, while Friend Lists accomplishes the same purpose as Circles, it is more cumbersome to use.
Only Google+ Has Hangouts
Another Google+ function that is significantly different from Facebook is Hangouts, which are group video chatting sessions. Google+ compares Hangouts to going to your favorite coffee shop and running into people you know.
Similarities Between the Two
Even with the many differences, a lot of the features you'll find on Google+ will be familiar to Facebook users:
Stream of posts from the connections you choose to view
Page where your posts are listed
Text-chat function
Photo/video sharing
Location sharing
Website sharing
Games
The main purposes of the two sites are also the same: to connect with others, share news, and keep in touch.
Reactions to Google+ So Far
What have Google+ users thought of the service so far? Here are some positive and negative reactions:
Negatives:
Users must reveal their real names and genders — no pseudonyms allowed
It is difficult to import contacts from Facebook
Still too few people using it for it to be fun
Takes time to learn how to use
Complicated profile URL makes it hard to tell others where to find you
Positives:
Uncluttered graphical interface — easy to move around throughout the site
Circles are simple to use to categorize connections
Hangouts add a new dimension for keeping in touch
Privacy settings are straightforward
No advertising (yet)