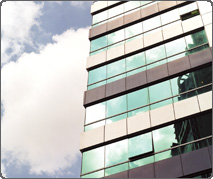 Internet Connections:
Windows 7
Is Microsoft's new operating system for you?
Microsoft is hoping its new operating system, Windows 7, will be better received than its predecessor, Windows Vista (launched in January 2007). Early reviews of Windows 7 have generally been favorable, noting that its more efficient use of memory enables PCs to start up faster and be less prone to delays. Windows 7 also supports the latest advances in PC hardware, like 64-bit computing and multi-core processors, and helps this hardware reach its full performance potential.
To put the launch of Windows 7 in perspective, consider the following statistics. There are more than 1.2 billion PCs worldwide and the average PC is currently six years old. Analysts estimate about four-fifths of PCs now use Windows XP or older operating systems. Many of these users could be ready for new machines, and with them, the new Windows 7 operating system. Are you one of them?
Guidelines for Upgrading
Whether or not to upgrade to Windows 7 depends on your circumstances. You may find the following guidelines helpful:
If you're frustrated with Windows Vista because it crashes or is slow, you'll probably want to upgrade to Windows 7. The primary reward will be better performance. You should see your computer win back some free memory (about 200 megabytes worth) and disk space. It may also boot up and shut down faster.
If Windows Vista is working fine for you, you may not need to upgrade now. That said, if some of the new Windows 7 features spark your interest, you might want to upgrade.
If your PC is more than three years old and runs Windows XP, think twice about an upgrade to Windows 7. According to ZDNet.com, that while Windows 7 is faster than Windows XP, XP "remains more capable for devices with limited memory and outdated graphics." Other industry experts say that upgrading an older machine from Windows XP to Windows 7 could be a recipe for trouble even if the computer meets the Windows 7 hardware requirements.
If you're planning to buy a new PC this year, it may come pre-loaded with Windows 7. This is not true, however, for netbooks (downsized laptops) since they aren't suitable for this operating system.
Find out if your PC can run Windows 7 at www.microsoft.com/windows/windows-7/get/upgrade-advisor.aspx. You can download the free Windows 7 Upgrade Advisor, which scans your PC for potential issues with your hardware, devices, and installed programs, and recommends what to do before you upgrade.
7 Highlights of Windows 7
1. Desktop
The Windows 7 desktop features a Mac-like taskbar on the bottom of the screen and bigger icons. It also enables you to keep programs and files handy by pinning them to the taskbar or Jump Lists.
2. HomeGroup
HomeGroup takes the headache out of home networking, so it's easier to share files and printers. When you join your home network, simply enter the password and select the locations you would like to share.
3. Jump Lists
Jump Lists give you speedy access to recent files. You can access Jump Lists from the taskbar — simply right-click a program button to go straight to the documents, pictures, songs, or websites you use most often.
4. Windows Live Essentials
This collection of free software expands the capabilities of a PC running Windows 7. Included are programs for e-mail, instant messaging, photo editing, and blogging.
5. Snap
Snap is a handy new way to resize and compare windows on your desktop. You can instantly expand to full screen and back, or arrange two windows side by side.
6. Windows Search
Windows Search frees you from the chore of hunting through folders and subfolders to locate what you need on your PC. Instantly locate and open virtually any file, from documents to e-mails to songs, right from the Start menu — just by typing a word or two.
7. Windows Touch
Windows 7 now offers multitouch, the technology popularized by the iPhone. With Windows Touch (and the right hardware), you can use your fingers to flip through files, work with pictures, and even "paint."
System Requirements
According to Microsoft, here's what it takes to run Windows 7 on your PC:
1 gigahertz (GHz) or faster 32-bit (x86) or 64-bit (x64) processor
1 gigabyte (GB) RAM (32-bit) or 2 GB RAM (64-bit)
16 GB available hard disk space (32-bit) or 20 GB (64-bit)
DirectX 9 graphics device with WDDM 1.0 or higher driver
Additional requirements to use certain features:
Internet access.
Depending on resolution, video playback may require additional memory and advanced graphics hardware.
For some Windows Media Center functionality, a TV tuner and additional hardware may be required.
Windows Touch and Tablet PCs require specific hardware.
HomeGroup requires a network and PCs running Windows 7.
DVD/CD authoring requires a compatible optical drive.
BitLocker requires Trusted Platform Module (TPM) 1.2.
BitLocker To Go requires a USB flash drive.
Windows XP Mode requires an additional 1 GB of RAM, an additional 15 GB of available hard disk space, and a processor capable of hardware virtualization with Intel VT or AMD-V turned on.
Music and sound require audio output.
Product functionality and graphics may vary based on your system configuration.