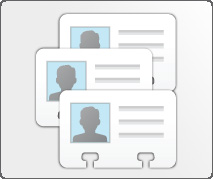 E-Mail Basics:
Exchange Contact Info With vCards
Paper business cards have met their match
What is a vCard (virtual information card)? It's an electronic version of a paper business card that's stored as a file with the extension ".vcf." You've probably received e-mail messages on your computer that have a vCard attachment, but may not know how to make the most of them.
Although the term "business card" is commonly associated with a vCard, this handy tool is certainly not just for the business world. Using vCards can also be helpful in your personal life. It saves you the time and effort required to take the information on paper business cards and manually enter it into a contact manager such as your e-mail address book. In addition, the results will be more accurate since you eliminate the possibility of typos.
It's also thoughtful to attach your own vCard to outgoing e-mail messages. This way, recipients can simply add the vCard to their address book and instantly have access to your addresses, phone numbers, and so on.
Depending on specific needs, vCards may contain any combination of the following elements:
Name
Street address information
E-mail address
Phone numbers (home, office, fax, wireless)
Time zone information
Company name and logo
Sound files such as a personal greeting or a name pronunciation
Web addresses
Photographs
Geo-positioning information
Birthdate
Keep in mind that e-mail is not the only way to exchange vCard files. The vCard standard allows applications to exchange contact information automatically, provided they are running on devices that can communicate with each other. For example, some smartphones and PDAs can beam vCards over infrared links, so two people sitting at a meeting or dinner can instantly exchange contact information. Other vCard-enabled applications include voice mail, Web browsers, telephony applications, call centers, video conferencing, and PIMs (personal information managers).
If you're not using vCards now, there's a good chance they're in the cards for your future.
What Makes vCards So Handy?
vCards can be used to automate the exchange of contact information between a variety of devices.
When a vCard is received as part of an e-mail, it takes very little effort to add the contact information to the recipient's address book.
A vCard can be used to quickly fill in online application forms by just dragging and dropping the information — reducing the number of blanks that need to be completed.
The vCard has broad industry support, and numerous companies produce vCard-enabled products. You can have vCard-ready software on any computer.