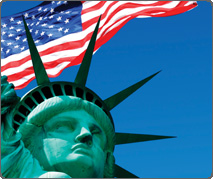 Cover Story:
Lots to Love at USA.gov
Make it your first stop for government information
Sites for Citizens
One way to begin your USA.gov search is by citizen group, and these tabs are found at the top of the homepage. Choose the one that applies to you and be directed to websites geared to your interests. In addition to the citizen groups featured below, USA.gov also has sections that address the needs of other audiences including Grandparents Raising Grandchildren, Homeowners, Outdoor Enthusiasts, Persons with Disabilities, and Volunteers.
Here's a sampling of featured sites for these popular groups:
Kids
tonto.eia.doe.gov/kids
This site helps kids learn all about energy, starting with units, forms, and sources. It explains how to use and save energy, and offers energy-related puzzles, riddles, and experiments.
flu.gov/psa/index.html#elmo
At this site, Elmo is featured in videos that teach kids flu avoidance behaviors in a fun way. Topics include the right way to sneeze, having a flu plan, and staying happy and healthy during flu season.
stopbullyingnow.hrsa.gov/kids/default.aspx
Cyberbullying has been in the news lately and this site helps kids understand it, as well as traditional bullying, and how to address them both. Through articles, games, and cartoon webisodes, kids get support and advice.
Teens
teenshealth.org/teen
Many issues faced by teens are addressed at this site. Articles and expert answers offer help on relationships, health, family, school, jobs, and more.
atg.wa.gov/teenconsumer/index.htm
Though teens comprise a large part of the consumer market, they aren't always aware of their rights and responsibilities as consumers. This site helps them navigate situations like choosing a doctor, using credit cards, creating a budget, and purchasing auto insurance.
Parents
womenshealth.gov/pregnancy
Whether you're considering pregnancy, or already pregnant, this site is a useful resource. You'll find information about preconception health, the stages of pregnancy, potential complications, how to prepare for the baby, childbirth, and more.
childcareaware.org
This site explores all areas of childcare, including how to evaluate and select providers, and how to make the most of the experience for your child. You'll get great information from articles, FAQs, newsletters, a toll-free hotline, and the parent network.
www.careervoyages.gov/parents-main.cfm
Use this site to learn how to support kids in their search for a career. You can set them up for success by helping them find out where the demand will be, how to qualify for the job they want, and how to get the education they need.
Seniors
nlm.nih.gov/medlineplus/homecareservices.html
Seniors in need of home health care will want to visit this site, which covers many aspects of the subject including financial, medical, and legal issues. Find out what questions to ask home care providers, myths about home care, and home care service directories.
www.aoa.gov/AoARoot/AoA_Programs/Elder_Rights/index.aspx
The Administration on Aging has compiled a list of elder rights agencies that can help seniors who find themselves physically, financially, or emotionally abused. Each agency link provides details about the program and additional resources.
store.usgs.gov/pass/senior.html
The Senior Pass is good for entrance into a variety of federal recreation sites including U.S. National Parks. This site offers details about the Senior Pass, including how to purchase and use it.
Military and Veterans
www.militaryonesource.com/default.aspx
Military members, spouses, and families will find a wide range of resources on this site. Articles, videos, podcasts, and calculators are available on topics like moving and relocation, education, personal finance, health, relationships, and stress management.
www.va.gov
The U.S. Department of Veterans Affairs website is available to help vets get the services they need. Learn about and apply for benefits, find jobs, read news, and find local VA facilities.
Americans Abroad
travel.state.gov/travel/travel_1744.html
There are many factors to consider when traveling abroad, and this site addresses key ones including safety, health, possible emergencies, and legal matters. It also offers a country-by-country description of important issues and potential threats.
peacecorps.gov
Since its beginning in 1960, the Peace Corps has sent volunteers to 139 countries to help with health, technology, and environmental issues. Visit this site to learn about the mission of the Peace Corps and how to volunteer.
adoption.state.gov
This site provides help with the often difficult, intercountry adoption process. Adopting parents, agencies, and social workers can research eligibility requirements and learn how to work with an agency and handle the visa process.
Get Insider Info at Gov Gab
When you visit USA.gov, don't miss Gov Gab, the U.S. government blog found at http://blog.usa.gov/roller/. Gov Gab is written by employees of the Office of Citizen Services and Communications at the U.S. General Services Administration. Each blogger posts weekly on a specific day of the week. For the past two years, these bloggers have been using their posts to share the valuable information they discover in their daily work. High-level topics include Home and Family, Health, Money, Fun, and Travel. Many of the posts are available in Spanish as well as English.
Visit Gov Gab to read up on topics like how to avoid census scams, the status of the Home Buyer Tax Credit, successful consumer complaints, tarmac delays, National Public Lands Day, and the top 50 jobs of the future. Subscribe to the high-level topics you're most interested in, or to the entire blog.