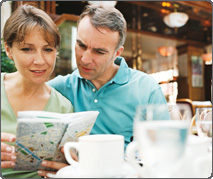 Sites of the Season:
Sites for Autumn
You'll fall for these handy websites this season
Travel Planning
Autumn is a great time to travel or to plan trips for the upcoming holiday season. The Internet is filled with websites that can help you find great destinations and great deals, and here are a few of our favorites to visit before you hit the road.
Guide Yourself to a Great Vacation
nileguide.com
Use the informative hotel, activity, and restaurant guides on this site to plan your itinerary at dozens of worldwide destinations. Then use the built-in fare finder to get to them. You can save your trips and create custom guides. The reviews and insider information will have you feeling like a local in no time.
One Stop Travel Shop
away.com
This site is packed with features to help you find just the right vacation spot. Check out the Top 10 lists, blogs, and targeted guides (including Active, Family, Romance, and Ski). Use the fare finder or try the "When to Go" section to plan your trip according to the month.
Pick a Park
nps.gov
Consider planning your next trip around the magnificent U.S. park system. Each natural area and landmark holds the opportunity for learning and discovery for vacationers of all ages. This site allows you to find useful details about parks by state.
Clothing Donation
With winter on the way, now's a great time to complete some of those chores you put off while enjoying summer fun. If closet cleaning is on your list, remember that the clothes, shoes, and other items you no longer need may be perfect for someone else. There are many organizations that accept donations, and they make it easy to do. Visit these sites to find out how to donate your items.
Seeking Soles
soles4souls.org
A decent pair of shoes can go a long way toward preventing serious health conditions, and Soles4Souls distributes shoes to those in need. Visit this site to learn more about how you, or your school or other organization, can participate in this unique giving opportunity.
News for Shoes
nikereuseashoe.com
Nike has found another use for old shoes: grinding them up to make courts, tracks, playgrounds, apparel, and new shoes. This process decreases the environmental impact of using new materials. The site features a video showing how it happens, and offers suggestions for how to get involved.
Donation by Design
excessaccess.com
The organization Excess Access provides a win-win solution for those who need clothing and household items, and those who have them to give. This site describes how you can get your used items to the nonprofit charities that need them most. Visit the site to find out how it works and how you can help.
Suitable Attire
dressforsuccess.org
For some, dressing for success is easier said than done. Dress for Success provides disadvantaged women with suits for job interviews, increasing their chances of being hired and becoming more self-sufficient. This site offers details about the program and how to donate money or clothes.