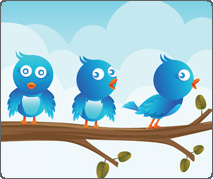 Internet Connections:
Welcome to the Land of Twitter
Microblogging Site Offers a Flock of Possibilities
The twittering you've been hearing these days is not from a bevy of birds or a bunch of giggling girls. It's the sound of more than 12 million people — including about one-tenth of American adults — clicking computer keys as they swap brief messages called "tweets" on the popular microblogging site, Twitter. Web-goers are flocking to Twitter at twitter.com to keep in touch with friends, family, customers, colleagues, and even celebrities.
Twitter users are called "tweeters." On personalized Twitter home pages or through the SMS cell phone network, they post messages about anything on their minds in 140-character chunks (about 25 words). Most typically, tweets answer the question, "What are you doing?" Tweeters also sometimes "retweet" messages from others. Tweets about popular topics often raise a flurry of activity, with responses flying through cyberspace by the hundreds or thousands.
Tweeters post links, give advice, share information, search for friends, and gather "followers" who see their tweets automatically on their own home pages. Tweeters also find people they want to follow. Some try to gain as many followers as possible, just for fun or because they like the attention. Others limit who see their tweets and block followers.
In addition to posting tweets and responding to those you follow, you can use Twitter's search tools to find tweets on any topic posted by people all over the world. With third-party applications, you can integrate Twitter with other social networking sites or save and organize tweets by subject.
The Power of Tweeting
Although millions are tweeting just for fun, Twitter can also be a potent way to share messages that make a difference in people's lives.
Consider these two examples: When the Iranian government tried to limit access to the Web, many opposition supporters were able to share news about the country's unrest through Twitter. When superstar Michael Jackson died, tweets virtually doubled, spreading the news and providing an outlet for bereaved fans.
Twitter is not just for the rich and famous. Families use Twitter to keep relatives updated on wedding plans and impending births. Friends share trivial details of daily life. Some tweeters even find jobs. One brave soul is publishing a novel in 140-character bits.
One of the latest Twitter trends is promoting businesses by tweeting regularly. Even movie stars and media moguls are tweeting fans to promote products and events. Organizations are experimenting with ways to use Twitter to build relationships with customers, constituents, and prospects. A whopping 84 percent of companies recently polled expect to increase their use of Twitter for business reasons in the next year.
Twitter Tips
If you decide to become a tweeter, you'll want to carefully manage your participation to avoid pitfalls like these:
Following too many people – This can result in hundreds, even thousands, of tweets showing up on your home page. It's not bad manners to decline following requests. It's also perfectly acceptable to unfollow someone when you realize their tweets are not useful.
Twitter obsession – It's tempting to answer every tweet. Many tweeters waste hours crafting trivial messages — either limit the people you follow or be selective about whom you answer.
Too many people following you – Even if your goal is to amass followers just for fun, remember your personal tweets are being delivered to many people you don't know. Tweeting exposes you to the scrutiny of perfect strangers. Be careful what you say, and consider limiting followers to people you already know.
Indiscretion – Remember Twitter is a public forum, and anything you say can be retweeted against you. People have lost job opportunities by posting negative remarks about potential employers, for example. Always use discretion.
Overtweeting – It's considered bad tweetiquette to post handfuls of tweets in a day, or to post messages that don't offer some substantial bit of information, especially if you are tweeting for a company. Carefully plan what to say and how often to say it.
Twitter's nest of tweeters could reach a projected 18 million by 2010. No one knows exactly how the resource will develop or what new uses for it might be uncovered. For now, if you have an interest in staying in touch with the world, maybe it's time to fly over to the land of Twitter and become a tweeter.
Fast and Free
To sign up for a free Twitter account, go to twitter.com and click on "Sign up now." It takes just a few minutes to join the conversation.
Common Twitter Commands
Twitter shorthand can be confusing until you know the meaning of unique commands. Here are the most common ones to know as you get started tweeting:
#topic or phrase
The hashtag (number sign) identifies a search term.
@username
Directs a public message to a specific Twitter user.
D username
Creates a direct message to the user, unseen by others. Remember, it can still get retweeted.
RT @username
Identifies a "retweet" or message you are passing forward for others to see.
ON username or OFF username
Toggles cell phone notifications for a specific user. Use STOP or QUIT to turn off notifications for all users.
FOLLOW username
Starts or stops forwarding of this person's tweets to your home page.
LEAVE username
Permanently remove this person from your follow list by clicking "remove" in his or her profile.
WHOIS username
Retrieves information about the user.
GET username
Displays this user's most recent tweet.
STATS
Shows number of followers and number of people you are following.