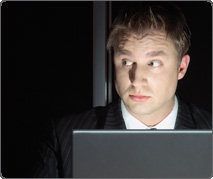 Cover Story:
Busy Time for Cybercrime
Watch out for growing number of online scams
As technology expands, so does the volume and variety of cybercrime. Scam artists are continually searching for different techniques in order to steal your personal information or money via the Internet. As a result, their "bag of tricks" is growing rapidly. Newer threats (such as scareware and recession-oriented scams) have been added to longstanding cybercrime categories including identity theft, phishing, hacking, auction and credit card fraud, password trafficking, and Internet harassment. Also contributing to the expansion of cybercrime is the soaring popularity of social networking sites such as Facebook and Twitter, which create even more opportunities for crooks.
According to the Consumer Reports "State of the Net" survey of 2,081 online households conducted in January 2009, one in five online consumers were victims of a cybercrime in the past two years. They estimate that:
Cybercrime cost consumers $8 billion during that period.
1.2 million computers were replaced because of damage from software infections.
Close to 2 million households have suffered identity theft in the past year as a result of Internet-related activity, most often from online shopping.
7 million consumers, or 1 in 13 households, unknowingly gave phishers personal information over the past two years.
One important way to prevent becoming a victim of cybercrime is to stay informed about online threats so you'll be less likely to fall prey to their schemes. Knowledge is power, and the following information was prepared to help strengthen your defenses.
Spotlight on Cyber Security
October is National Cyber Security Awareness Month. Microsoft and the National Cyber Security Alliance (NCSA) have teamed up to increase awareness about Internet security issues. They want to encourage everyone to take these precautions:
Use a firewall.
Turn on automatic updating.
Use updated antivirus software and antispyware software.
Scareware is Frightening Threat
You're online when a pop-up "alert" or "update" appears that says something like, "Warning! Malware detected on your computer!" The message looks very official, and you may be tempted to click on the button that offers to remove the threats by downloading security software. DON'T DO IT. What's actually being sold is scareware — bogus software that masquerades as legitimate security programs. These messages are crafted to scare you into spending $30 to $80 for worthless antivirus protection. Even worse, scareware is oftentimes malware designed to steal personal information, and installing it on your computer can lead to unauthorized financial transactions and identity theft.
How do these scary alerts end up on your computer screen? They can arrive as booby-trapped Web links in e-mail messages, waiting for you to activate them when you click to the websites. Scareware scammers are also embedding triggers on advertisements displayed at mainstream media websites, amid search results, alongside comments posted on YouTube videos, and in tweets circulating on Twitter.
Click on a trigger and you're in for an unnerving and frustrating process. A window will probably appear with red-letter warnings that list viruses infesting your hard drive. A series of dialogue boxes will follow, giving you choices that all lead to a software sales pitch. Make the purchase, and you get a worthless, and possibly harmful, download. Try to cancel it, and you'll get repeated offers. Some scareware links will even shut down and lock out all other software applications on your computer to try and force you to buy.
This rogue software might also:
Slow your computer or corrupt files.
Disable Windows updates or disable updates to legitimate antivirus software.
Prevent you from visiting antivirus vendor websites.
Scareware is growing at a frightening pace. According to The AntiPhishing Working Group, more than 9,200 different types of scareware programs were circulating on the Internet by late 2008, up from 2,800 at midyear. It's estimated that 3 to 5 percent of users fall for the scams and purchase the software, and as many as 35 million computers are infected per month with rogue antivirus programs.
Don't Get Spooked
To avoid having to deal with scareware, Internet security experts advise caution:
Don't download any security software from an unknown source on the Internet, and be skeptical of advertisements for unknown software that claim to provide easy protection.
Make sure you install all security updates for your operating system.
Avoid opening attachments or clicking on links to documents in e-mail or instant messages that are received unexpectedly or from an unknown source.
If your computer does become infected with scareware, you can try running Microsoft's Malicious Software Removal Tool or cleanup tools from the antivirus software you use.
Scammers Take Advantage of Recession
Rising unemployment and home foreclosures are fueling a wave of recession-oriented scams aimed at the most vulnerable — those in financial distress. These scams offer to help consumers repair their credit, land new jobs, start work-at-home businesses, and obtain government money to pay off their bills. In reality, the only people who benefit financially from these programs are the con artists that created them.
According to the Federal Trade Commission, which testified before the U.S. Senate in July, Internet scams that prey on economic anxiety have bilked consumers out of hundreds of millions of dollars. The typical scheme lures consumers into making upfront payments for services that either fall short of the promises or never materialize at all.
In response to the rise in financial distress scams, the Commission announced "Operation Short Change," a joint initiative consisting of the FTC, Department of Justice, and officials in 13 states and the District of Columbia. As part of this operation, the FTC brought eight new cases against companies that have conned consumers, and took action against seven additional cases earlier this year challenging similar misconduct. The new cases include one against the widely publicized get-rich-quick schemes called "John Beck's Free & Clear Real Estate System," "John Alexander's Real Estate Riches in 14 Days," and "Jeff Paul's Shortcuts to Internet Millions." The Commission alleged that these schemes alone, promoted on the Internet and through misleading infomercials, have duped hundreds of thousands of consumers out of about $300 million.
Another case involved a business called Google Money Tree, which advertised low-cost kits that would supposedly allow consumers to earn $100,000 in six months. But Google Money Tree isn't affiliated with Google, and consumers were unlikely to earn a substantial income. Instead, consumers were charged (often unwittingly) a monthly fee for participating. In light of this, consumers are being warned to avoid quick decisions fueled by financial desperation. Do your homework, be skeptical of "too good to be true" offers, and seek assistance from companies and organizations you know you can trust.
FTC Help for Money Woes
The Federal Trade Commission created a website (www.ftc.gov/moneymatters) to provide worried consumers with tips and resources on money matters. You'll find a Scam Watch section as well as practical help with credit cards, managing your money, dealing with debt, and mortgage troubles.