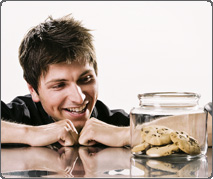 Browser Basics :
One Smart Cookie
Get a taste of how websites "talk" to your computer
While online, you've probably noticed that websites can "remember" information about you. For example, websites retain your logins, preferences, and shopping basket contents. They may even greet you by name when you enter the site. How are websites able to do this? They use what's known as "cookies."
We're not talking about the chocolate chip or oatmeal raisin kind. In this case, a cookie is a bit of text stored on your Web browser. When you access a website, the cookie sends information to your browser, which gets sent back to it by your browser the next time you visit. This is a little like being given a ticket at the dry cleaners, which you give back the next time you go in so they know which clothes are yours.
Cookies have several beneficial purposes. They are used for:
Authentication
To ensure websites recognize your login. This is common for sites that store a large amount of information for you, such as Facebook.
Personalization
To help sites remember the background you choose, the number of results you want to see displayed, or your region (for weather reports or other location-based information).
Shopping Carts
To store items in your cart on shopping sites for convenient purchases at a later date.
Data Collection
To determine usage statistics that help Web designers make sites more appropriate and helpful for visitors.
There are some common misconceptions out there about cookies. You should know that cookies are NOT like worms or viruses, do NOT generate pop-ups, and are NOT responsible for spamming.
However, while most uses of cookies are benign, there is always potential for misuse. Unscrupulous companies may sell information about your browsing habits to other companies who can then precisely target their marketing to you, a practice that some consider intrusive. In addition, cookies can be stolen or "poisoned" and used by third parties to interfere with your online interactions.
If you're concerned about the possible misuse of cookies, Web browsers have settings that allow you to delete cookies and control which ones you allow on your computer. (See the following tutorials.) It's important to note that blocking cookies will prevent some websites, especially e-commerce ones, from functioning at full efficiency and may actually detract from your Web experience.
Overall, cookies are a sweet part of your browser — much more helpful than harmful. Think of them the next time Amazon finds that perfect book for you based on "remembering" your previous purchases. Then grab a glass of milk and a cookie and enjoy the read.