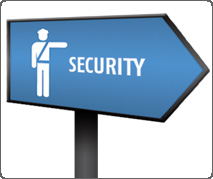 E-Mail Basics:
Security Checks
Keeping Junk E-mail Out of Your Inbox
Those who travel by air experience multi-step security checks before being allowed on the concourse. Screeners carefully evaluate the contents of your baggage and watch for mannerisms that may warrant a more thorough security examination. Although we may be inconvenienced by these screenings, they serve an important safety function to the flying public.
In a similar way, computer users need security checks to help prevent malicious viruses or spyware from entering their systems. If high numbers of junk e-mails are showing up on your computer, it's probably a sign that your security precautions are not adequate or up to date. The good news is you have a team of screeners ready to turn away junk e-mail on your behalf.
Of the estimated 100 billion e-mails sent worldwide each day, at least 80 billion are classified as spam or junk messages. If you have an e-mail address, you've received junk messages. The senders of the junk messages are counting on the law of averages. They purchase e-mail address lists containing thousands to millions of addresses and send messages with the hope a few will be read and acted upon. This practice results in an immeasurable waste of time for e-mail users around the globe, not to mention the potential for identity theft, fraud, and other crimes.
Fortunately, there are proven tools to help keep junk e-mails from reaching your computer. The first line of defense is provided by your Internet Service Provider (ISP). Your ISP manages the sending and receiving of e-mail and can screen unwanted messages and prevent them from reaching your computer. Contact your ISP to ensure the filtering feature is active for your account.
Additional spam filtering tools are available as part of your e-mail program and in the form of antivirus software that you can install. All major e-mail programs, including Outlook Express and Entourage, can screen your e-mails and place junk messages in a separate folder or delete them automatically. You can help the screening process by identifying junk messages that make it to your inbox so that they're handled correctly if received again.
The next time unwanted e-mails make their way into your inbox, take a few moments to ensure the proper security screeners are working for you.