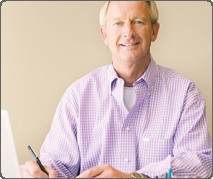 Cover Story:
Wealth of Resources
Online Tools for Personal Financial Management
Brokerage Firms
As you build your portfolio, you may want help from brokerage firms who stay on top of stock market changes to help you get the most from your investments.

www.fidelity.com
Fidelity has been rated as the best online broker overall for its excellent research tools and ease of use with a wide range of investment tools and calculators. Commissions tend to be higher than most online brokerages, but there are no handling or maintenance fees. Get market commentary and expert analysis on various topics, and sign up for Fidelity Investor's Quarterly Magazine and Fidelity Investor's Weekly.
www.tdameritrade.com
The merger of Ameritrade and TD Waterhouse in 2005 resulted in the number one web-based broker. Barron's says the company adopted the best parts of its two parent companies — great research tools and improved trading. TD Ameritrade is rated well above the industry average for investments offered, security, and support/customer service. It owns $257 billion in client assets and executes 232,000 trades each day, making it the largest online brokerage in the world.
www.scottrade.com
JD Power and Associates ranked the discount stock brokerage firm Scottrade highest in overall satisfaction among discount brokerages. Trades are fast, customer service is good, and costs are low.
www.etrade.com
SmartMoney.com rated eTrade #1 for 2008. More than a brokerage firm, ETrade Financial also offers online banking services, including high-yield savings and CDs, high-yield checking, Visa® card, money transfers, and ATM fee refunds. You can also take advantage of ETrade's unlimited real-time streaming stock quotes and new advanced charting tools.
Banking and Savings
www.bankrate.com
This useful site is regularly visited by major media outlets, realtor associations, mortgage and banking institutions, and loan companies. It lets you quickly compare interest rates on CDs and money market accounts to help make the best choices for your savings dollars. Also available are rates for mortgages and other loans. Choose from an extensive menu of financial calculators to figure out what works for you.

www.collegesavings.org
Learn about some of your options for college saving including the College Savings Bank, the CollegeSure CD, and the InvestorSure CD. Also covered on this site are state-sponsored 529 plans.
www.fdic.gov/bank/individual/online/safe.html
The Federal Deposit Insurance Corporation site provides important tips for safe Internet banking. You'll learn how to confirm that an online bank is legitimate and that your deposits are insured, and find out how to keep your personal information private and secure. The site also explains your rights as an online banking customer and lists resources for additional consumer assistance.
Moneysaving Tips
As rising energy costs have cut into our budgets, you may be looking for ways to save money. These three websites offer free, practical tips to help you cut corners and get the most out of every dollar.
www.freebies.about.com
A number of links take you to free grocery coupons, spending tips, and many other ways to save money. "66 Ways to Save Money" provides moneysaving ideas about transportation, housing, insurance, and many other categories.
www.thesimpledollar.com
When Trent Hamm found himself in financial debt in the spring of 2006, he began to implement a strategy to bring his personal finances under control. The result is a blog site where he shares how he found financial security, including his "100 Great Tips for Saving Money."
www.stretcher.com
This website reflects its name—telling you how to stretch your dollar. You'll find all sorts of hints about a wide variety of subjects including freezing foods, lowering your energy bills, and buying a house in foreclosure.