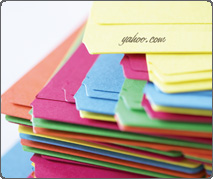 Browser Basics :
Tabbed Browsing
Save time by using this innovative browser feature
What is tabbed browsing? It's a new feature available on all of the major browsers that allows multiple web pages to be open in one browser window. Instead of opening multiple windows to view different websites, all of the sites are nested in one window and accessible through tabs in the menu bar area. Let's say you're reading a news story and want to jump to an interesting link without losing your place in the original story. With tabbed browsing, you can do this without cluttering your desktop with lots of unorganized browser windows.
By using tabbed browsing, you'll save time and streamline your daily online activities. It's easy to do, and is available on the latest versions of browsers including Internet Explorer 7, Firefox 2.0, and Safari 3.1. You can look forward to many benefits:
Improved Desktop Management
With tabbed browsing, you no longer need to open the same program multiple times to view different websites. This conserves system resources by reducing the amount of open programs. You'll also avoid having to minimize and maximize windows to navigate through the layers.
Allows for Multiple Home Pages
You probably have a group of websites that you visit regularly such as news sites. You can identify each of these sites as a home page and they will open as tabs and be ready to view when you launch your Web browser.
Grouped Bookmarks
Most people use the Favorites or Bookmarks feature of their browser to create links to websites frequently visited. With tabbed browsing, you can take that idea a step further by creating a group of bookmarks that open as tabs when you select the group. A common application would be to create a group of bookmarks for the online travel sites you visit, in order to make it easier to do price comparisons when shopping for airfares or hotel rates.
Reduced Wait Time
When you select a website to visit, it may take anywhere from a couple of seconds to a couple of minutes for it to download. With tabbed browsing, you can open multiple sites simultaneously and begin viewing the one that downloads first while the others are opening in the background.
The next time you're surfing the Web, take note of the number of open windows on your desktop. You can simplify the process by taking advantage of the tabbed browsing feature in your Web browser.