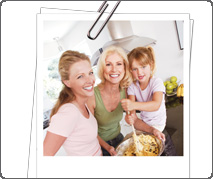 Back to Basics:
Opening E-mail Attachments
Do you have the right software to read different files?
One of the great features of e-mail is the ease in which photos, video clips, documents, and other files can be shared. You've probably received many e-mail attachments over the years — photos and videos from family and friends, cartoons, recipes, maps, party invitations, or even long letters in a word processing file. Most of the time an e-mail attachment can be viewed easily by simply selecting it and clicking on "Open."
There will occasionally be times, however, when you are unable to open an attachment. Let's say you get an e-mail with the subject line, "Josh's Big Fish." You notice an attached photo file and when you try to open it, an error message appears. This means that either the attached file is corrupted or your computer does not have the necessary software installed to read that particular type of file. If it's the latter, the problem can be easily solved. Most e-mail attachments can be opened with readily available and easy-to-download software, which means you can take a look at that big fish that Josh caught in no time at all.
We're familiar with the diverse tools of can openers, letter openers, and garage door openers, so it should come as no surprise that different attachments need different "openers" on your computer. How do you know if your computer lacks the right software program to open a file? Your computer will give you an error message because it doesn't recognize the attachment type. The next step is to find out more detail about the file; a quick Internet search will usually lead you to the software you need. The key information is the file extension, which is typically the three characters following the period in the file name. These extensions tell the computer what program to use to open the file. Common extensions are .jpg, .mov, .doc, .ppt, and .pdf, but thousands of different file extensions are used for many different programs. When you do your Internet search, use the file extension only and include the period. We've listed some of the most common attachment types in the sidebar below.
Once you've installed the right software on your computer to open a variety of attachments, you'll be ready to view whatever comes your way. You might even say that a whole new world (or at least an attachment) will open up to you.
Look Before You Leap
Keep in mind that antivirus software focuses on e-mail attachments because many viruses are spread by e-mail. These programs examine the attachment, and if there's a risk, the file will be locked or deleted. You should also be vigilant and only open attachments from senders you know. Otherwise, simply delete the e-mail without opening the attachment.
Common Extensions
Photos: .bmp, .gif, .jpg, .pic, .tif
Most computers have a program to view photo files. If you need a better viewer, Google's Picasa is recommended.
picasa.google.com
Video clips: .mov, .mpg, .rp, .wmv
The programs below should be able to play most video clips. Look for the free versions.
QuickTime - www.apple.com/quicktime/download
Windows Media Player - www.microsoft.com/windows/windowsmedia
RealPlayer - www.real.com
Adobe Reader: .pdf
This is a common attachment used to share documents.
www.adobe.com
Documents and Work Files: .doc, .xls, .ppt
Many work files are created with Microsoft Office. Free viewer programs are available for those who don't own the software. Recently, Microsoft Office changed to .docx, .xlsx, and .pptx and the most current viewer is required to open these new file types.
office.microsoft.com